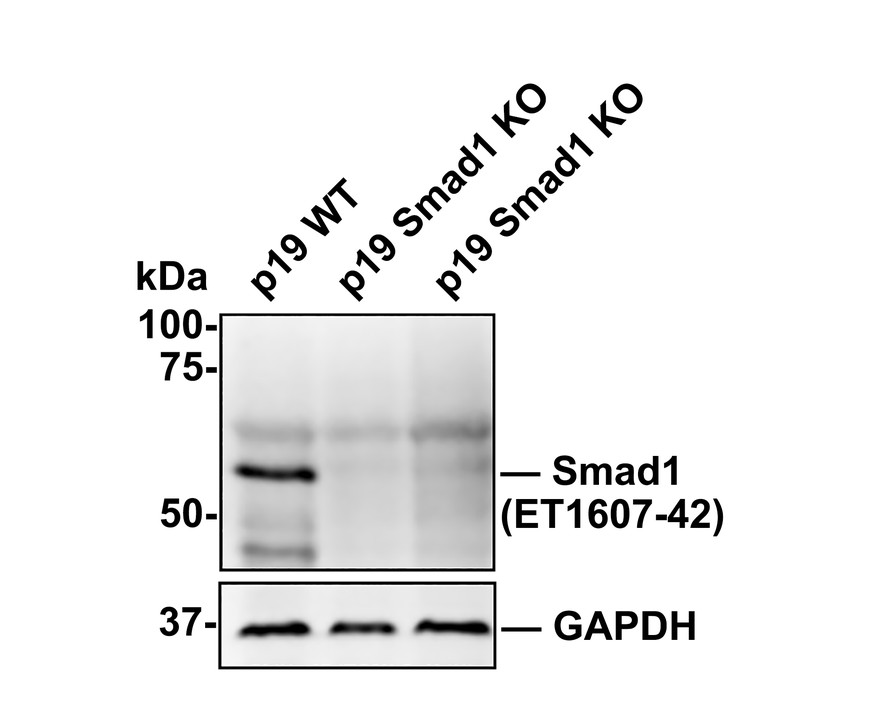 ICC staining Smad1 in Hela cells (green). The nuclear counter stain is DAPI (blue). Cells were fixed in paraformaldehyde, permeabilised with 0.25% Triton X100/PBS.
SPECIFICATIONS
Product Type
Recombinant Rabbit monoclonal primary
Product Name
Recombinant Smad1 Monoclonal Antibody (ET1607-42)
Positive Control
PANC-1, MCF-7, Hela, A431.
PROPERTIES
Storage Condition
Store at +4C after thawing. Aliquot store at -20C or -80C. Avoid repeated freeze / thaw cycles.
Storage Buffer
1*TBS (pH7.4), 0.05% BSA, 40% Glycerol. Preservative: 0.05% Sodium Azide.
TARGET
SYNONYMS
BSP-1 antibody; BSP1 antibody; HsMAD1 antibody; JV4-1 antibody; JV41 antibody; MAD homolog 1 antibody; MAD mothers against decapentaplegic homolog 1 antibody; Mad related protein 1 antibody; Mad-related protein 1 antibody; MADH1 antibody; MADR1 antibody; Mothers against decapentaplegic homolog 1 antibody; Mothers against DPP homolog 1 antibody; SMA- AND MAD-RELATED PROTEIN 1 antibody; SMAD 1 antibody; SMAD family member 1 antibody; SMAD mothers against DPP homolog 1 antibody; Smad1 antibody; SMAD1_HUMAN antibody; TGF beta signaling protein 1 antibody; Transforming growth factor-beta-signaling protein 1 antibody
SEQUENCE SIMILARITIES
Belongs to the dwarfin/SMAD family.
TISSUE SPECIFICITY
Ubiquitous. Highest expression seen in the heart and skeletal muscle.
POST-TRANSLATIONAL MODIFICATION
Phosphorylation of the C-terminal SVS motif by BMP type 1 receptor kinase activates SMAD1 by promoting dissociation from the receptor and trimerization with SMAD4.; Ubiquitinated by SMAD-specific E3 ubiquitin ligase SMURF1, leading to its degradation. Monoubiquitinated, leading to prevent DNA-binding. Deubiquitination by USP15 alleviates inhibition and promotes activation of TGF-beta target genes. Dephosphorylation, probably by PPM1A, induces its export from the nucleus to the cytoplasm (By similarity).
FUNCTION
Smad proteins, the mammalian homologs of the Drosophila Mothers against dpp (Mad) have been implicated as downstream effectors of TGFβ/BMP signaling. Smad1 (also designated Madr1 or JV4-1), Smad5 and mammalian Smad8 (also designated Smad9 or MADH6) are effectors of BMP2 and BMP4 function while Smad2 (also designated Madr2 or JV18-1) and Smad3 are involved in TGFβ and activin-mediated growth modulation. Smad4 (also designated DPC4) has been shown to mediate all of the above activities through interaction with various Smad family members. Smad6 and Smad7 regulate the response to activin/TGFβ signaling by interfering with TGFβ-mediated phosphorylation of other Smad family members.