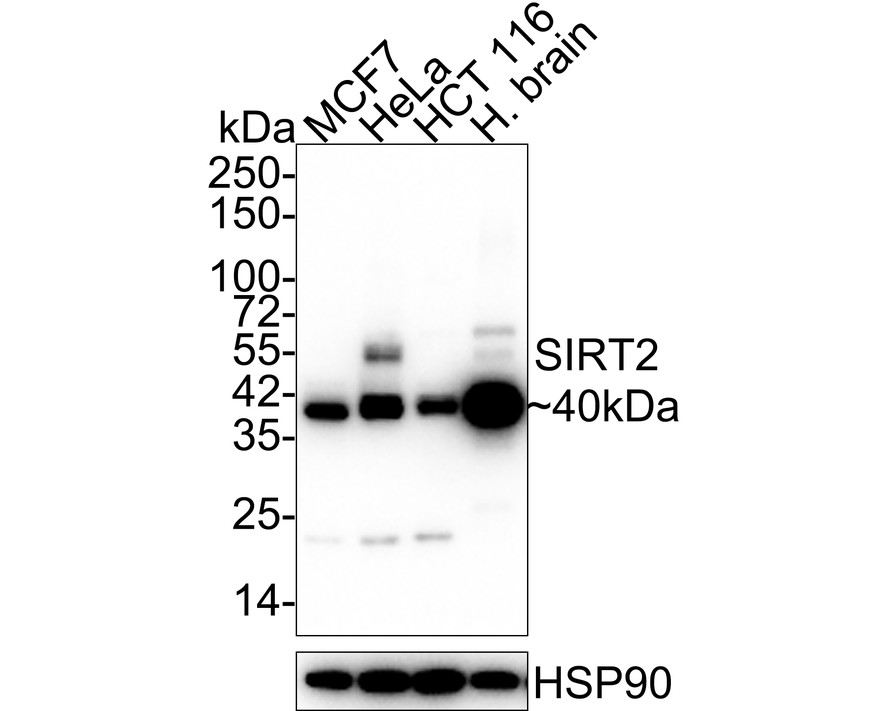 Western blot analysis of SIRT2 on human brain lysates using anti-SIRT2 antibody at 1/1,000 dilution.
SPECIFICATIONS
Product Type
Recombinant Rabbit monoclonal primary
Product Name
Recombinant SIRT2 Monoclonal Antibody (ET1701-43)
PROPERTIES
Storage Condition
Store at +4C after thawing. Aliquot store at -20C or -80C. Avoid repeated freeze / thaw cycles.
Storage Buffer
1*TBS (pH7.4), 0.05% BSA, 40% Glycerol. Preservative: 0.05% Sodium Azide.
TARGET
SYNONYMS
FLJ35621 antibody; FLJ37491 antibody; NAD dependent deacetylase sirtuin 2 antibody; NAD-dependent deacetylase sirtuin-2 antibody; NAD-dependent protein deacetylase sirtuin-2 antibody; Regulatory protein SIR2 homolog 2 antibody; Silencing information regulator 2 like antibody; Silent information regulator 2 antibody; SIR2 antibody; SIR2 like protein 2 antibody; Sir2 related protein type 2 antibody; SIR2, S. cerevisiae, homolog-loke 2 antibody; SIR2-like protein 2 antibody; SIR2L antibody; SIR2L2 antibody; SIRT2 antibody; SIRT2_HUMAN antibody; Sirtuin (silent mating type information regulation 2 homolog) 2 (S.cerevisiae) antibody; Sirtuin 2 antibody; Sirtuin type 2 antibody
SEQUENCE SIMILARITIES
Belongs to the sirtuin family. Class I subfamily.
TISSUE SPECIFICITY
Isoform 1 is expressed in heart, liver and skeletal muscle, weakly expressed in the cortex. Isoform 2 is strongly expressed in the cortex, weakly expressed in heart and liver. Weakly expressed in several malignancies including breast, liver, brain, kidney and prostate cancers compared to normal tissues. Weakly expressed in glioma cell lines compared to normal brain tissues (at protein level). Widely expressed. Highly expressed in heart, brain and skeletal muscle, while it is weakly expressed in placenta and lung. Down-regulated in many gliomas suggesting that it may act as a tumor suppressor gene in human gliomas possibly through the regulation of microtubule network.
DEVELOPMENTAL STAGE
Peaks during mitosis. After mitosis, it is probably degraded by the 26S proteasome.
POST-TRANSLATIONAL MODIFICATION
Phosphorylated at phosphoserine and phosphothreonine. Phosphorylated at Ser-368 by a mitotic kinase CDK1/cyclin B at the G2/M transition; phosphorylation regulates the delay in cell-cycle progression. Phosphorylated at Ser-368 by a mitotic kinase G1/S-specific cyclin E/Cdk2 complex; phosphorylation inactivates SIRT2-mediated alpha-tubulin deacetylation and thereby negatively regulates cell adhesion, cell migration and neurite outgrowth during neuronal differentiation. Phosphorylated by cyclin A/Cdk2 and p35-Cdk5 complexes and to a lesser extent by the cyclin D3/Cdk4 and cyclin B/Cdk1, in vitro. Dephosphorylated at Ser-368 by CDC14A and CDC14B around early anaphase.; Acetylated by EP300; acetylation leads both to the decreased of SIRT2-mediated alpha-tubulin deacetylase activity and SIRT2-mediated down-regulation of TP53 transcriptional activity.; Ubiquitinated.
SUBCELLULAR LOCATION
Nucleus, Cytoplasm, Chromosome, Perikaryon, Cell projection.
FUNCTION
The silent information regulator (SIR2) family of genes are highly conserved from prokaryotes to eukaryotes and are involved in diverse processes, including transcriptional regulation, cell cycle progression, DNA-damage repair and aging. In S. cerevisiae, Sir2p deacetylates histones in a NAD-dependent manner, which regulates silencing at the telomeric, rDNA and silent mating-type loci. Sir2p is the founding member of a large family, designated sirtuins, which contain a conserved catalytic domain. The human homologs, which include SIRT1-7, are divided into four main branches: SIRT1-3 are class I, SIRT4 is class II, SIRT5 is class III and SIRT6-7 are class IV. SIRT proteins may function via mono-ADP-ribosylation of proteins. SIRT2 contains a 323 amino acid catalytic core domain with a NAD-binding domain and a large groove which is the likely site of catalysis.