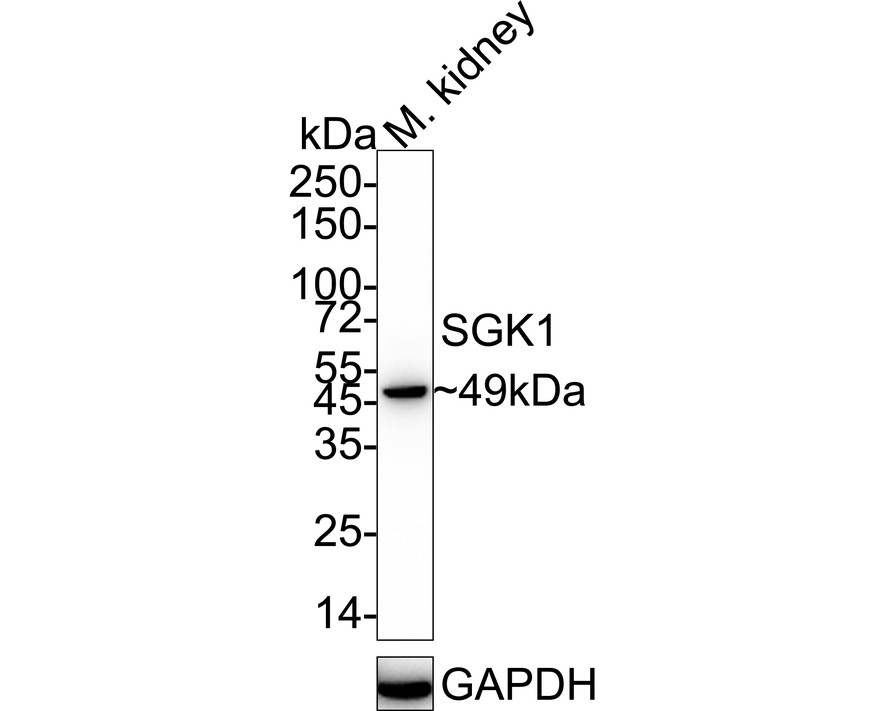 Western blot analysis of SGK1 on human kidney tissue lysates. Proteins were transferred to a PVDF membrane and blocked with 5% BSA in PBS for 1 hour at room temperature. The primary antibody (ET1610-19, 1/500) was used in 5% BSA at room temperature for 2 hours. Goat Anti-Rabbit IgG - HRP Secondary Antibody (HA1001) at 1:5,000 dilution was used for 1 hour at room temperature.
SPECIFICATIONS
Product Type
Recombinant Rabbit monoclonal primary
Product Name
Recombinant SGK1 Monoclonal Antibody (ET1610-19)
Positive Control
Human kidney tissue lysates, human liver tissue, human kidney tissue, mouse liver tissue, mouse brain tissue, mouse kidney tissue, 293.
PROPERTIES
Storage Condition
Store at +4C after thawing. Aliquot store at -20C or -80C. Avoid repeated freeze / thaw cycles.
Storage Buffer
1*TBS (pH7.4), 0.05% BSA, 40% Glycerol. Preservative: 0.05% Sodium Azide.
PURIFICATION
Protein A affinity purified.
TARGET
SYNONYMS
OTTHUMP00000017247 antibody; Serine/threonine protein kinase SGK antibody; Serine/threonine protein kinase Sgk1 antibody; Serine/threonine-protein kinase Sgk1 antibody; Serum and glucocorticoid regulated kinase antibody; Serum/glucocorticoid regulated kinase 1 antibody; Serum/glucocorticoid regulated kinase antibody; Serum/glucocorticoid-regulated kinase 1 antibody; SGK 1 antibody; SGK antibody; SGK1 antibody; Sgk1 variant i3 antibody; SGK1_HUMAN antibody
SEQUENCE SIMILARITIES
Belongs to the protein kinase superfamily. AGC Ser/Thr protein kinase family.
TISSUE SPECIFICITY
Expressed in most tissues with highest levels in the pancreas, followed by placenta, kidney and lung. Isoform 2 is strongly expressed in brain and pancreas, weaker in heart, placenta, lung, liver and skeletal muscle.
POST-TRANSLATIONAL MODIFICATION
Regulated by phosphorylation. Activated by phosphorylation on Ser-422 by mTORC2, transforming it into a substrate for PDPK1 which phosphorylates it on Thr-256. Phosphorylation on Ser-397 and Ser-401 are also essential for its activity. Phosphorylation on Ser-78 by MAPK7 is required for growth factor-induced cell cycle progression.; Ubiquitinated by NEDD4L; which promotes proteasomal degradation. Ubiquitinated by SYVN1 at the endoplasmic reticulum; which promotes rapid proteasomal degradation and maintains a high turnover rate in resting cells. Isoform 2 shows enhanced stability.
SUBCELLULAR LOCATION
Cytoplasm, Nucleus, Cell membrane, Mitochondrion.
FUNCTION
Serum- and glucocorticoid-regulated kinase (SGK), also known as SGK1, is a serine/threonine protein kinase and a member of the "AGC" subfamily, which includes protein kinases A, G, and C. SGK plays an important role in activating certain potassium, sodium, and chloride channels, suggesting an involvement in the regulation of processes such as cell survival, neuronal excitability, and renal sodium excretion. SGK contains a catalytic domain, which is most similar to Akt1 (also known as protein kinase B or PKB). SGK is a downstream target of PI 3-kinase-stimulated growth factor signaling, with 3-phosphoinositide-dependent protein kinase 1 (PDK1) capable of phosphorylating the activation-loop of SGK at Threonine-256. The adrenal corticosteroid hormone, Aldosterone, induces the transcription of SGK, which mediates Na + transport by stimulating epithelial sodium channel activity. The SGK promoter contains a glucocorticoid response element and an SP-1 regulatory element, and is a transcriptional target for p53. SGK is also a component of the p38 MAPK-mediated response to hyperosmotic stress. The human SGK gene maps to chromosome 6q23 and encodes the 431-amino acid SGK protein.