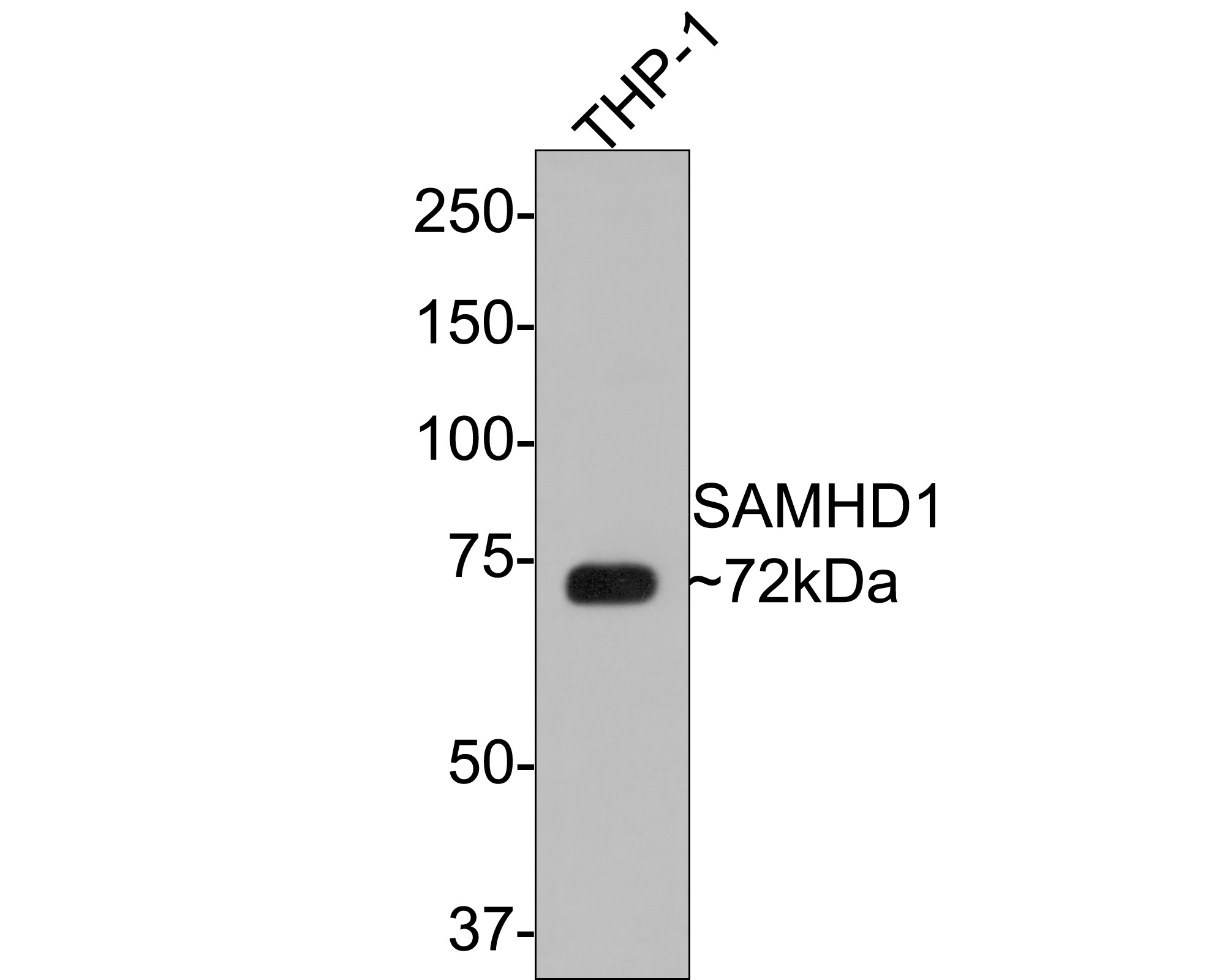 Western blot analysis of SAMHD1 on THP-1 cell lysate using anti-SAMHD1 antibody at 1/1,000 dilution.
SPECIFICATIONS
Product Type
Recombinant Rabbit monoclonal primary
Product Name
Recombinant SAMHD1 Monoclonal Antibody (ET1706-24)
Positive Control
THP-1, HepG2, HUVEC, LOVO, human tonsil tissue, human colon cancer tissue, human spleen tissue, K562.
PROPERTIES
Storage Condition
Store at +4C after thawing. Aliquot store at -20C or -80C. Avoid repeated freeze / thaw cycles.
Storage Buffer
1*TBS (pH7.4), 0.05% BSA, 40% Glycerol. Preservative: 0.05% Sodium Azide.
TARGET
SYNONYMS
CHBL2 antibody; DCIP antibody; Dendritic cell derived IFNG induced protein antibody; Dendritic cell-derived IFNG-induced protein antibody; Deoxynucleoside triphosphate triphosphohydrolase SAMHD1 antibody; dNTPase antibody; HD domain containing 1 antibody; HDDC1 antibody; Mg11 antibody; Monocyte protein 5 antibody; MOP 5 antibody; MOP-5 antibody; MOP5 antibody; OTTHUMP00000030889 antibody; SAM domain and HD domain 1 antibody; SAM domain and HD domain containing protein 1 antibody; SAM domain and HD domain-containing protein 1 antibody; SAMH1_HUMAN antibody; Samhd1 antibody; SBBI88 antibody
SEQUENCE SIMILARITIES
Belongs to the SAMHD1 family.
TISSUE SPECIFICITY
Expressed in heart, skeletal muscle, spleen, liver, small intestine, placenta, lung and peripheral blood leukocytes. No expression is seen in brain and thymus.
POST-TRANSLATIONAL MODIFICATION
Phosphorylation at Thr-592 by CDK1 acts as a switch to control deoxynucleoside triphosphate (dNTPase)-dependent and -independent functions. Phosphorylation at Thr-592 takes place in cycling cells: it reduces the stability of the homotetramer, impairing the dNTPase activity and subsequent ability to restrict infection by viruses. It also inhibits ability to suppress LINE-1 retrotransposon activity. In contrast, phosphorylation at Thr-592 promotes DNA end resection at stalled replication forks in response to DNA damage.; (Microbial infection) Ubiquitinated following interaction with HIV-2 viral protein Vpx; Vpx promotes interaction and with a DCX (DDB1-CUL4-X-box) E3 ubiquitin ligase, leading to proteasomal degradation.
FUNCTION
SAM domain and HD domain-containing protein 1 is a protein that in humans is encoded by the SAMHD1 gene. SAMHD1 is a cellular enzyme, responsible for blocking replication of HIV in dendritic cells, macrophages and monocytes. It is an enzyme that exhibits phosphohydrolase activity, converting deoxynucleoside triphosphates (dNTPs) to inorganic phosphate (iPPP) and a 2'-deoxynucleoside (i.e. deoxynucleosides without a phosphate group). In doing so, SAMHD1 depletes the pool of dNTPs available to a reverse transcriptase for viral cDNA synthesis and thus prevents viral replication. SAMHD1 has also shown nuclease activity. Although a ribonuclease activity was described to be required for HIV-1 restriction, recent data confirmed that SAMHD1-mediated HIV-1 restriction in cells does not involve ribonuclease activity.