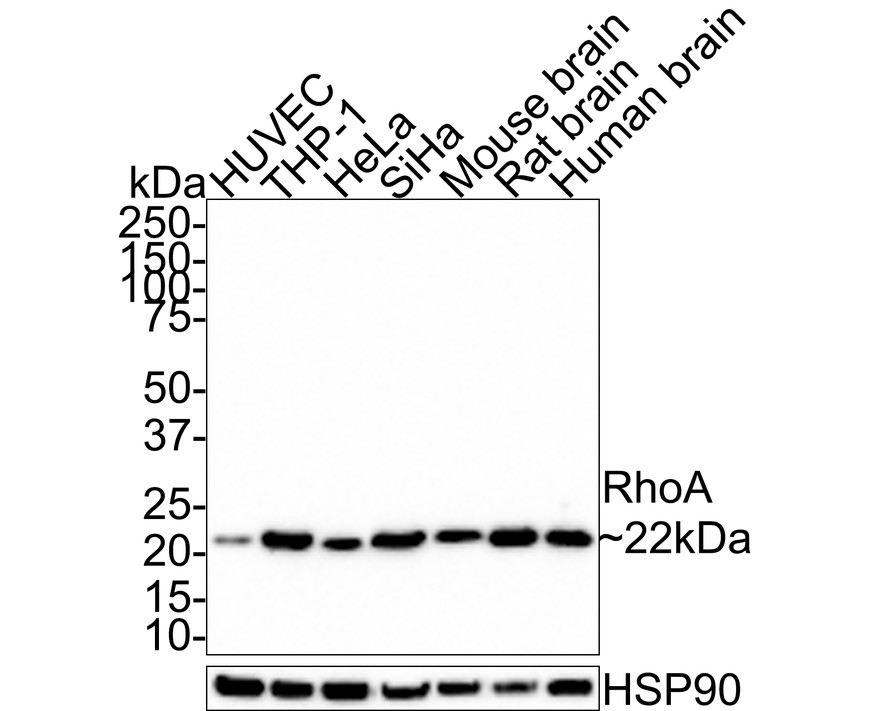 Western blot analysis of RhoA on rat brain lysates using anti-RhoA antibody at 1/1,000 dilution.
SPECIFICATIONS
Product Type
Recombinant Rabbit monoclonal primary
Product Name
Recombinant RhoA Monoclonal Antibody (ET1611-10)
Positive Control
SH-SY-5Y, rat brain tissue.
PROPERTIES
Storage Condition
Store at +4C after thawing. Aliquot store at -20C or -80C. Avoid repeated freeze / thaw cycles.
Storage Buffer
1*TBS (pH7.4), 0.05% BSA, 40% Glycerol. Preservative: 0.05% Sodium Azide.
TARGET
SYNONYMS
Aplysia ras related homolog 12 antibody; ARH12 antibody; ARHA antibody; H 12 antibody; H12 antibody; Oncogene RHO H12 antibody; Ras homolog family member A antibody; Ras homolog gene family member A antibody; Rho A antibody; Rho cDNA clone 12 antibody; RHO H12 antibody; RHO12 antibody; RHOA antibody; RHOA_HUMAN antibody; RHOH12 antibody; Small GTP binding protein Rho A antibody; Transforming protein Rho A antibody; Transforming protein RhoA antibody
SEQUENCE SIMILARITIES
Belongs to the small GTPase superfamily. Rho family.
POST-TRANSLATIONAL MODIFICATION
(Microbial infection) Substrate for botulinum ADP-ribosyltransferase.; (Microbial infection) Cleaved by yopT protease when the cell is infected by some Yersinia pathogens. This removes the lipid attachment, and leads to its displacement from plasma membrane and to subsequent cytoskeleton cleavage.; (Microbial infection) AMPylation at Tyr-34 and Thr-37 are mediated by bacterial enzymes in case of infection by H.somnus and V.parahaemolyticus, respectively. AMPylation occurs in the effector region and leads to inactivation of the GTPase activity by preventing the interaction with downstream effectors, thereby inhibiting actin assembly in infected cells. It is unclear whether some human enzyme mediates AMPylation; FICD has such ability in vitro but additional experiments remain to be done to confirm results in vivo.; (Microbial infection) Glycosylated at Tyr-34 by Photorhabdus asymbiotica toxin PAU_02230. Mono-O-GlcNAcylation by PAU_02230 inhibits downstream signaling by an impaired interaction with diverse regulator and effector proteins of Rho and leads to actin disassembly.; Phosphorylation by PRKG1 at Ser-188 inactivates RHOA signaling. Phosphorylation by SLK at Ser-188 in response to AGTR2 activation (By similarity).; Ubiquitinated by the BCR(KCTD13) and BCR(TNFAIP1) E3 ubiquitin ligase complexes, leading to its degradation by the proteasome, thereby regulating the actin cytoskeleton and synaptic transmission in neurons.
SUBCELLULAR LOCATION
Cell membrane, Cytoplasm, Cleavage furrow, Midbody, Cell projection.
FUNCTION
The Ras p21 family of guanine nucleotide proteins has been widely studied in view of its apparent role in signal transduction pathways and high frequency of mutations in human malignancies. It is now clear, however, that the Ras proteins (H-, K- and N-Ras p21) are members of a much larger superfamily of related proteins. Six members of this family, Rap 1A, Rap 1B, Rap 2, R-Ras, Ral A and Ral B, exhibit approximately 50% amino acid homology to Ras. The six mammalian Rho proteins (Rho A, B, C, G, 7 and 8) are approximately 30% homologous to Ras and are expressed in a wide range of cell types. Both Ras p21 and Rho p21, as well as other members of the Ras superfamily, contain a carboxy-terminal CAAX sequence (C, cysteine; A, aliphatic amino acid; X, any amino acid) which in the case of Ras has been shown to be essential for correct localization and function.