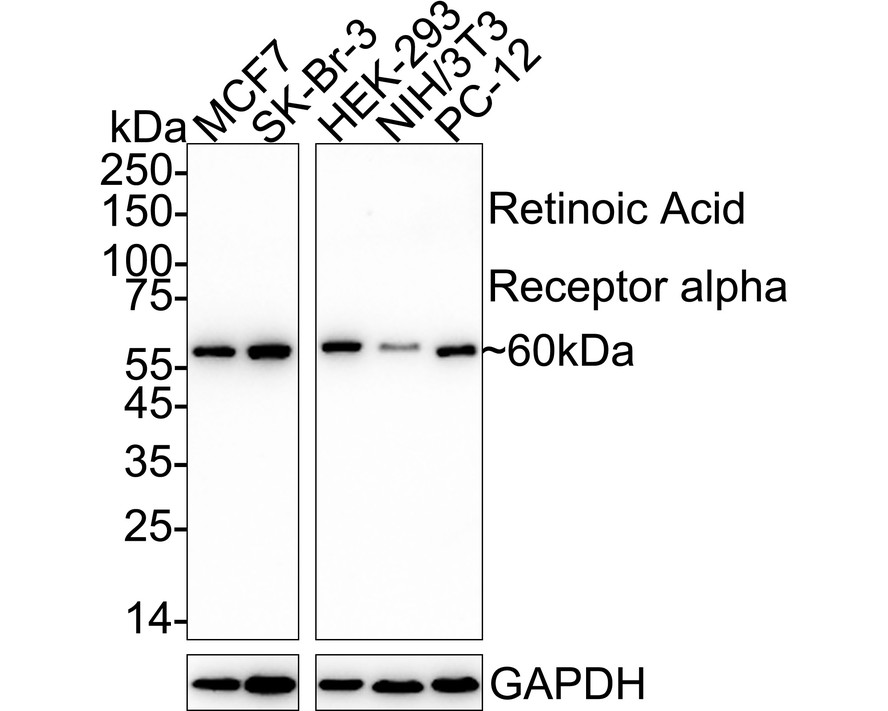 Flow cytometric analysis of MCF-7 cells with RAR-alpha antibody at 1/50 dilution (red) compared with an unlabelled control (cells without incubation with primary antibody; black). Alexa Fluor 488-conjugated goat anti rabbit IgG was used as the secondary antibody.
SPECIFICATIONS
Product Type
Recombinant Rabbit monoclonal primary
Product Name
Recombinant Retinoic Acid Receptor alpha Monoclonal Antibody (ET1611-77)
PROPERTIES
Storage Condition
Store at +4C after thawing. Aliquot store at -20C or -80C. Avoid repeated freeze / thaw cycles.
Storage Buffer
1*TBS (pH7.4), 0.05% BSA, 40% Glycerol. Preservative: 0.05% Sodium Azide.
TARGET
PROTEIN NAME
Retinoic acid receptor alpha
SEQUENCE SIMILARITIES
Belongs to the nuclear hormone receptor family. NR1 subfamily.
POST-TRANSLATIONAL MODIFICATION
Phosphorylated on serine and threonine residues. Phosphorylation does not change during cell cycle. Phosphorylation on Ser-77 is crucial for transcriptional activity (By similarity). Phosphorylation by AKT1 is required for the repressor activity but has no effect on DNA binding, protein stability nor subcellular localization. Phosphorylated by PKA in vitro. This phosphorylation on Ser-219 and Ser-369 is critical for ligand binding, nuclear localization and transcriptional activity in response to FSH signaling.; Sumoylated with SUMO2, mainly on Lys-399 which is also required for SENP6 binding. On all-trans retinoic acid (ATRA) binding, a confromational change may occur that allows sumoylation on two additional site, Lys-166 and Lys-171. Probably desumoylated by SENP6. Sumoylation levels determine nuclear localization and regulate ATRA-mediated transcriptional activity.; Trimethylation enhances heterodimerization with RXRA and positively modulates the transcriptional activation.; Ubiquitinated.; Acetylated; acetylation is increased upon pulsatile shear stress and decreased upon oscillatory shear stress.
SUBCELLULAR LOCATION
Nucleus. Cytoplasm. Note=Nuclear localization depends on ligand binding, phosphorylation and sumoylation. Translocation to the nucleus in the absence of ligand is dependent on activation of PKC and the downstream MAPK phosphorylation (By similarity). Increased nuclear localization upon pulsatile shear stress.
FUNCTION
Receptor for retinoic acid. Retinoic acid receptors bind as heterodimers to their target response elements in response to their ligands, all-trans or 9-cis retinoic acid, and regulate gene expression in various biological processes. The RXR/RAR heterodimers bind to the retinoic acid response elements (RARE) composed of tandem 5'-AGGTCA-3' sites known as DR1-DR5. In the absence of ligand, the RXR-RAR heterodimers associate with a multiprotein complex containing transcription corepressors that induce histone deacetylation, chromatin condensation and transcriptional suppression. On ligand binding, the corepressors dissociate from the receptors and associate with the coactivators leading to transcriptional activation. Formation of a complex with histone deacetylases might lead to inhibition of RARE DNA element binding and to transcriptional repression. Transcriptional activation and RARE DNA element binding might be supported by the transcription factor KLF2. RARA plays an essential role in the regulation of retinoic acid-induced germ cell development during spermatogenesis (By similarity). Has a role in the survival of early spermatocytes at the beginning prophase of meiosis (By similarity). In Sertoli cells, may promote the survival and development of early meiotic prophase spermatocytes (By similarity). In concert with RARG, required for skeletal growth, matrix homeostasis and growth plate function (By similarity). Together with RXRA, positively regulates microRNA-10a expression, thereby inhibiting the GATA6/VCAM1 signaling response to pulsatile shear stress in vascular endothelial cells. In association with HDAC3, HDAC5 and HDAC7 corepressors, plays a role in the repression of microRNA-10a and thereby promotes the inflammatory response.