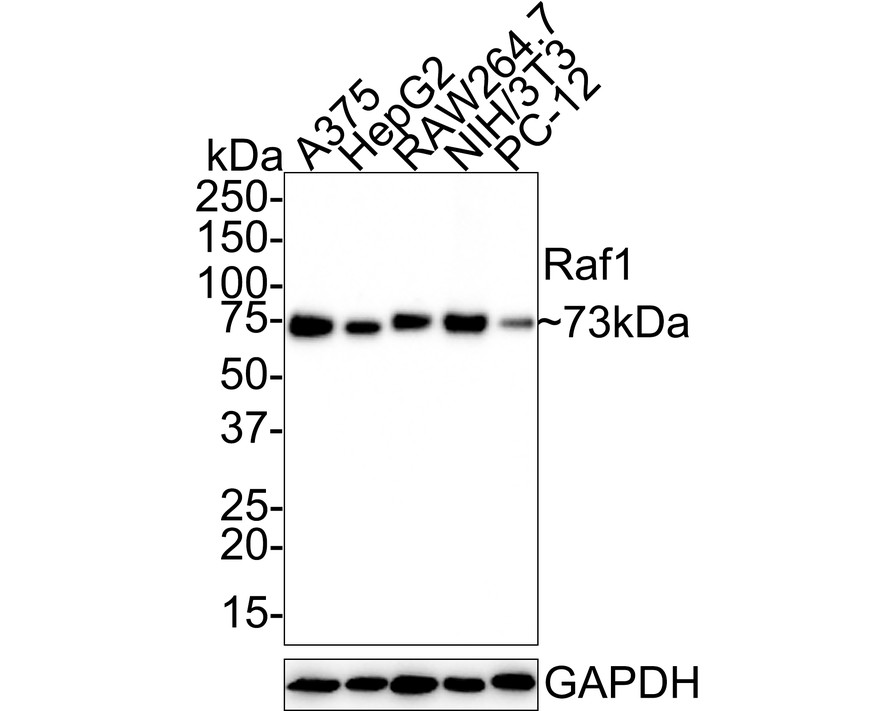 Western blot analysis of Raf1 on HepG2 cells lysates using anti-Raf1 antibody at 1/1,000 dilution.
SPECIFICATIONS
Product Type
Recombinant Rabbit monoclonal primary
Product Name
Recombinant Raf1 Monoclonal Antibody (ET1701-21)
PROPERTIES
Storage Condition
Store at +4C after thawing. Aliquot store at -20C or -80C. Avoid repeated freeze / thaw cycles.
Storage Buffer
1*TBS (pH7.4), 0.05% BSA, 40% Glycerol. Preservative: 0.05% Sodium Azide.
TARGET
PROTEIN NAME
RAF proto-oncogene serine/threonine-protein kinase
SEQUENCE SIMILARITIES
Belongs to the protein kinase superfamily. TKL Ser/Thr protein kinase family. RAF subfamily.
TISSUE SPECIFICITY
In skeletal muscle, isoform 1 is more abundant than isoform 2.
POST-TRANSLATIONAL MODIFICATION
Phosphorylation at Thr-269, Ser-338, Tyr-341, Thr-491 and Ser-494 results in its activation. Phosphorylation at Ser-29, Ser-43, Ser-289, Ser-296, Ser-301 and Ser-642 by MAPK1/ERK2 results in its inactivation. Phosphorylation at Ser-259 induces the interaction with YWHAZ and inactivates kinase activity. Dephosphorylation of Ser-259 by the complex containing protein phosphatase 1, SHOC2 and M-Ras/MRAS relieves inactivation, leading to stimulate RAF1 activity. Phosphorylation at Ser-338 by PAK1 and PAK5 and Ser-339 by PAK1 is required for its mitochondrial localization. Phosphorylation at Ser-621 in response to growth factor treatment stabilizes the protein, possibly by preventing proteasomal degradation. Phosphorylation at Ser-289, Ser-296, Ser-301, Ser-338 and Ser-621 are somehow linked to the methylation potential of cells. Treatment of cells with HGF in the presence of the methylation inhibitor 5'-methylthioadenosine (MTA) results in increased phosphorylation at Ser-338 and Ser-621 and decreased phosphorylation at Ser-296, Ser-301 and Ser-338. Dephosphorylation at Ser-338 by PPP5C results in an activity decrease.; Methylated at Arg-563 in response to EGF treatment. This modification leads to destabilization of the protein, possibly through proteasomal degradation.
SUBCELLULAR LOCATION
Cytoplasm. Cell membrane. Mitochondrion. Nucleus. Note=Colocalizes with RGS14 and BRAF in both the cytoplasm and membranes. Phosphorylation at Ser-259 impairs its membrane accumulation. Recruited to the cell membrane by the active Ras protein. Phosphorylation at Ser-338 and Ser-339 by PAK1 is required for its mitochondrial localization. Retinoic acid-induced Ser-621 phosphorylated form of RAF1 is predominantly localized at the nucleus.
FUNCTION
Serine/threonine-protein kinase that acts as a regulatory link between the membrane-associated Ras GTPases and the MAPK/ERK cascade, and this critical regulatory link functions as a switch determining cell fate decisions including proliferation, differentiation, apoptosis, survival and oncogenic transformation. RAF1 activation initiates a mitogen-activated protein kinase (MAPK) cascade that comprises a sequential phosphorylation of the dual-specific MAPK kinases (MAP2K1/MEK1 and MAP2K2/MEK2) and the extracellular signal-regulated kinases (MAPK3/ERK1 and MAPK1/ERK2). The phosphorylated form of RAF1 (on residues Ser-338 and Ser-339, by PAK1) phosphorylates BAD/Bcl2-antagonist of cell death at 'Ser-75'. Phosphorylates adenylyl cyclases: ADCY2, ADCY5 and ADCY6, resulting in their activation. Phosphorylates PPP1R12A resulting in inhibition of the phosphatase activity. Phosphorylates TNNT2/cardiac muscle troponin T. Can promote NF-kB activation and inhibit signal transducers involved in motility (ROCK2), apoptosis (MAP3K5/ASK1 and STK3/MST2), proliferation and angiogenesis (RB1). Can protect cells from apoptosis also by translocating to the mitochondria where it binds BCL2 and displaces BAD/Bcl2-antagonist of cell death. Regulates Rho signaling and migration, and is required for normal wound healing. Plays a role in the oncogenic transformation of epithelial cells via repression of the TJ protein, occludin (OCLN) by inducing the up-regulation of a transcriptional repressor SNAI2/SLUG, which induces down-regulation of OCLN. Restricts caspase activation in response to selected stimuli, notably Fas stimulation, pathogen-mediated macrophage apoptosis, and erythroid differentiation.