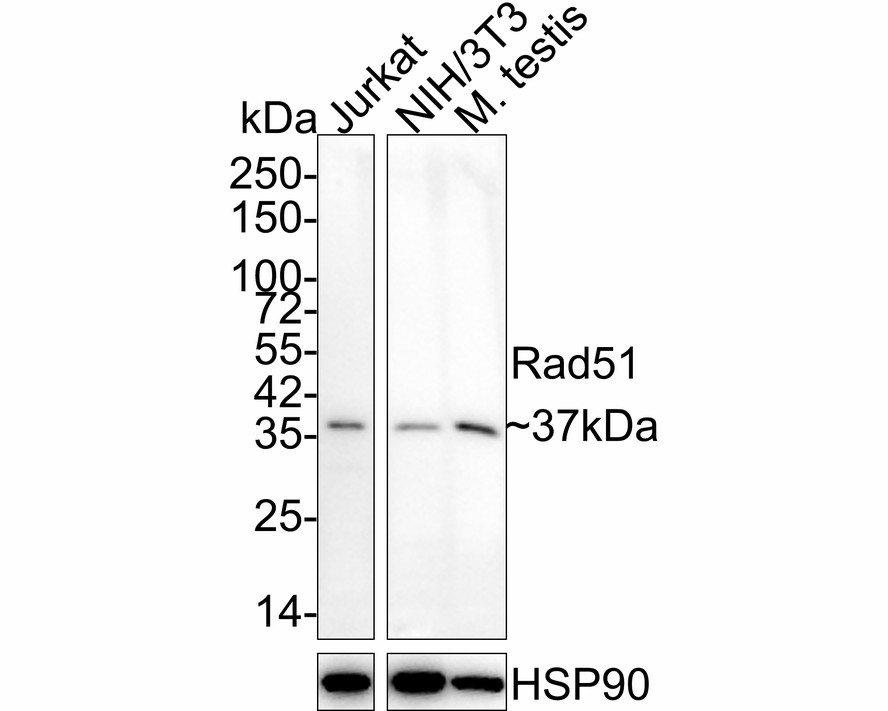 Western blot analysis of Rad51 on mouse testis tissue lysates. Proteins were transferred to a PVDF membrane and blocked with 5% BSA in PBS for 1 hour at room temperature. The primary antibody (ET1705-96, 1/500) was used in 5% BSA at room temperature for 2 hours. Goat Anti-Rabbit IgG - HRP Secondary Antibody (HA1001) at 1:5,000 dilution was used for 1 hour at room temperature.
SPECIFICATIONS
Product Type
Recombinant Rabbit monoclonal primary
Product Name
Recombinant Rad51 Monoclonal Antibody (ET1705-96)
Positive Control
Mouse testie tissue lytase, LOVO, PANC-1, rat epididymis tissue, human placenta tissue, mouse testis tissue, Jurkat.
PROPERTIES
Storage Condition
Store at +4C after thawing. Aliquot store at -20C or -80C. Avoid repeated freeze / thaw cycles.
Storage Buffer
1*TBS (pH7.4), 0.05% BSA, 40% Glycerol. Preservative: 0.05% Sodium Azide.
TARGET
PROTEIN NAME
DNA repair protein RAD51 homolog 1
SYNONYMS
HsRAD51, hRAD51, RAD51, RAD51A, RECA
SEQUENCE SIMILARITIES
Belongs to the RecA family. RAD51 subfamily.
TISSUE SPECIFICITY
Highly expressed in testis and thymus, followed by small intestine, placenta, colon, pancreas and ovary. Weakly expressed in breast.
POST-TRANSLATIONAL MODIFICATION
Ubiquitinated by the SCF(FBH1) E3 ubiquitin ligase complex, regulating RAD51 subcellular location and preventing its association with DNA. Ubiquitinated by RFWD3 in response to DNA damage: ubiquitination leads to degradation by the proteasome, promoting homologous recombination.; Phosphorylated. Phosphorylation of Thr-309 by CHEK1 may enhance association with chromatin at sites of DNA damage and promote DNA repair by homologous recombination. Phosphorylation by ABL1 inhibits function.
SUBCELLULAR LOCATION
Nucleus. Cytoplasm. Cytoplasm, perinuclear region. Mitochondrion matrix. Chromosome. Cytoplasm, cytoskeleton, microtubule organizing center, centrosome. Note=Colocalizes with RAD51AP1 and RPA2 to multiple nuclear foci upon induction of DNA damage. DNA damage induces an increase in nuclear levels. Together with FIGNL1, redistributed in discrete nuclear DNA damage-induced foci after ionizing radiation (IR) or camptothecin (CPT) treatment. Accumulated at sites of DNA damage in a SPIDR-dependent manner. Recruited at sites of DNA damage in a MCM9-MCM8-dependent manner.
FUNCTION
Plays an important role in homologous strand exchange, a key step in DNA repair through homologous recombination (HR). Binds to single and double-stranded DNA and exhibits DNA-dependent ATPase activity. Catalyzes the recognition of homology and strand exchange between homologous DNA partners to form a joint molecule between a processed DNA break and the repair template. Binds to single-stranded DNA in an ATP-dependent manner to form nucleoprotein filaments which are essential for the homology search and strand exchange. Part of a PALB2-scaffolded HR complex containing BRCA2 and RAD51C and which is thought to play a role in DNA repair by HR. Plays a role in regulating mitochondrial DNA copy number under conditions of oxidative stress in the presence of RAD51C and XRCC3. Also involved in interstrand cross-link repair.