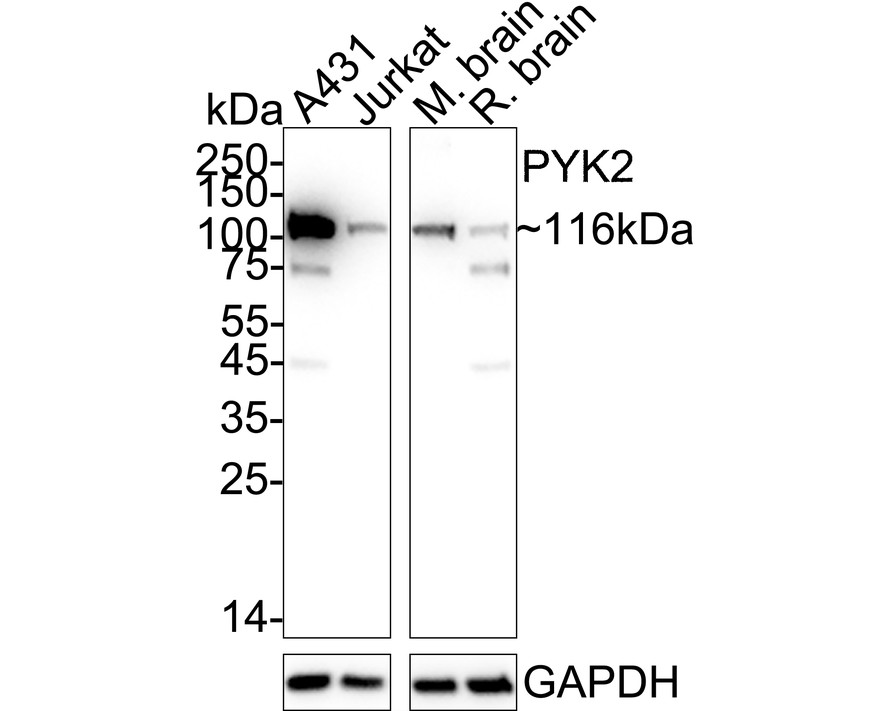 Western blot analysis of PYK2 on mouse brain lysates using anti-PYK2 antibody at 1/1,000 dilution.
SPECIFICATIONS
Product Type
Recombinant Rabbit monoclonal primary
Product Name
Recombinant PYK2 Monoclonal Antibody (ET1610-82)
Positive Control
SHG-44, SH-SY-5Y, Hela, human kidney tissue, human tonsil tissue, mouse brain tissue, human spleen tissue, mouse kidney tissue.
PROPERTIES
Storage Condition
Store at +4C after thawing. Aliquot store at -20C or -80C. Avoid repeated freeze / thaw cycles.
Storage Buffer
1*TBS (pH7.4), 0.05% BSA, 40% Glycerol. Preservative: 0.05% Sodium Azide.
TARGET
PROTEIN NAME
Protein-tyrosine kinase 2-beta
SYNONYMS
CADTK, CAK-beta, CAKB, FADK 2, RAFTK, PTK2B
SEQUENCE SIMILARITIES
Belongs to the protein kinase superfamily. Tyr protein kinase family. FAK subfamily.
TISSUE SPECIFICITY
Most abundant in the brain, with highest levels in amygdala and hippocampus. Low levels in kidney (at protein level). Also expressed in spleen and lymphocytes.
POST-TRANSLATIONAL MODIFICATION
Phosphorylated on tyrosine residues in response to various stimuli that elevate the intracellular calcium concentration; this activation is indirect and may be mediated by production of reactive oxygen species (ROS). Tyr-402 is the major autophosphorylation site, but other kinases can also phosphorylate Tyr-402. Autophosphorylation occurs in trans, i.e. one subunit of the dimeric receptor phosphorylates tyrosine residues on the other subunit. Phosphorylation at Tyr-402 promotes interaction with SRC and SRC family members, leading to phosphorylation at Tyr-579; Tyr-580 and Tyr-881. Phosphorylation at Tyr-881 is important for interaction with GRB2. Phosphorylated on tyrosine residues upon activation of FGR and PKC. Recruitment by NPHP1 to cell matrix adhesions initiates Tyr-402 phosphorylation. In monocytes, adherence to substrata is required for tyrosine phosphorylation and kinase activation. Angiotensin II, thapsigargin and L-alpha-lysophosphatidic acid (LPA) also induce autophosphorylation and increase kinase activity. Phosphorylation by MYLK promotes ITGB2 activation and is thus essential to trigger neutrophil transmigration during lung injury. Dephosphorylated by PTPN12.
SUBCELLULAR LOCATION
Cytoplasm. Cytoplasm, perinuclear region. Cell membrane; Peripheral membrane protein; Cytoplasmic side. Cell junction, focal adhesion. Cell projection, lamellipodium. Cytoplasm, cell cortex. Nucleus. Note=Interaction with NPHP1 induces the membrane-association of the kinase. Colocalizes with integrins at the cell periphery.
FUNCTION
Non-receptor protein-tyrosine kinase that regulates reorganization of the actin cytoskeleton, cell polarization, cell migration, adhesion, spreading and bone remodeling. Plays a role in the regulation of the humoral immune response, and is required for normal levels of marginal B-cells in the spleen and normal migration of splenic B-cells. Required for normal macrophage polarization and migration towards sites of inflammation. Regulates cytoskeleton rearrangement and cell spreading in T-cells, and contributes to the regulation of T-cell responses. Promotes osteoclastic bone resorption; this requires both PTK2B/PYK2 and SRC. May inhibit differentiation and activity of osteoprogenitor cells. Functions in signaling downstream of integrin and collagen receptors, immune receptors, G-protein coupled receptors (GPCR), cytokine, chemokine and growth factor receptors, and mediates responses to cellular stress. Forms multisubunit signaling complexes with SRC and SRC family members upon activation; this leads to the phosphorylation of additional tyrosine residues, creating binding sites for scaffold proteins, effectors and substrates. Regulates numerous signaling pathways. Promotes activation of phosphatidylinositol 3-kinase and of the AKT1 signaling cascade. Promotes activation of NOS3. Regulates production of the cellular messenger cGMP. Promotes activation of the MAP kinase signaling cascade, including activation of MAPK1/ERK2, MAPK3/ERK1 and MAPK8/JNK1. Promotes activation of Rho family GTPases, such as RHOA and RAC1. Recruits the ubiquitin ligase MDM2 to P53/TP53 in the nucleus, and thereby regulates P53/TP53 activity, P53/TP53 ubiquitination and proteasomal degradation. Acts as a scaffold, binding to both PDPK1 and SRC, thereby allowing SRC to phosphorylate PDPK1 at 'Tyr-9, 'Tyr-373', and 'Tyr-376'. Promotes phosphorylation of NMDA receptors by SRC family members, and thereby contributes to the regulation of NMDA receptor ion channel activity and intracellular Ca(2+) levels. May also regulate potassium ion transport by phosphorylation of potassium channel subunits. Phosphorylates SRC; this increases SRC kinase activity. Phosphorylates ASAP1, NPHP1, KCNA2 and SHC1. Promotes phosphorylation of ASAP2, RHOU and PXN; this requires both SRC and PTK2/PYK2.