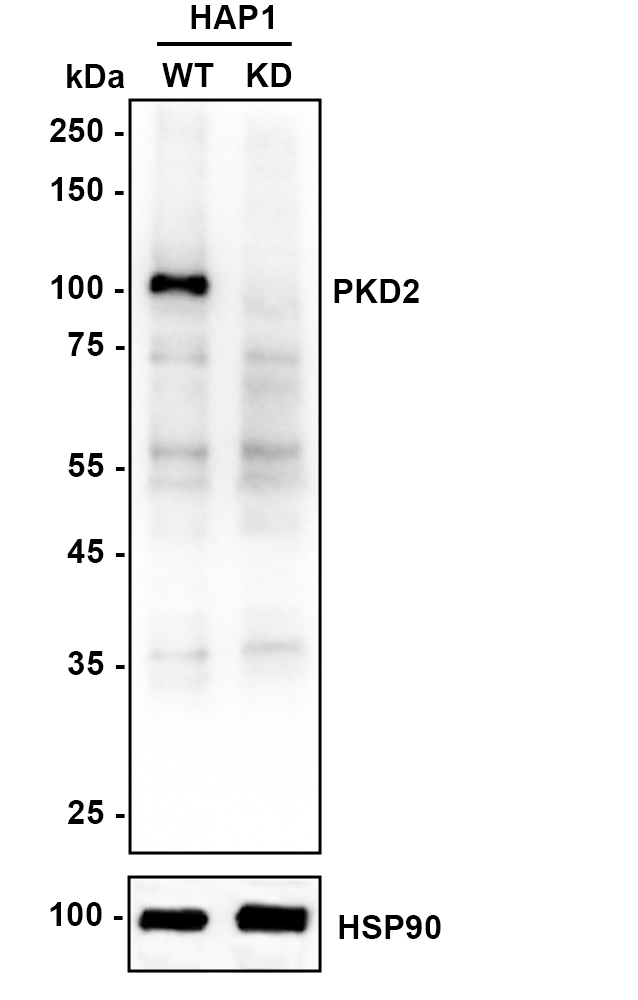 Western blot analysis of Protein Kinase D2 on A549 cell using anti-Protein Kinase D2 antibody at 1/500 dilution.
SPECIFICATIONS
Product Type
Recombinant Rabbit monoclonal primary
Product Name
Recombinant Protein Kinase D2 Monoclonal Antibody (ET7106-87)
Positive Control
A549, SH-SY-5Y, human tonsil tissue.
PROPERTIES
Storage Condition
Store at +4C after thawing. Aliquot store at -20C or -80C. Avoid repeated freeze / thaw cycles.
Storage Buffer
1*TBS (pH7.4), 0.05% BSA, 40% Glycerol. Preservative: 0.05% Sodium Azide.
TARGET
SYNONYMS
DKFZp586E0820 antibody; HSPC187 antibody; KPCD2_HUMAN antibody; nPKC D2 antibody; nPKC-D2 antibody; PKD2 antibody; PRKD 2 antibody; Prkd2 antibody; Protein kinase D2 antibody; Serine/threonine protein kinase D2 antibody; Serine/threonine-protein kinase D2 antibody
SEQUENCE SIMILARITIES
Belongs to the protein kinase superfamily. CAMK Ser/Thr protein kinase family. PKD subfamily.
POST-TRANSLATIONAL MODIFICATION
Phosphorylation of Ser-876 correlates with the activation status of the kinase. Ser-706 or/and Ser-710 are probably phosphorylated by PKC. Phosphorylation at Ser-244 by CSNK1D and CSNK1E promotes nuclear localization and substrate targeting. Phosphorylation at Ser-244, Ser-706 and Ser-710 is required for nuclear localization. Phosphorylated at Tyr-438 by ABL1 in response to oxidative stress. Phosphorylated at Tyr-717 by ABL1 specifically in response to oxidative stress; requires prior phosphorylation at Ser-706 or/and Ser-710.
SUBCELLULAR LOCATION
Membrane. Cytoplasm. Nucleus.
FUNCTION
PKD2 (protein kinase D2), also known as PRKD2 or HSPC187, is a widely expressed protein belonging to the protein kinase D (PKD) family of serine/threonine kinases. In mammals, there are three members of the PKD family, namely PKC µ, PKD2 and PKC n, and each contain a homologous catalytic domain but differ in their tissue expression and subcellular localization. PKD family members are activated by G-protein-coupled receptors (GPCRs) and are known to participate in biological processes such as proliferation, apoptosis, migration, signal transduction and vesicle shedding. Shuttling between the nucleus and the cytoplasm, PKD2 contains one PH domain, one protein kinase domain and two phorbol-ester/DAG-type zinc fingers, and functions as a calcium-independent, phospholipid-dependent protein kinase. Upon activation of CCK-BR, PKD2 is phosphorylated by casein kinase I isoforms and subsequently accumulates in the nucleus. The result of the nuclear accumulation of PKD2 is the transcriptional activation of Nur77 and the nuclear exclusion of HDAC7. This suggests that PKD2 mediates CCK-BR-induced transcriptional activation.