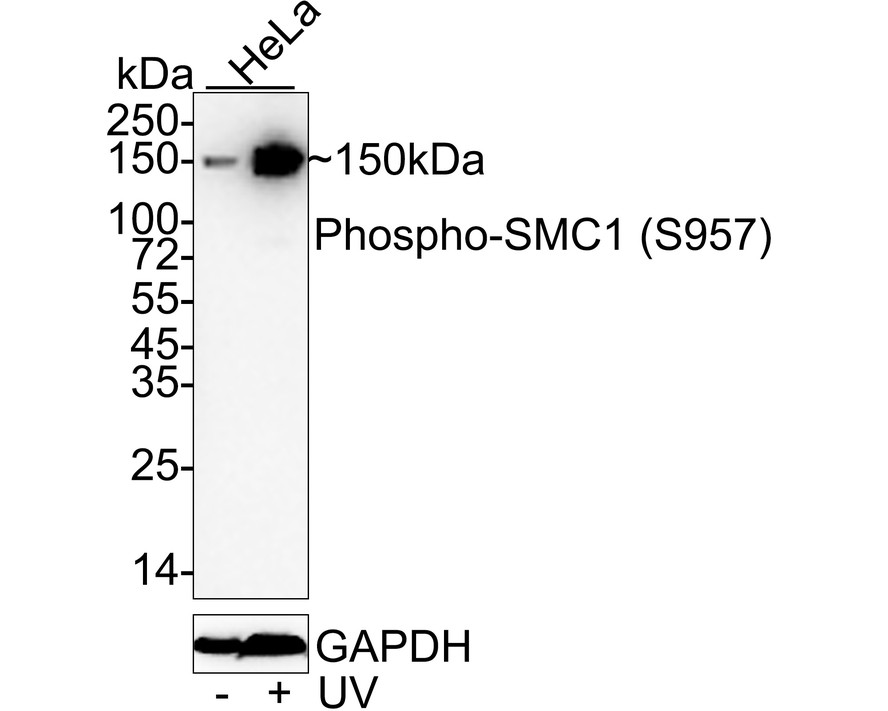 Western blot analysis of SMC1(phospho S957) on Hela cells lysates using anti- phospho -SMC1(S957) antibody at 1/1,000 dilution.
SPECIFICATIONS
Product Type
Recombinant Rabbit monoclonal primary
Product Name
Recombinant Phospho SMC1(S957) Monoclonal Antibody (ET1610-55)
Positive Control
Hela, human tonsil tissue, human lung cancer tissue, human breast carcinoma tissue.
PROPERTIES
Storage Condition
Store at +4C after thawing. Aliquot store at -20C or -80C. Avoid repeated freeze / thaw cycles.
Storage Buffer
1*TBS (pH7.4), 0.05% BSA, 40% Glycerol. Preservative: 0.05% Sodium Azide.
TARGET
PROTEIN NAME
Structural maintenance of chromosomes protein 1A
SYNONYMS
SMC protein 1A, SMC-1-alpha, SMC-1A, SMC1A, SMC protein 1B, SMC-1-beta, SMC-1B, SMC1B
SEQUENCE SIMILARITIES
Belongs to the SMC family. SMC1 subfamily.
POST-TRANSLATIONAL MODIFICATION
Ubiquitinated by the DCX(DCAF15) complex, leading to its degradation.; Phosphorylated by ATM upon ionizing radiation in a NBS1-dependent manner. Phosphorylated by ATR upon DNA methylation in a MSH2/MSH6-dependent manner. Phosphorylation of Ser-957 and Ser-966 activates it and is required for S-phase checkpoint activation.
SUBCELLULAR LOCATION
Nucleus. Chromosome. Chromosome, centromere, kinetochore. Note=Associates with chromatin. Before prophase it is scattered along chromosome arms. During prophase, most of cohesin complexes dissociate from chromatin probably because of phosphorylation by PLK, except at centromeres, where cohesin complexes remain. At anaphase, the RAD21 subunit of the cohesin complex is cleaved, leading to the dissociation of the complex from chromosomes, allowing chromosome separation. In germ cells, cohesin complex dissociates from chromatin at prophase I, and may be replaced by a meiosis-specific cohesin complex. The phosphorylated form on Ser-957 and Ser-966 associates with chromatin during G1/S/G2 phases but not during M phase, suggesting that phosphorylation does not regulate cohesin function. Integral component of the functional centromere-kinetochore complex at the kinetochore region during mitosis.
FUNCTION
Involved in chromosome cohesion during cell cycle and in DNA repair. Central component of cohesin complex. The cohesin complex is required for the cohesion of sister chromatids after DNA replication. The cohesin complex apparently forms a large proteinaceous ring within which sister chromatids can be trapped. At anaphase, the complex is cleaved and dissociates from chromatin, allowing sister chromatids to segregate. The cohesin complex may also play a role in spindle pole assembly during mitosis. Involved in DNA repair via its interaction with BRCA1 and its related phosphorylation by ATM, or via its phosphorylation by ATR. Works as a downstream effector both in the ATM/NBS1 branch and in the ATR/MSH2 branch of S-phase checkpoint.