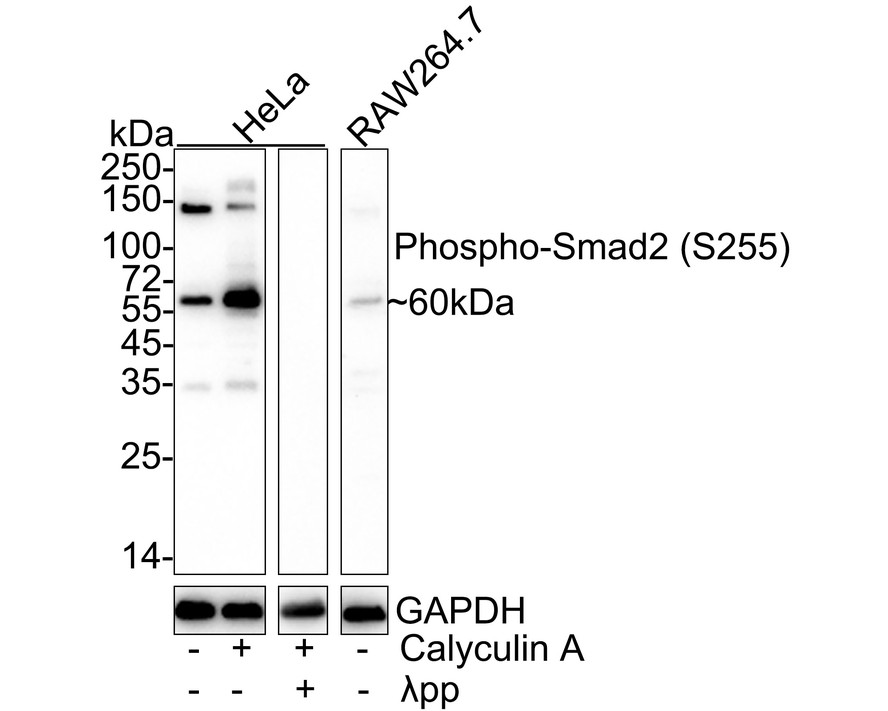 Immunohistochemical analysis of paraffin-embedded mouse uterus tissue using anti-Phospho-Smad2(S255) antibody. Counter stained with hematoxylin.
SPECIFICATIONS
Product Type
Recombinant Rabbit monoclonal primary
Product Name
Recombinant Phospho Smad2(S255) Monoclonal Antibody (ET1702-34)
Immunogen
Synthetic phospho-peptide corresponding to residues surrounding ser255 of human smad2.
PROPERTIES
Storage Condition
Store at +4C after thawing. Aliquot store at -20C or -80C. Avoid repeated freeze / thaw cycles.
Storage Buffer
1*TBS (pH7.4), 0.05% BSA, 40% Glycerol. Preservative: 0.05% Sodium Azide.
TARGET
PROTEIN NAME
Mothers against decapentaplegic homolog 2
SYNONYMS
MAD homolog 2, Mothers against DPP homolog 2, hMAD-2, SMAD 2, Smad2, hSMAD2
SEQUENCE SIMILARITIES
Belongs to the dwarfin/SMAD family.
TISSUE SPECIFICITY
Expressed at high levels in skeletal muscle, endothelial cells, heart and placenta.
POST-TRANSLATIONAL MODIFICATION
Phosphorylated on one or several of Thr-220, Ser-245, Ser-250, and Ser-255. In response to TGF-beta, phosphorylated on Ser-465/467 by TGF-beta and activin type 1 receptor kinases. TGF-beta-induced Ser-465/467 phosphorylation declines progressively in a KMT5A-dependent manner. Able to interact with SMURF2 when phosphorylated on Ser-465/467, recruiting other proteins, such as SNON, for degradation. In response to decorin, the naturally occurring inhibitor of TGF-beta signaling, phosphorylated on Ser-240 by CaMK2. Phosphorylated by MAPK3 upon EGF stimulation; which increases transcriptional activity and stability, and is blocked by calmodulin. Phosphorylated by PDPK1.; In response to TGF-beta, ubiquitinated by NEDD4L; which promotes its degradation. Monoubiquitinated, leading to prevent DNA-binding (By similarity). Deubiquitination by USP15 alleviates inhibition and promotes activation of TGF-beta target genes. Ubiquitinated by RNF111, leading to its degradation: only SMAD2 proteins that are 'in use' are targeted by RNF111, RNF111 playing a key role in activating SMAD2 and regulating its turnover (By similarity).; Acetylated on Lys-19 by coactivators in response to TGF-beta signaling, which increases transcriptional activity. Isoform short: Acetylation increases DNA binding activity in vitro and enhances its association with target promoters in vivo. Acetylation in the nucleus by EP300 is enhanced by TGF-beta.
SUBCELLULAR LOCATION
Cytoplasm. Nucleus. Note=Cytoplasmic and nuclear in the absence of TGF-beta. On TGF-beta stimulation, migrates to the nucleus when complexed with SMAD4. On dephosphorylation by phosphatase PPM1A, released from the SMAD2/SMAD4 complex, and exported out of the nucleus by interaction with RANBP1.
FUNCTION
Receptor-regulated SMAD (R-SMAD) that is an intracellular signal transducer and transcriptional modulator activated by TGF-beta (transforming growth factor) and activin type 1 receptor kinases. Binds the TRE element in the promoter region of many genes that are regulated by TGF-beta and, on formation of the SMAD2/SMAD4 complex, activates transcription. May act as a tumor suppressor in colorectal carcinoma. Positively regulates PDPK1 kinase activity by stimulating its dissociation from the 14-3-3 protein YWHAQ which acts as a negative regulator.