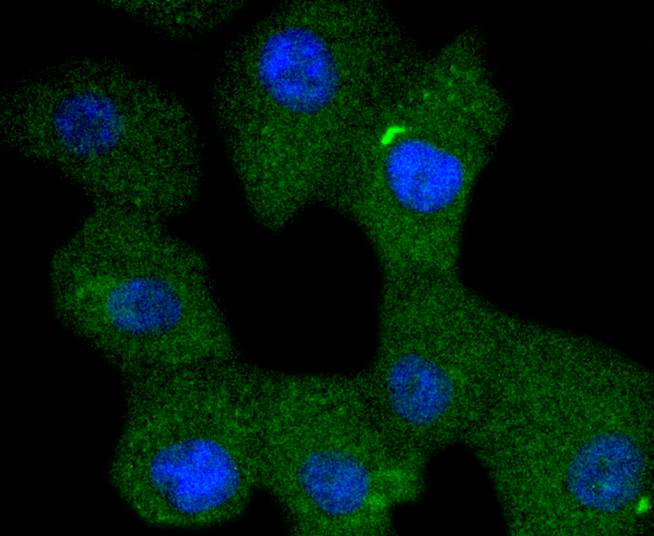 ICC staining Phospho-SHIP(Y1020) in A549 cells (green). The nuclear counter stain is DAPI (blue). Cells were fixed in paraformaldehyde, permeabilised with 0.25% Triton X100/PBS.
SPECIFICATIONS
Product Type
Recombinant Rabbit monoclonal primary
Product Name
Recombinant Phospho SHIP(Y1020) Monoclonal Antibody (ET1701-5)
Immunogen
Synthetic phospho-peptide corresponding to residues surrounding tyr1020 of human ship.
PROPERTIES
Storage Condition
Store at +4C after thawing. Aliquot store at -20C or -80C. Avoid repeated freeze / thaw cycles.
Storage Buffer
1*TBS (pH7.4), 0.05% BSA, 40% Glycerol. Preservative: 0.05% Sodium Azide.
TARGET
PROTEIN NAME
Phosphatidylinositol 3,4,5-trisphosphate 5-phosphatase 1
SYNONYMS
SIP-145, SH2 domain-containing inositol phosphatase 1, SHIP-1, hp51CN, INPP5D, SHIP, SHIP1
SEQUENCE SIMILARITIES
Belongs to the inositol 1,4,5-trisphosphate 5-phosphatase family.
TISSUE SPECIFICITY
Specifically expressed in immune and hematopoietic cells. Expressed in bone marrow and blood cells. Levels vary considerably within this compartment. Present in at least 74% of immature CD34+ cells, whereas within the more mature population of CD33+ cells, it is present in only 10% of cells. Present in the majority of T-cells, while it is present in a minority of B-cells (at protein level).
POST-TRANSLATIONAL MODIFICATION
Tyrosine phosphorylated by the members of the SRC family after exposure to a diverse array of extracellular stimuli such as cytokines, growth factors, antibodies, chemokines, integrin ligands and hypertonic and oxidative stress. Phosphorylated upon IgG receptor FCGR2B-binding.
SUBCELLULAR LOCATION
Cytoplasm. Cell membrane; Peripheral membrane protein. Note=Translocates to the plasma membrane when activated, translocation is probably due to different mechanisms depending on the stimulus and cell type. Translocates from the cytoplasm to membrane ruffles in a FCGR3/CD16-dependent manner. Colocalizes with FC-gamma-RIIB receptor (FCGR2B) or FCGR3/CD16 at membrane ruffles. Tyrosine phosphorylation may also participate in membrane localization.
FUNCTION
Phosphatidylinositol (PtdIns) phosphatase that specifically hydrolyzes the 5-phosphate of phosphatidylinositol-3,4,5-trisphosphate (PtdIns(3,4,5)P3) to produce PtdIns(3,4)P2, thereby negatively regulating the PI3K (phosphoinositide 3-kinase) pathways. Able also to hydrolyzes the 5-phosphate of phosphatidylinositol-4,5-bisphosphate (PtdIns(4,5)P3) and inositol 1,3,4,5-tetrakisphosphate. Acts as a negative regulator of B-cell antigen receptor signaling. Mediates signaling from the FC-gamma-RIIB receptor (FCGR2B), playing a central role in terminating signal transduction from activating immune/hematopoietic cell receptor systems. Acts as a negative regulator of myeloid cell proliferation/survival and chemotaxis, mast cell degranulation, immune cells homeostasis, integrin alpha-IIb/beta-3 signaling in platelets and JNK signaling in B-cells. Regulates proliferation of osteoclast precursors, macrophage programming, phagocytosis and activation and is required for endotoxin tolerance. Involved in the control of cell-cell junctions, CD32a signaling in neutrophils and modulation of EGF-induced phospholipase C activity. Key regulator of neutrophil migration, by governing the formation of the leading edge and polarization required for chemotaxis. Modulates FCGR3/CD16-mediated cytotoxicity in NK cells. Mediates the activin/TGF-beta-induced apoptosis through its Smad-dependent expression.