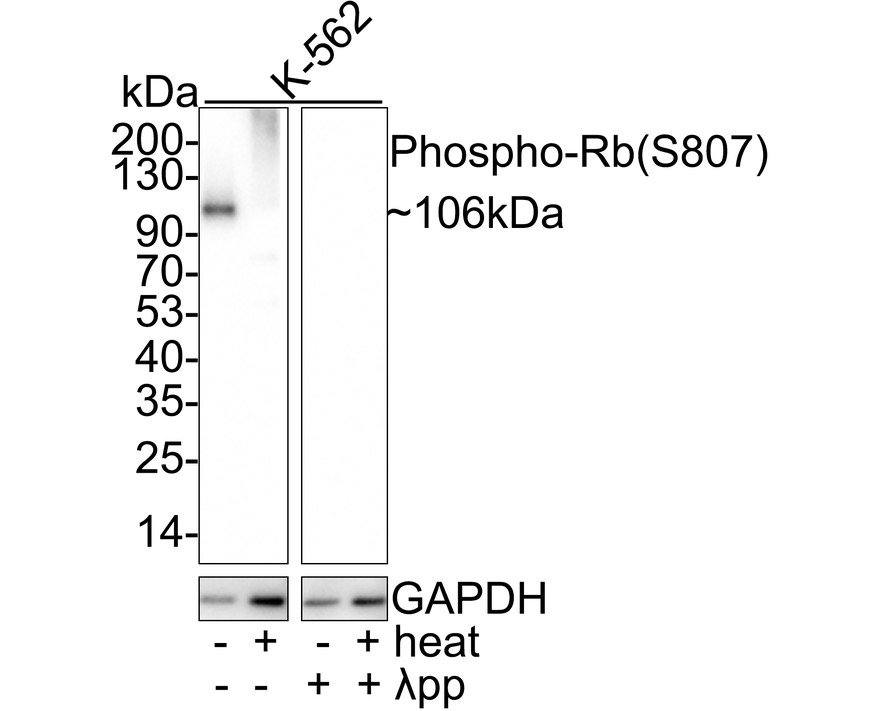 Western blot analysis of Phospho-Rb(S807) on A549 cell lysates. Proteins were transferred to a PVDF membrane and blocked with 5% BSA in PBS for 1 hour at room temperature. The primary antibody (ET1602-36, 1/1,000) was used in 5% BSA at room temperature for 2 hours. Goat Anti-Rabbit IgG - HRP Secondary Antibody (HA1001) at 1:5,000 dilution was used for 1 hour at room temperature.
SPECIFICATIONS
Product Type
Recombinant Rabbit monoclonal primary
Product Name
Recombinant Phospho Rb(S807) Monoclonal Antibody (ET1602-36)
Immunogen
Synthetic phospho-peptide corresponding to residues surrounding ser807 of human rb.
Positive Control
A549 cell lysates, A549, MCF-7, CRC, human tonsil tissue, human colon carcinoma tissue, human spleen tissue, human breast carcinoma tissue, mouse colon tissue, mouse spleen tissue.
PROPERTIES
Storage Condition
Store at +4C after thawing. Aliquot store at -20C or -80C. Avoid repeated freeze / thaw cycles.
Storage Buffer
1*TBS (pH7.4), 0.05% BSA, 40% Glycerol. Preservative: 0.05% Sodium Azide.
PURIFICATION
Protein A affinity purified.
TARGET
PROTEIN NAME
Retinoblastoma-associated protein
SEQUENCE SIMILARITIES
Belongs to the retinoblastoma protein (RB) family.
TISSUE SPECIFICITY
Expressed in the retina. Expressed in foreskin keratinocytes (at protein level).
POST-TRANSLATIONAL MODIFICATION
Phosphorylated by CDK6 and CDK4, and subsequently by CDK2 at Ser-567 in G1, thereby releasing E2F1 which is then able to activate cell growth. Dephosphorylated at the late M phase. SV40 large T antigen, HPV E7 and adenovirus E1A bind to the underphosphorylated, active form of pRb. Phosphorylation at Thr-821 and Thr-826 promotes interaction between the C-terminal domain C and the Pocket domain, and thereby inhibits interactions with heterodimeric E2F/DP transcription factor complexes. Dephosphorylated at Ser-795 by calcineruin upon calcium stimulation. CDK3/cyclin-C-mediated phosphorylation at Ser-807 and Ser-811 is required for G0-G1 transition. Phosphorylated by CDK1 and CDK2 upon TGFB1-mediated apoptosis (By similarity).; N-terminus is methylated by METTL11A/NTM1 (By similarity). Monomethylation at Lys-810 by SMYD2 enhances phosphorylation at Ser-807 and Ser-811, and promotes cell cycle progression. Monomethylation at Lys-860 by SMYD2 promotes interaction with L3MBTL1.; Acetylated during keratinocyte differentiation. Acetylation at Lys-873 and Lys-874 regulates subcellular localization. Can be deacetylated by SIRT1.
SUBCELLULAR LOCATION
Nucleus. Note=During keratinocyte differentiation, acetylation by KAT2B/PCAF is required for nuclear localization.
FUNCTION
Key regulator of entry into cell division that acts as a tumor suppressor. Promotes G0-G1 transition when phosphorylated by CDK3/cyclin-C. Acts as a transcription repressor of E2F1 target genes. The underphosphorylated, active form of RB1 interacts with E2F1 and represses its transcription activity, leading to cell cycle arrest. Directly involved in heterochromatin formation by maintaining overall chromatin structure and, in particular, that of constitutive heterochromatin by stabilizing histone methylation. Recruits and targets histone methyltransferases SUV39H1, KMT5B and KMT5C, leading to epigenetic transcriptional repression. Controls histone H4 'Lys-20' trimethylation. Inhibits the intrinsic kinase activity of TAF1. Mediates transcriptional repression by SMARCA4/BRG1 by recruiting a histone deacetylase (HDAC) complex to the c-FOS promoter. In resting neurons, transcription of the c-FOS promoter is inhibited by BRG1-dependent recruitment of a phospho-RB1-HDAC1 repressor complex. Upon calcium influx, RB1 is dephosphorylated by calcineurin, which leads to release of the repressor complex (By similarity).; (Microbial infection) In case of viral infections, interactions with SV40 large T antigen, HPV E7 protein or adenovirus E1A protein induce the disassembly of RB1-E2F1 complex thereby disrupting RB1's activity.
CITATIONS
Xie, Hongqing et al.

Ethanolic extract of Cordyceps cicadae exerts antitumor effect on human gastric cancer SGC-7901 cells by inducing apoptosis, cell cycle arrest and endoplasmic reticulum stress. | Journal of Ethnopharmacology [2019]