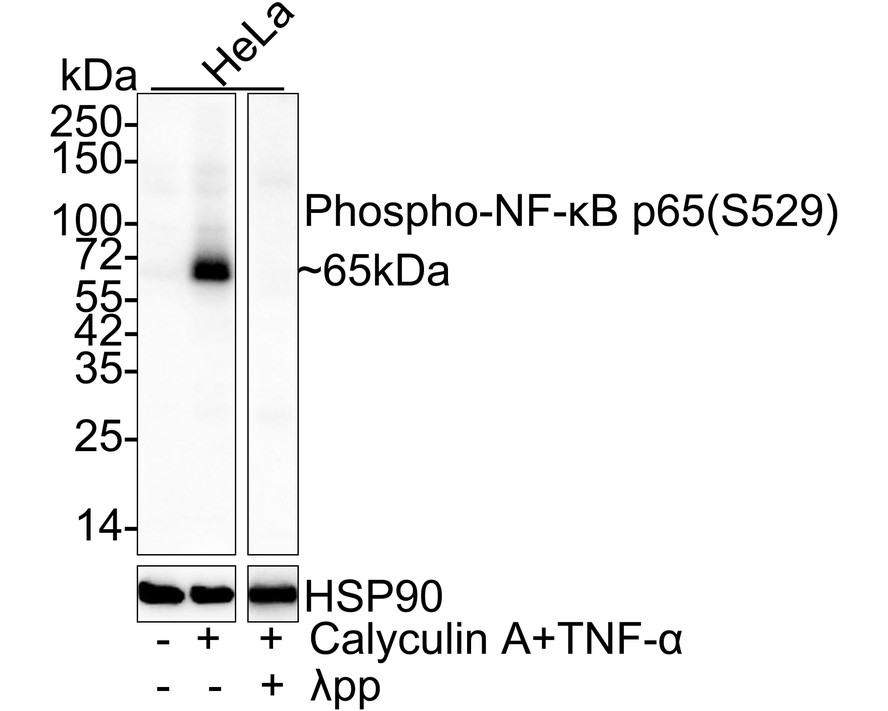 Flow cytometric analysis of Phospho-NF-kB p65(S529) was done on Daudi cells. The cells were fixed, permeabilized and stained with the primary antibody (ET1604-27, 1/50) (red). After incubation of the primary antibody at room temperature for an hour, the cells were stained with a Alexa Fluor 488-conjugated Goat anti-Rabbit IgG Secondary antibody at 1/1000 dilution for 30 minutes.Unlabelled sample was used as a control (cells without incubation with primary antibody; black).
SPECIFICATIONS
Product Type
Recombinant Rabbit monoclonal primary
Product Name
Recombinant Phospho NF-kB p65(S529) Monoclonal Antibody (ET1604-27)
Immunogen
Synthetic phospho-peptide corresponding to residues surrounding ser529 of human nf-kb p65.
PROPERTIES
Storage Condition
Store at +4C after thawing. Aliquot store at -20C or -80C. Avoid repeated freeze / thaw cycles.
Storage Buffer
1*TBS (pH7.4), 0.05% BSA, 40% Glycerol. Preservative: 0.05% Sodium Azide.
TARGET
POST-TRANSLATIONAL MODIFICATION
Ubiquitinated by RNF182, leading to its proteasomal degradation. Degradation is required for termination of NF-kappa-B response.; Monomethylated at Lys-310 by SETD6. Monomethylation at Lys-310 is recognized by the ANK repeats of EHMT1 and promotes the formation of repressed chromatin at target genes, leading to down-regulation of NF-kappa-B transcription factor activity. Phosphorylation at Ser-311 disrupts the interaction with EHMT1 without preventing monomethylation at Lys-310 and relieves the repression of target genes (By similarity).; Phosphorylation at Ser-311 disrupts the interaction with EHMT1 and promotes transcription factor activity (By similarity). Phosphorylation on Ser-536 stimulates acetylation on Lys-310 and interaction with CBP; the phosphorylated and acetylated forms show enhanced transcriptional activity. Phosphorylation at Ser-276 by RPS6KA4 and RPS6KA5 promotes its transactivation and transcriptional activities.; Reversibly acetylated; the acetylation seems to be mediated by CBP, the deacetylation by HDAC3 and SIRT2. Acetylation at Lys-122 enhances DNA binding and impairs association with NFKBIA. Acetylation at Lys-310 is required for full transcriptional activity in the absence of effects on DNA binding and NFKBIA association. Acetylation at Lys-310 promotes interaction with BRD4. Acetylation can also lower DNA-binding and results in nuclear export. Interaction with BRMS1 promotes deacetylation of Lys-310. Lys-310 is deacetylated by SIRT2.; S-nitrosylation of Cys-38 inactivates the enzyme activity.; Sulfhydration at Cys-38 mediates the anti-apoptotic activity by promoting the interaction with RPS3 and activating the transcription factor activity.; Sumoylation by PIAS3 negatively regulates DNA-bound activated NF-kappa-B.; Proteolytically cleaved within a conserved N-terminus region required for base-specific contact with DNA in a CPEN1-mediated manner, and hence inhibits NF-kappa-B transcriptional activity.
SUBCELLULAR LOCATION
Nucleus. Cytoplasm. Note=Nuclear, but also found in the cytoplasm in an inactive form complexed to an inhibitor (I-kappa-B). Colocalized with DDX1 in the nucleus upon TNF-alpha induction. Colocalizes with GFI1 in the nucleus after LPS stimulation. Translocation to the nucleus is impaired in L.monocytogenes infection.
FUNCTION
NF-kappa-B is a pleiotropic transcription factor present in almost all cell types and is the endpoint of a series of signal transduction events that are initiated by a vast array of stimuli related to many biological processes such as inflammation, immunity, differentiation, cell growth, tumorigenesis and apoptosis. NF-kappa-B is a homo- or heterodimeric complex formed by the Rel-like domain-containing proteins RELA/p65, RELB, NFKB1/p105, NFKB1/p50, REL and NFKB2/p52. The heterodimeric RELA-NFKB1 complex appears to be most abundant one. The dimers bind at kappa-B sites in the DNA of their target genes and the individual dimers have distinct preferences for different kappa-B sites that they can bind with distinguishable affinity and specificity. Different dimer combinations act as transcriptional activators or repressors, respectively. The NF-kappa-B heterodimeric RELA-NFKB1 and RELA-REL complexes, for instance, function as transcriptional activators. NF-kappa-B is controlled by various mechanisms of post-translational modification and subcellular compartmentalization as well as by interactions with other cofactors or corepressors. NF-kappa-B complexes are held in the cytoplasm in an inactive state complexed with members of the NF-kappa-B inhibitor (I-kappa-B) family. In a conventional activation pathway, I-kappa-B is phosphorylated by I-kappa-B kinases (IKKs) in response to different activators, subsequently degraded thus liberating the active NF-kappa-B complex which translocates to the nucleus. The inhibitory effect of I-kappa-B on NF-kappa-B through retention in the cytoplasm is exerted primarily through the interaction with RELA. RELA shows a weak DNA-binding site which could contribute directly to DNA binding in the NF-kappa-B complex. Beside its activity as a direct transcriptional activator, it is also able to modulate promoters accessibility to transcription factors and thereby indirectly regulate gene expression. Associates with chromatin at the NF-kappa-B promoter region via association with DDX1. Essential for cytokine gene expression in T-cells. The NF-kappa-B homodimeric RELA-RELA complex appears to be involved in invasin-mediated activation of IL-8 expression.