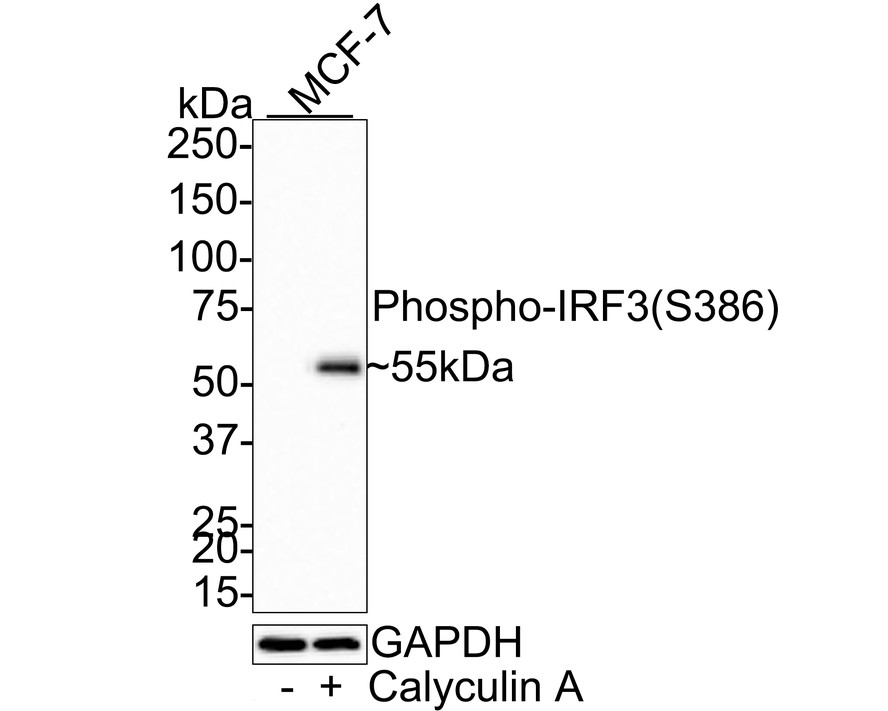 ICC staining of Phospho-IRF3(S386) in MCF-7 cells (green). Formalin fixed cells were permeabilized with 0.1% Triton X-100 in TBS for 10 minutes at room temperature and blocked with 1% Blocker BSA for 15 minutes at room temperature. Cells were probed with the primary antibody (ET1608-22, 1/50) for 1 hour at room temperature, washed with PBS. Alexa Fluor®488 Goat anti-Rabbit IgG was used as the secondary antibody at 1/1,000 dilution. The nuclear counter stain is DAPI (blue).
SPECIFICATIONS
Product Type
Recombinant Rabbit monoclonal primary
Product Name
Recombinant Phospho IRF3(S386) Monoclonal Antibody (ET1608-22)
Immunogen
Synthetic phospho-peptide corresponding to residues surrounding ser386 of human irf3.
PROPERTIES
Storage Condition
Store at +4C after thawing. Aliquot store at -20C or -80C. Avoid repeated freeze / thaw cycles.
Storage Buffer
1*TBS (pH7.4), 0.05% BSA, 40% Glycerol. Preservative: 0.05% Sodium Azide.
TARGET
PROTEIN NAME
Interferon regulatory factor 3
SEQUENCE SIMILARITIES
Belongs to the IRF family.
TISSUE SPECIFICITY
Expressed constitutively in a variety of tissues.
POST-TRANSLATIONAL MODIFICATION
Constitutively phosphorylated on many Ser/Thr residues. Activated following phosphorylation by TBK1 and IKBKE. Innate adapter protein MAVS, STING1 or TICAM1 are first activated by viral RNA, cytosolic DNA, and bacterial lipopolysaccharide (LPS), respectively, leading to activation of the kinases TBK1 and IKBKE. These kinases then phosphorylate the adapter proteins on the pLxIS motif, leading to recruitment of IRF3, thereby licensing IRF3 for phosphorylation by TBK1. Phosphorylated IRF3 dissociates from the adapter proteins, dimerizes, and then enters the nucleus to induce IFNs.; (Microbial infection) Phosphorylation and subsequent activation of IRF3 is inhibited by vaccinia virus protein E3.; Ubiquitinated; ubiquitination involves RBCK1 leading to proteasomal degradation. Polyubiquitinated; ubiquitination involves TRIM21 leading to proteasomal degradation.; ISGylated by HERC5 resulting in sustained IRF3 activation and in the inhibition of IRF3 ubiquitination by disrupting PIN1 binding. The phosphorylation state of IRF3 does not alter ISGylation.
SUBCELLULAR LOCATION
Cytoplasm. Nucleus. Note=Shuttles between cytoplasmic and nuclear compartments, with export being the prevailing effect. When activated, IRF3 interaction with CREBBP prevents its export to the cytoplasm.
FUNCTION
Key transcriptional regulator of type I interferon (IFN)-dependent immune responses which plays a critical role in the innate immune response against DNA and RNA viruses. Regulates the transcription of type I IFN genes (IFN-alpha and IFN-beta) and IFN-stimulated genes (ISG) by binding to an interferon-stimulated response element (ISRE) in their promoters. Acts as a more potent activator of the IFN-beta (IFNB) gene than the IFN-alpha (IFNA) gene and plays a critical role in both the early and late phases of the IFNA/B gene induction. Found in an inactive form in the cytoplasm of uninfected cells and following viral infection, double-stranded RNA (dsRNA), or toll-like receptor (TLR) signaling, is phosphorylated by IKBKE and TBK1 kinases. This induces a conformational change, leading to its dimerization and nuclear localization and association with CREB binding protein (CREBBP) to form dsRNA-activated factor 1 (DRAF1), a complex which activates the transcription of the type I IFN and ISG genes. Can activate distinct gene expression programs in macrophages and can induce significant apoptosis in primary macrophages.