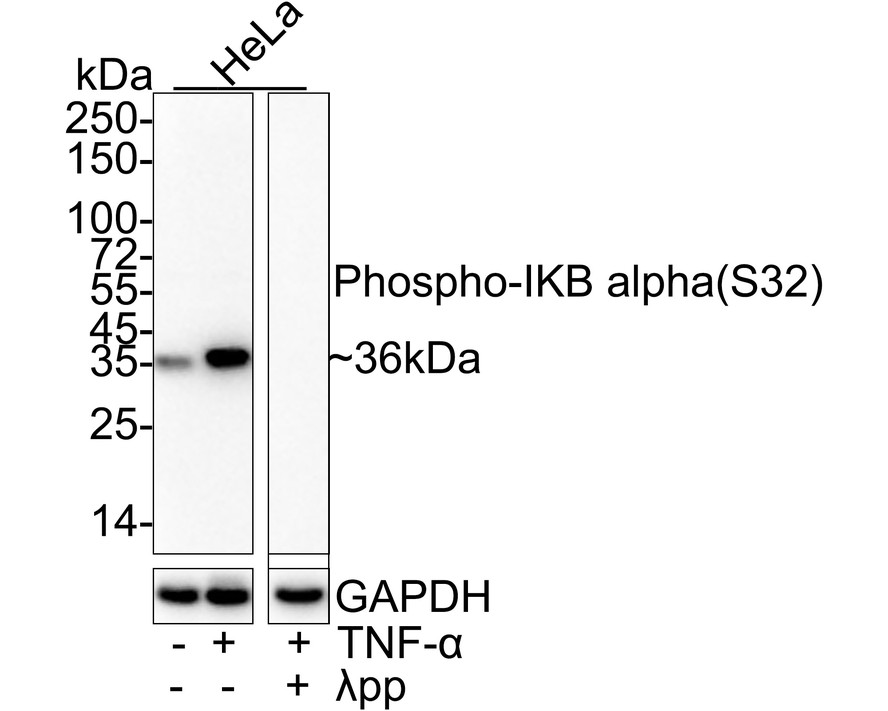 Western blot analysis of Phospho-IKB alpha(S32) on SK-Br-3 cell lysates. Proteins were transferred to a PVDF membrane and blocked with 5% BSA in PBS for 1 hour at room temperature. The primary antibody (ET1609-78, 1/500) was used in 5% BSA at room temperature for 2 hours. Goat Anti-Rabbit IgG - HRP Secondary Antibody (HA1001) at 1:5,000 dilution was used for 1 hour at room temperature.
SPECIFICATIONS
Product Type
Recombinant Rabbit monoclonal primary
Product Name
Recombinant Phospho IKB alpha (S32) Monoclonal Antibody (ET1609-78)
Positive Control
SK-Br-3 cell lysates, Hela.
PROPERTIES
Storage Condition
Store at +4C after thawing. Aliquot store at -20C or -80C. Avoid repeated freeze / thaw cycles.
Storage Buffer
1*TBS (pH7.4), 0.05% BSA, 40% Glycerol. Preservative: 0.05% Sodium Azide.
PURIFICATION
Protein A affinity purified.
TARGET
SYNONYMS
I kappa B alpha antibody; I-kappa-B-alpha antibody; IkappaBalpha antibody; IkB-alpha antibody; IKBA antibody; IKBA_HUMAN antibody; IKBalpha antibody; MAD 3 antibody; MAD3 antibody; Major histocompatibility complex enhancer-binding protein MAD3 antibody; NF kappa B inhibitor alpha antibody; NF-kappa-B inhibitor alpha antibody; NFKBI antibody; NFKBIA antibody; Nuclear factor of kappa light chain gene enhancer in B cells antibody; Nuclear factor of kappa light polypeptide gene enhancer in B cells inhibitor alpha antibody
SEQUENCE SIMILARITIES
Belongs to the NF-kappa-B inhibitor family.
POST-TRANSLATIONAL MODIFICATION
Phosphorylated; disables inhibition of NF-kappa-B DNA-binding activity. Phosphorylation at positions 32 and 36 is prerequisite to recognition by UBE2D3 leading to polyubiquitination and subsequent degradation.; Sumoylated; sumoylation requires the presence of the nuclear import signal. Sumoylation blocks ubiquitination and proteasome-mediated degradation of the protein thereby increasing the protein stability.; Monoubiquitinated at Lys-21 and/or Lys-22 by UBE2D3. Ubiquitin chain elongation is then performed by CDC34 in cooperation with the SCF(FBXW11) E3 ligase complex, building ubiquitin chains from the UBE2D3-primed NFKBIA-linked ubiquitin. The resulting polyubiquitination leads to protein degradation. Also ubiquitinated by SCF(BTRC) following stimulus-dependent phosphorylation at Ser-32 and Ser-36.; Deubiquitinated by porcine reproductive and respiratory syndrome virus Nsp2 protein, which thereby interferes with NFKBIA degradation and impairs subsequent NF-kappa-B activation.
FUNCTION
On the basis of both functional and structural considerations, members of the IκB family of proteins can be divided into four groups. The first of these groups, IκB-α, includes the avian protein pp40 and the mammalian MAD-3, both of which inhibit binding of p50-p65 NFkB complex or Rel protein to their cognate binding sites but do not inhibit the binding of p50 homodimer to κB sites, suggesting that the IκB-α family binds to the p65 subunit of p50-p65 heterocomplex through ankyrin repeats. The second member of the IκB family is represented by a protein designated IκB-β. The third group of IκB proteins is represented by IκB-γ, which is identical in sequence with the C-terminal domain of the p110 precursor of NFkB p50 and is expressed predominantly in lymphoid cells. An additional IκB family member, IκB-ε, has several phosphorylated forms and is primarily found complexed with Rel A and/or c-Rel.