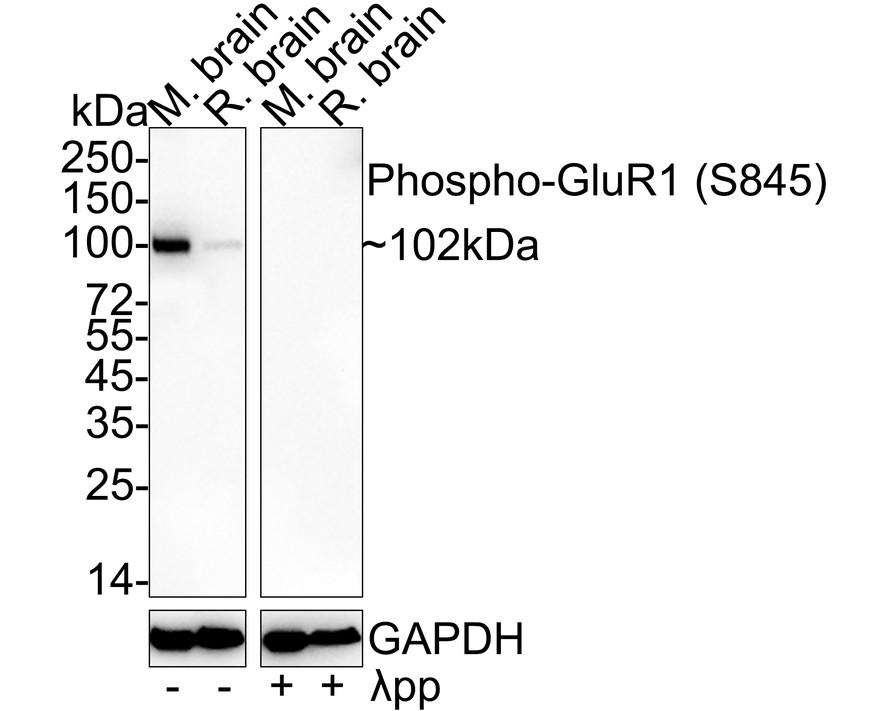 Flow cytometric analysis of Phospho-GluR1(S845) was done on N2A cells. The cells were fixed, permeabilized and stained with the primary antibody (ET1701-28, 1/50) (red). After incubation of the primary antibody at room temperature for an hour, the cells were stained with a Alexa Fluor 488-conjugated Goat anti-Rabbit IgG Secondary antibody at 1/1000 dilution for 30 minutes.Unlabelled sample was used as a control (cells without incubation with primary antibody; black).
SPECIFICATIONS
Product Type
Recombinant Rabbit monoclonal primary
Product Name
Recombinant Phospho GluR1(S845) Monoclonal Antibody (ET1701-28)
Immunogen
Synthetic phospho-peptide corresponding to residues surrounding ser845 of human glur1.
PROPERTIES
Storage Condition
Store at +4C after thawing. Aliquot store at -20C or -80C. Avoid repeated freeze / thaw cycles.
Storage Buffer
1*TBS (pH7.4), 0.05% BSA, 40% Glycerol. Preservative: 0.05% Sodium Azide.
TARGET
SEQUENCE SIMILARITIES
Belongs to the glutamate-gated ion channel (TC 1.A.10.1) family. GRIA1 subfamily.
TISSUE SPECIFICITY
Widely expressed in brain.
POST-TRANSLATIONAL MODIFICATION
Palmitoylated. Depalmitoylated upon glutamate stimulation. Cys-603 palmitoylation leads to Golgi retention and decreased cell surface expression. In contrast, Cys-829 palmitoylation does not affect cell surface expression but regulates stimulation-dependent endocytosis (By similarity).; Phosphorylated at Ser-645. Phosphorylated at Ser-710 by PKC. Phosphorylated at Ser-849 by PKC, PKA and CAMK2. Phosphorylated at Ser-863 by PKC, PKA and PRKG2 (By similarity). Phosphorylation of Ser-863 is reduced by induction of long-term depression and increased by induction of long-term potentiation (By similarity).
SUBCELLULAR LOCATION
Cell membrane; Multi-pass membrane protein. Endoplasmic reticulum membrane; Multi-pass membrane protein. Cell junction, synapse, postsynaptic density membrane; Multi-pass membrane protein. Cell projection, dendrite. Cell projection, dendritic spine. Early endosome membrane; Multi-pass membrane protein. Recycling endosome membrane; Multi-pass membrane protein. Note=Interaction with CACNG2, CNIH2 and CNIH3 promotes cell surface expression. Colocalizes with PDLIM4 in early endosomes. Displays a somatodendritic localization and is excluded from axons in neurons (By similarity). Localized to cone photoreceptor pedicles (By similarity).
FUNCTION
Ionotropic glutamate receptor. L-glutamate acts as an excitatory neurotransmitter at many synapses in the central nervous system. Binding of the excitatory neurotransmitter L-glutamate induces a conformation change, leading to the opening of the cation channel, and thereby converts the chemical signal to an electrical impulse. The receptor then desensitizes rapidly and enters a transient inactive state, characterized by the presence of bound agonist. In the presence of CACNG4 or CACNG7 or CACNG8, shows resensitization which is characterized by a delayed accumulation of current flux upon continued application of glutamate.