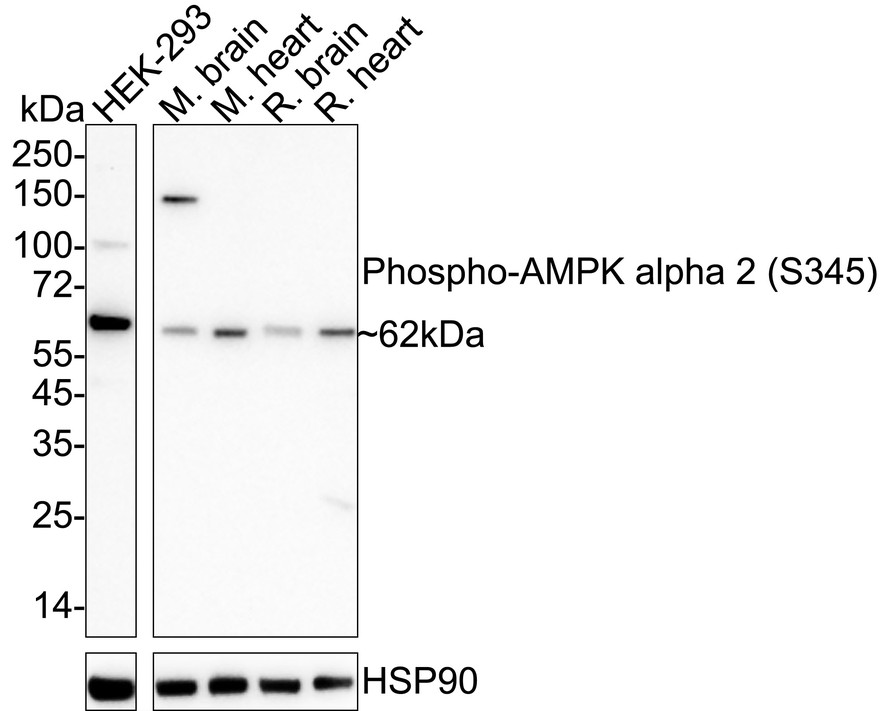 ICC staining Phospho-AMPK alpha 2(S345) in 293 cells (green). The nuclear counter stain is DAPI (blue). Cells were fixed in paraformaldehyde, permeabilised with 0.25% Triton X100/PBS.
SPECIFICATIONS
Product Type
Recombinant Rabbit monoclonal primary
Product Name
Recombinant Phospho AMPK alpha 2 (S345) Monoclonal Antibody (ET1701-37)
Immunogen
Synthetic phospho-peptide corresponding to residues surrounding ser345 of human ampk alpha 2.
Positive Control
293 cell lysates, 293, Hela, human pancreas tissue, mouse pancreas tissue.
PROPERTIES
Storage Condition
Store at +4C after thawing. Aliquot store at -20C or -80C. Avoid repeated freeze / thaw cycles.
Storage Buffer
1*TBS (pH7.4), 0.05% BSA, 40% Glycerol. Preservative: 0.05% Sodium Azide.
PURIFICATION
Protein A affinity purified.
TARGET
PROTEIN NAME
Phospho-AMPK alpha 2(S345)
SYNONYMS
5'-AMP-activated protein kinase catalytic subunit alpha-2 antibody; AAPK2_HUMAN antibody; ACACA kinase antibody; Acetyl-CoA carboxylase kinase antibody; AMPK alpha 2 chain antibody; AMPK subunit alpha-2 antibody; AMPK2 antibody; AMPKa2 antibody; AMPKalpha2 antibody; HMGCR kinase antibody; Hydroxymethylglutaryl-CoA reductase kinase antibody; PRKAA antibody; PRKAA2 antibody; Protein kinase AMP activated alpha 2 catalytic subunit antibody; Protein kinase AMP activated catalytic subunit alpha 2 antibody
SEQUENCE SIMILARITIES
Belongs to the protein kinase superfamily. CAMK Ser/Thr protein kinase family. SNF1 subfamily.
POST-TRANSLATIONAL MODIFICATION
Ubiquitinated.; Phosphorylated at Thr-172 by STK11/LKB1 in complex with STE20-related adapter-alpha (STRADA) pseudo kinase and CAB39. Also phosphorylated at Thr-172 by CAMKK2; triggered by a rise in intracellular calcium ions, without detectable changes in the AMP/ATP ratio. CAMKK1 can also phosphorylate Thr-172, but at much lower level. Dephosphorylated by protein phosphatase 2A and 2C (PP2A and PP2C). Phosphorylated by ULK1; leading to negatively regulate AMPK activity and suggesting the existence of a regulatory feedback loop between ULK1 and AMPK. Dephosphorylated by PPM1A and PPM1B at Thr-172 (mediated by STK11/LKB1).
FUNCTION
Five-prime-AMP-activated protein kinase, known as AMPK, is a heterotrimeric complex that comprises of a catalytic α subunit, and regulatory β and γ. AMPK protects cells from stresses that cause ATP depletion by switching off ATP-consuming biosynthetic pathways. AMPK is activated by high AMP and low ATP via a mechanism involving allosteric regulation, promotion of phosphorylation by an upstream protein kinase known as AMPK kinase (AMPKK), and inhibition of dephosphorylation. Activated AMPK can phosphorylate and regulate in vivo hydroxymethylglutaryl-CoA reductase and acetyl-CoA carboxylase, which are key regulatory enzymes of sterol synthesis and fatty acid synthesis, respectively. The human AMPKα1 gene maps to chromosome 5p12 and encodes a 548 amino acid protein. The major regulatory site phosphorylated by AMPKK on AMPKα has been identified as Thr 172 within the activation loop between the DFG and APE motifs of the alpha-subunits.