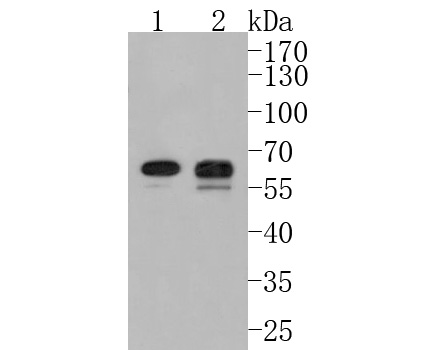 Western blot analysis of PDPK1 on different lysates using anti-PDPK1 antibody at 1/1,000 dilution.
Positive control:
Lane 1: 293T
Lane 2: PC-12
Lane 3: HL-60
SPECIFICATIONS
Product Type
Recombinant Rabbit monoclonal primary
Product Name
Recombinant PDPK1 Monoclonal Antibody (ET1612-27)
Positive Control
293T cell lysate, PC-12 cell lysate, HL-60 cell lysate, Hela, MCF-7, SW480, human breast carcinoma tissue, mouse kidney tissue, human colon carcinoma tissue, human kidney tissue.
PROPERTIES
Storage Condition
Store at +4C after thawing. Aliquot store at -20C or -80C. Avoid repeated freeze / thaw cycles.
Storage Buffer
1*TBS (pH7.4), 0.05% BSA, 40% Glycerol. Preservative: 0.05% Sodium Azide.
PURIFICATION
Protein A affinity purified.
TARGET
SYNONYMS
3 phosphoinositide dependent protein kinase 1 antibody; 3-phosphoinositide-dependent protein kinase 1 antibody; hPDK 1 antibody; hPDK1 antibody; MGC20087 antibody; MGC35290 antibody; OTTHUMP00000159109 antibody; OTTHUMP00000159110 antibody; OTTHUMP00000174525 antibody; PDK1 antibody; Pdpk1 antibody; PDPK1_HUMAN antibody; PDPK2 antibody; PDPK2P antibody; PkB kinase antibody; PkB kinase like gene 1 antibody; PkB like 1 antibody; PRO0461 antibody; Protein kinase antibody
SEQUENCE SIMILARITIES
Belongs to the protein kinase superfamily. AGC Ser/Thr protein kinase family. PDPK1 subfamily.
TISSUE SPECIFICITY
Appears to be expressed ubiquitously. The Tyr-9 phosphorylated form is markedly increased in diseased tissue compared with normal tissue from lung, liver, colon and breast.
POST-TRANSLATIONAL MODIFICATION
Phosphorylation on Ser-241 in the activation loop is required for full activity. PDPK1 itself can autophosphorylate Ser-241, leading to its own activation. Autophosphorylation is inhibited by the apoptotic C-terminus cleavage product of PKN2 (By similarity). Tyr-9 phosphorylation is critical for stabilization of both PDPK1 and the PDPK1/SRC complex via HSP90-mediated protection of PDPK1 degradation. Angiotensin II stimulates the tyrosine phosphorylation of PDPK1 in vascular smooth muscle in a calcium- and SRC-dependent manner. Phosphorylated on Tyr-9, Tyr-373 and Tyr-376 by INSR in response to insulin. Palmitate negatively regulates autophosphorylation at Ser-241 and palmitate-induced phosphorylation at Ser-529 and Ser-501 by PKC/PRKCQ negatively regulates its ability to phosphorylate PKB/AKT1. Phosphorylation at Thr-354 by MELK partially inhibits kinase activity, the inhibition is cooperatively enhanced by phosphorylation at Ser-394 and Ser-398 by MAP3K5.; Autophosphorylated; autophosphorylation is inhibited by the apoptotic C-terminus cleavage product of PKN2.; Monoubiquitinated in the kinase domain, deubiquitinated by USP4.
SUBCELLULAR LOCATION
Cell membrane, Nucleus, Cytoplasm, focal adhesion.
FUNCTION
PDPK1 (3-phosphoinositide dependent protein kinase 1), also known as PDK1, PDPK2, PDPK2P or PRO0461, is 556 amino acid ubiquitously expressed protein that localizes to the cell membrane, cytoplasm and nucleus. Acting as a master kinase, PDPK1 phosphorylates and activates a subgroup of the AGC family of protein kinases. PDPK1 is involved in mediating signal transduction for controlling proliferation, survival, and growth of developing pancreatic beta cells, regulating Ca2+ uptake and Ca2+-activated K+ channels of mast cells, regulation of chemotaxis and motility of vascular endothelial cells, cardiac homeostasis, and thymocyte development. Belonging to the protein kinase superfamily, PDPK1 contains a PH domain, which play an essential role in homodimerization, localization and nuclear import of PDPK1, and a protein kinase domain. PDPK1 exists as five alternatively spliced isoforms and is encoded by a gene located on human chromosome 16p13.3.
CITATIONS
Cai, Guodong et al.

Mechanism and effects of Zearalenone on mouse T lymphocytes activation in vitro. | Ecotoxicology and Environmental Safety [2018]