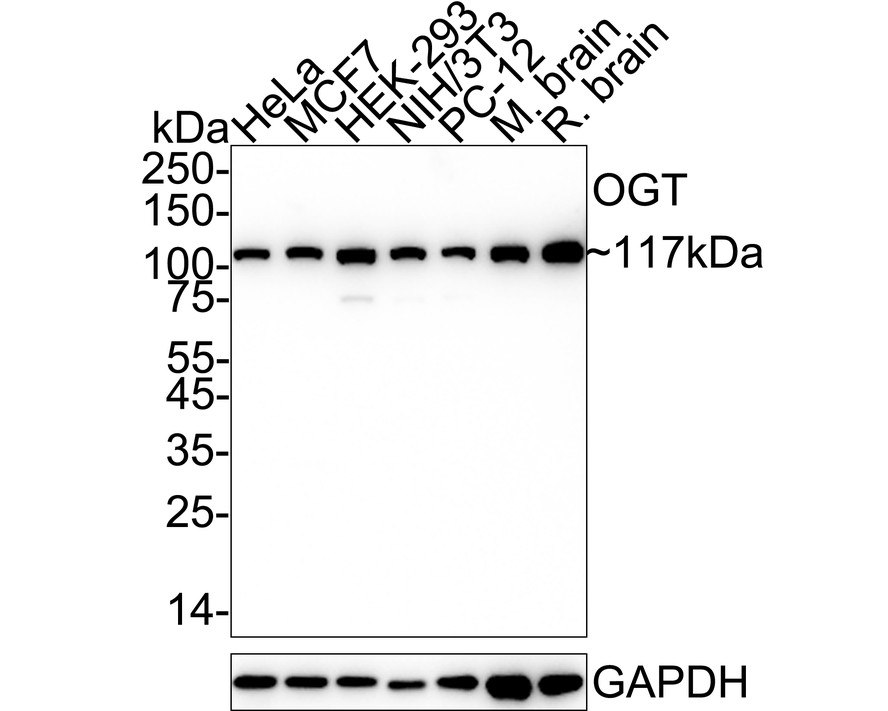 Western blot analysis of OGT on Hela (1) and SiHa (2) cell lysate using anti-OGT antibody at 1/500 dilution.
SPECIFICATIONS
Product Type
Recombinant Rabbit monoclonal primary
Product Name
Recombinant OGT Monoclonal Antibody (ET7107-17)
Positive Control
Hela, SiHa, A431, PC-3M, rat epididymis tissue, human liver tissue, human kidney tissue, mouse testis tissue.
PROPERTIES
Storage Condition
Store at +4C after thawing. Aliquot store at -20C or -80C. Avoid repeated freeze / thaw cycles.
Storage Buffer
1*TBS (pH7.4), 0.05% BSA, 40% Glycerol. Preservative: 0.05% Sodium Azide.
TARGET
PROTEIN NAME
UDP-N-acetylglucosamine--peptide N-acetylglucosaminyltransferase 110 kDa subunit
SEQUENCE SIMILARITIES
Belongs to the glycosyltransferase 41 family. O-GlcNAc transferase subfamily.
TISSUE SPECIFICITY
Highly expressed in pancreas and to a lesser extent in skeletal muscle, heart, brain and placenta. Present in trace amounts in lung and liver.
POST-TRANSLATIONAL MODIFICATION
Ubiquitinated, leading to its proteasomal degradation.; Phosphorylation on Ser-3 or Ser-4 by GSK3-beta positively regulates its activity.
SUBCELLULAR LOCATION
Nucleus. Cytoplasm. Note=Predominantly localizes to the nucleus.; [Isoform 2]: Mitochondrion. Membrane. Note=Associates with the mitochondrial inner membrane.; [Isoform 3]: Cytoplasm. Nucleus. Cell membrane.; [Isoform 4]: Cytoplasm. Nucleus.
FUNCTION
Catalyzes the transfer of a single N-acetylglucosamine from UDP-GlcNAc to a serine or threonine residue in cytoplasmic and nuclear proteins resulting in their modification with a beta-linked N-acetylglucosamine (O-GlcNAc). Glycosylates a large and diverse number of proteins including histone H2B, AKT1, EZH2, PFKL, KMT2E/MLL5, MAPT/TAU and HCFC1. Can regulate their cellular processes via cross-talk between glycosylation and phosphorylation or by affecting proteolytic processing. Probably by glycosylating KMT2E/MLL5, stabilizes KMT2E/MLL5 by preventing its ubiquitination. Involved in insulin resistance in muscle and adipocyte cells via glycosylating insulin signaling components and inhibiting the 'Thr-308' phosphorylation of AKT1, enhancing IRS1 phosphorylation and attenuating insulin signaling (By similarity). Involved in glycolysis regulation by mediating glycosylation of 6-phosphofructokinase PFKL, inhibiting its activity. Component of a THAP1/THAP3-HCFC1-OGT complex that is required for the regulation of the transcriptional activity of RRM1. Plays a key role in chromatin structure by mediating O-GlcNAcylation of 'Ser-112' of histone H2B: recruited to CpG-rich transcription start sites of active genes via its interaction with TET proteins (TET1, TET2 or TET3). As part of the NSL complex indirectly involved in acetylation of nucleosomal histone H4 on several lysine residues. O-GlcNAcylation of 'Ser-75' of EZH2 increases its stability, and facilitating the formation of H3K27me3 by the PRC2/EED-EZH2 complex. Regulates circadian oscillation of the clock genes and glucose homeostasis in the liver. Stabilizes clock proteins ARNTL/BMAL1 and CLOCK through O-glycosylation, which prevents their ubiquitination and subsequent degradation. Promotes the CLOCK-ARNTL/BMAL1-mediated transcription of genes in the negative loop of the circadian clock such as PER1/2 and CRY1/2. O-glycosylates HCFC1 and regulates its proteolytic processing and transcriptional activity. Regulates mitochondrial motility in neurons by mediating glycosylation of TRAK1 (By similarity). Glycosylates HOXA1 (By similarity). O-glycosylates FNIP1.; [Isoform 2]: the mitochondrial isoform (mOGT) is cytotoxic and triggers apoptosis in several cell types including INS1, an insulinoma cell line.