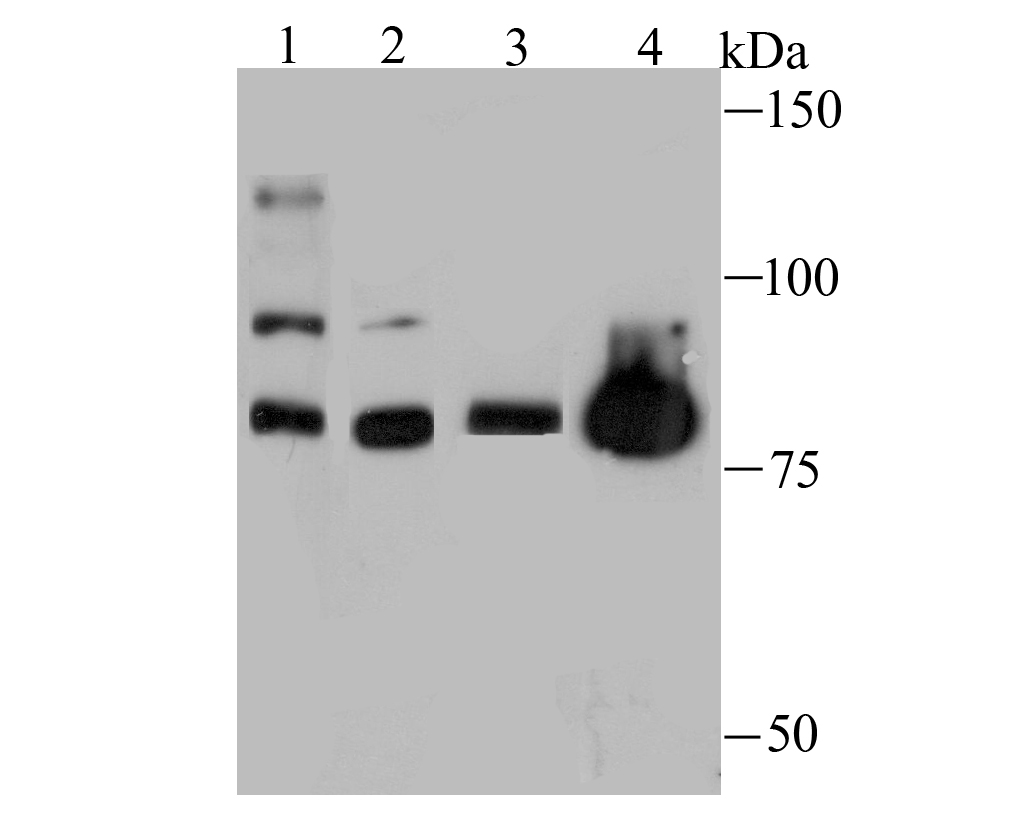 Western blot analysis of Nuclear Matrix Protein p84 on different lysates using anti-Nuclear Matrix Protein p84 antibody at 1/500 dilution.
Positive control:
Lane 1: Hela
Lane 2: A431
Lane 3: Mouse skeletal muscle
Lane 4: PC-12

SPECIFICATIONS
Product Type
Recombinant Rabbit monoclonal primary
Product Name
Recombinant Nuclear Matrix Protein p84 Monoclonal Antibody (ET1706-52)
Positive Control
Hela, A431, mouse skeletal muscle tissue lysate, PC-12, HUVEC, LOVO, rat testis tissue, rat brain tissue, human tonsil tissue, human lung cancer tissue, human colon cancer tissue.
PROPERTIES
Storage Condition
Store at +4C after thawing. Aliquot store at -20C or -80C. Avoid repeated freeze / thaw cycles.
Storage Buffer
1*TBS (pH7.4), 0.05% BSA, 40% Glycerol. Preservative: 0.05% Sodium Azide.
TARGET
TISSUE SPECIFICITY
Ubiquitous. Expressed in various cancer cell lines. Expressed at very low levels in normal breast epithelial cells and highly expressed in breast tumors. Expression is strongly associated with an aggressive phenotype of breast tumors and expression correlates with tumor size and the metastatic state of the tumor progression.
POST-TRANSLATIONAL MODIFICATION
Expression is altered specifically during apoptosis and is accompanied by the appearance of novel forms with smaller apparent molecular mass.; Polyubiquitinated, leading to proteasomal degradation; probably involves NEDD4.
SUBCELLULAR LOCATION
[Isoform 1]: Nucleus speckle. Nucleus, nucleoplasm. Nucleus matrix. Cytoplasm. Note=Can shuttle between the nucleus and cytoplasm. Nuclear localization is required for induction of apoptotic cell death. Translocates to the cytoplasm during the early phase of apoptosis execution.; [Isoform 2]: Cytoplasm.
FUNCTION
Required for efficient export of polyadenylated RNA. Acts as component of the THO subcomplex of the TREX complex which is thought to couple mRNA transcription, processing and nuclear export, and which specifically associates with spliced mRNA and not with unspliced pre-mRNA. TREX is recruited to spliced mRNAs by a transcription-independent mechanism, binds to mRNA upstream of the exon-junction complex (EJC) and is recruited in a splicing- and cap-dependent manner to a region near the 5' end of the mRNA where it functions in mRNA export to the cytoplasm via the TAP/NFX1 pathway. The TREX complex is essential for the export of Kaposi's sarcoma-associated herpesvirus (KSHV) intronless mRNAs and infectious virus production. Regulates transcriptional elongation of a subset of genes. Involved in genome stability by preventing co-transcriptional R-loop formation.; Participates in an apoptotic pathway which is characterized by activation of caspase-6, increases in the expression of BAK1 and BCL2L1 and activation of NF-kappa-B. This pathway does not require p53/TP53, nor does the presence of p53/TP53 affect the efficiency of cell killing. Activates a G2/M cell cycle checkpoint prior to the onset of apoptosis. Apoptosis is inhibited by association with RB1.