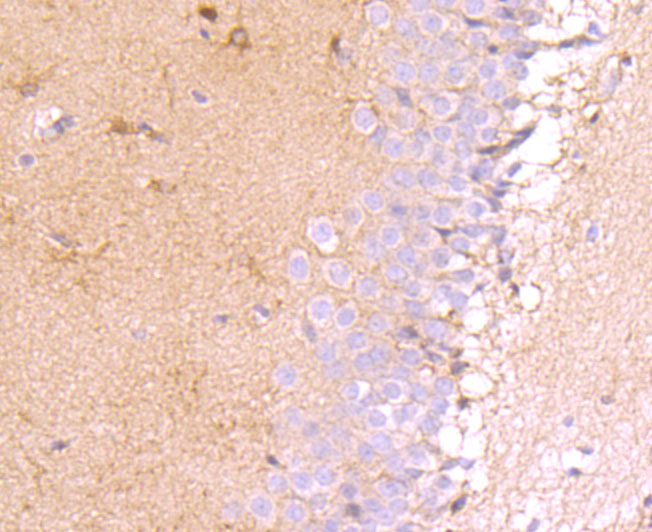 Western blot analysis of MUC4 on PC-3M cell using anti-MUC4 antibody at 1/1,000 dilution.
SPECIFICATIONS
Product Type
Recombinant Rabbit monoclonal primary
Product Name
Recombinant MUC4 Monoclonal Antibody (ET1705-13)
Positive Control
PC-3M cell lysate, rat brain tissue, human lung caner tissue, human colon tissue, human stomach cancer tissue, A549.
PROPERTIES
Storage Condition
Store at +4C after thawing. Aliquot store at -20C or -80C. Avoid repeated freeze / thaw cycles.
Storage Buffer
1*TBS (pH7.4), 0.05% BSA, 40% Glycerol. Preservative: 0.05% Sodium Azide.
TARGET
SYNONYMS
Ascites sialoglycoprotein 1 antibody; Ascites sialoglycoprotein 2 antibody; Ascites sialoglycoprotein antibody; ASGP antibody; ASGP-1 antibody; ASGP-2 antibody; HSA276359 antibody; MUC 4 antibody; MUC-4 antibody; Muc4 antibody; MUC4_HUMAN antibody; Mucin 4 antibody; Mucin 4 cell surface associated antibody; Mucin 4 tracheobronchial antibody; Mucin-4 beta chain antibody; Pancreatic adenocarcinoma mucin antibody; Testis mucin antibody; Tracheobronchial mucin antibody; Tracheobronchial mucin Fragment antibody
TISSUE SPECIFICITY
Expressed in the thymus, thyroid, lung, trachea, esophagus, stomach, small intestine, colon, testis, prostate, ovary, uterus, placenta, and mammary and salivary glands. Expressed in carcinomas arising from some of these epithelia, such as lung cancers, squamous cell carcinomas of the upper aerodigestive tract, mammary carcinomas, biliary tract, colon, and cervix cancers. Minimally or not expressed in the normal pancreas or chronic pancreatitis, but is highly expressed in pancreatic tumors and pancreatic tumor cell lines.
DEVELOPMENTAL STAGE
Expressed early in the primitive gut before respiratory and digestive epithelial cells have acquired their tissue and cell specificity. Expressed at the basal surface of the epithelium from week 14 to 26 weeks and then predominantly localized in only parietal cells. Immediately before birth, found in the cytoplasm of the mucous columnar epithelial cells. In the embryo expressed in skin, then disappears late in gestation.
POST-TRANSLATIONAL MODIFICATION
Proteolytically cleaved into 2 chains, mucin-4 alpha chain and mucin-4 beta chain.; mucrnin-4 alpha chain is highly O-glycosylated.; mucin-4 beta chain is predominantly N-glycosylated.
SUBCELLULAR LOCATION
Secreted, Cell membrane and Membrane.
FUNCTION
Mucins are a group of high molecular weight glycoproteins consisting of a mucin core protein and O-linked carbohydrates. Mucin 4, a membrane-bound mucin, is the human homolog of the rat sialomucin complex (SMC). Mucin 4 protein consists of Mucin 4α, a large amino mucin type subunit, and Mucin 4β, a transmembrane subunit containing three EGF-like domains. The Mucin 4 gene is the predominant mucin gene expressed in the normal urothelium and is also expressed in several normal tissues such as trachea, lung and testis. Dysregulation of Mucin 4 results in high levels of expression in pancreatic tumors and tumor cell lines. Induction of Mucin 4 in pancreatic carcinoma by all-trans-retinoic acid is mediated through the retinoic acid receptor-α signaling pathway. TGFβ2 serves as an interim mediator of this regulated expression. Alternative splicing in the 3'-end of the Mucin 4 gene generates at least 12 splice variants, which are characterized as two distinct types, a secreted type and a membrane-associated type. Mucin 4 protein acts as a heterodimeric bifunctional cell-surface glycoprotein and forms thick mucous effusion in the diseased middle ear.