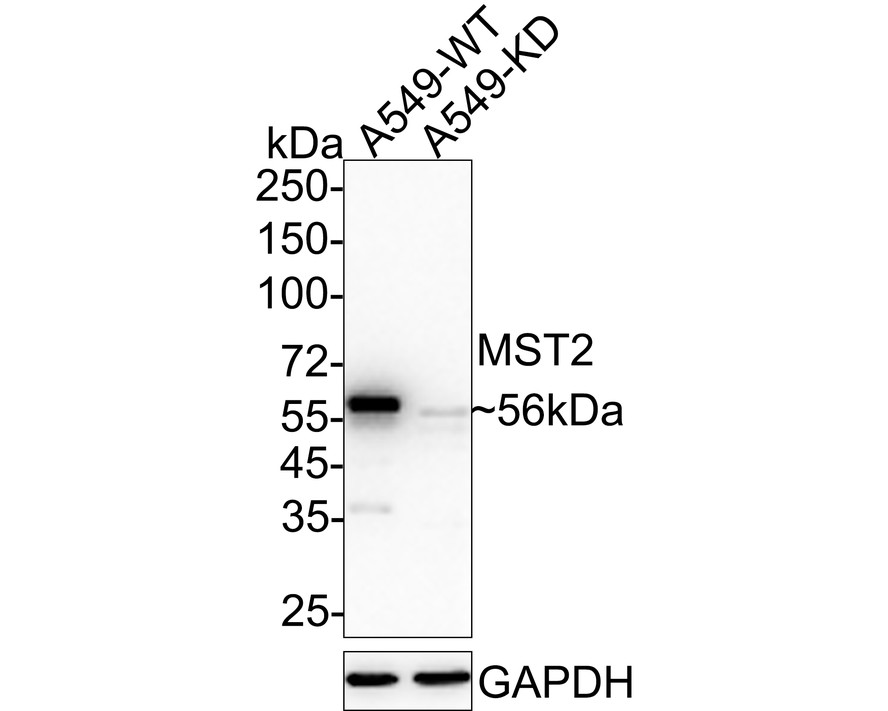 Western blot analysis of Mst2 on different lysates using anti-Mst2 antibody at 1/1,000 dilution.
Positive control:
Lane 1: CRC
Lane 2: HCT116
SPECIFICATIONS
Product Type
Recombinant Rabbit monoclonal primary
Product Name
Recombinant Mst2 Monoclonal Antibody (ET1610-8)
Positive Control
CRC, HCT116, mouse placenta tissue.
PROPERTIES
Storage Condition
Store at +4C after thawing. Aliquot store at -20C or -80C. Avoid repeated freeze / thaw cycles.
Storage Buffer
1*TBS (pH7.4), 0.05% BSA, 40% Glycerol. Preservative: 0.05% Sodium Azide.
TARGET
PROTEIN NAME
Serine/threonine-protein kinase 3
SEQUENCE SIMILARITIES
Belongs to the protein kinase superfamily. STE Ser/Thr protein kinase family. STE20 subfamily.
TISSUE SPECIFICITY
Expressed at high levels in adult kidney, skeletal and placenta tissues and at very low levels in adult heart, lung and brain tissues.
POST-TRANSLATIONAL MODIFICATION
Phosphorylation at Thr-117 and Thr-384 by PKB/AKT1, leads to inhibition of its: cleavage, kinase activity, autophosphorylation at Thr-180, binding to RASSF1 and nuclear translocation, and increase in its binding to RAF1.; Proteolytically cleaved by caspase-3 during apoptosis. Proteolytic cleavage results in kinase activation and nuclear translocation of the truncated form (MST1/N).
FUNCTION
Stress-activated, pro-apoptotic kinase which, following caspase-cleavage, enters the nucleus and induces chromatin condensation followed by internucleosomal DNA fragmentation. Key component of the Hippo signaling pathway which plays a pivotal role in organ size control and tumor suppression by restricting proliferation and promoting apoptosis. The core of this pathway is composed of a kinase cascade wherein STK3/MST2 and STK4/MST1, in complex with its regulatory protein SAV1, phosphorylates and activates LATS1/2 in complex with its regulatory protein MOB1, which in turn phosphorylates and inactivates YAP1 oncoprotein and WWTR1/TAZ. Phosphorylation of YAP1 by LATS2 inhibits its translocation into the nucleus to regulate cellular genes important for cell proliferation, cell death, and cell migration. STK3/MST2 and STK4/MST1 are required to repress proliferation of mature hepatocytes, to prevent activation of facultative adult liver stem cells (oval cells), and to inhibit tumor formation. Phosphorylates NKX2-1 (By similarity). Phosphorylates NEK2 and plays a role in centrosome disjunction by regulating the localization of NEK2 to centrosome, and its ability to phosphorylate CROCC and CEP250. In conjunction with SAV1, activates the transcriptional activity of ESR1 through the modulation of its phosphorylation. Positively regulates RAF1 activation via suppression of the inhibitory phosphorylation of RAF1 on 'Ser-259'. Phosphorylates MOBKL1A and RASSF2. Phosphorylates MOBKL1B on 'Thr-74'. Acts cooperatively with MOBKL1B to activate STK38.