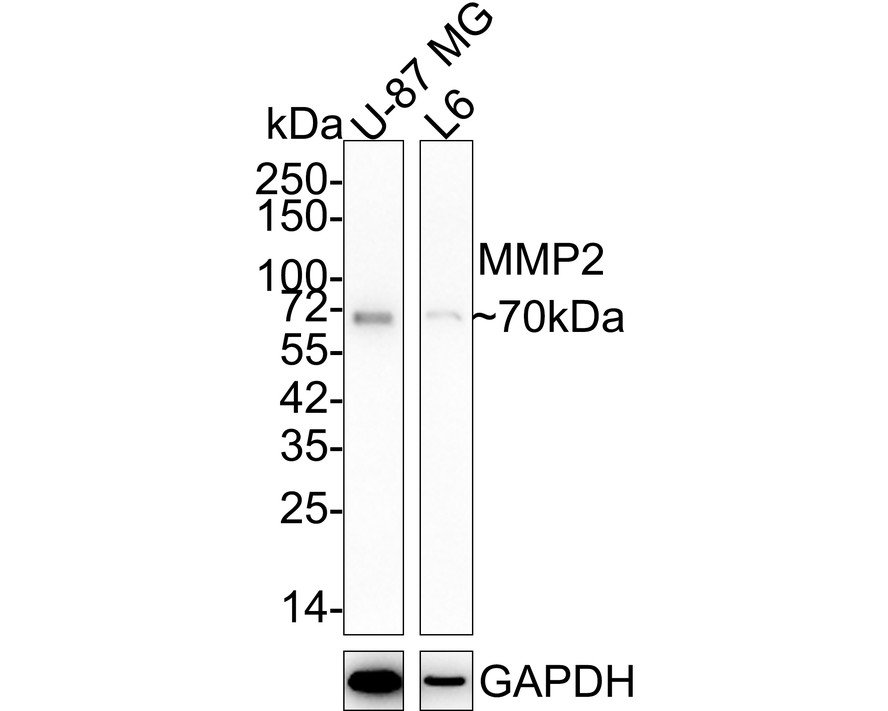 Immunohistochemical analysis of paraffin-embedded mouse liver tissue using anti-MMP2 antibody. Counter stained with hematoxylin.
SPECIFICATIONS
Product Type
Recombinant Rabbit monoclonal primary
Product Name
Recombinant MMP2 Monoclonal Antibody (ET1606-4)
PROPERTIES
Storage Condition
Store at +4C after thawing. Aliquot store at -20C or -80C. Avoid repeated freeze / thaw cycles.
Storage Buffer
1*TBS (pH7.4), 1%BSA, 40%Glycerol. Preservative: 0.05% Sodium Azide.
TARGET
PROTEIN NAME
72 kDa type IV collagenase
SEQUENCE SIMILARITIES
Belongs to the peptidase M10A family.
TISSUE SPECIFICITY
Produced by normal skin fibroblasts. PEX is expressed in a number of tumors including gliomas, breast and prostate.
POST-TRANSLATIONAL MODIFICATION
Phosphorylation on multiple sites modulates enzymatic activity. Phosphorylated by PKC in vitro.; The propeptide is processed by MMP14 (MT-MMP1) and MMP16 (MT-MMP3). Autocatalytic cleavage in the C-terminal produces the anti-angiogenic peptide, PEX. This processing appears to be facilitated by binding integrinv/beta3.
SUBCELLULAR LOCATION
[Isoform 1]: Secreted, extracellular space, extracellular matrix. Membrane. Nucleus. Note=Colocalizes with integrin alphaV/beta3 at the membrane surface in angiogenic blood vessels and melanomas. Found in mitochondria, along microfibrils, and in nuclei of cardiomyocytes.; [Isoform 2]: Cytoplasm. Mitochondrion.
FUNCTION
Ubiquitinous metalloproteinase that is involved in diverse functions such as remodeling of the vasculature, angiogenesis, tissue repair, tumor invasion, inflammation, and atherosclerotic plaque rupture. As well as degrading extracellular matrix proteins, can also act on several nonmatrix proteins such as big endothelial 1 and beta-type CGRP promoting vasoconstriction. Also cleaves KISS at a Gly-|-Leu bond. Appears to have a role in myocardial cell death pathways. Contributes to myocardial oxidative stress by regulating the activity of GSK3beta. Cleaves GSK3beta in vitro. Involved in the formation of the fibrovascular tissues in association with MMP14.; PEX, the C-terminal non-catalytic fragment of MMP2, posseses anti-angiogenic and anti-tumor properties and inhibits cell migration and cell adhesion to FGF2 and vitronectin. Ligand for integrinv/beta3 on the surface of blood vessels.; [Isoform 2]: Mediates the proteolysis of CHUK/IKKA and initiates a primary innate immune response by inducing mitochondrial-nuclear stress signaling with activation of the pro-inflammatory NF-kappaB, NFAT and IRF transcriptional pathways.