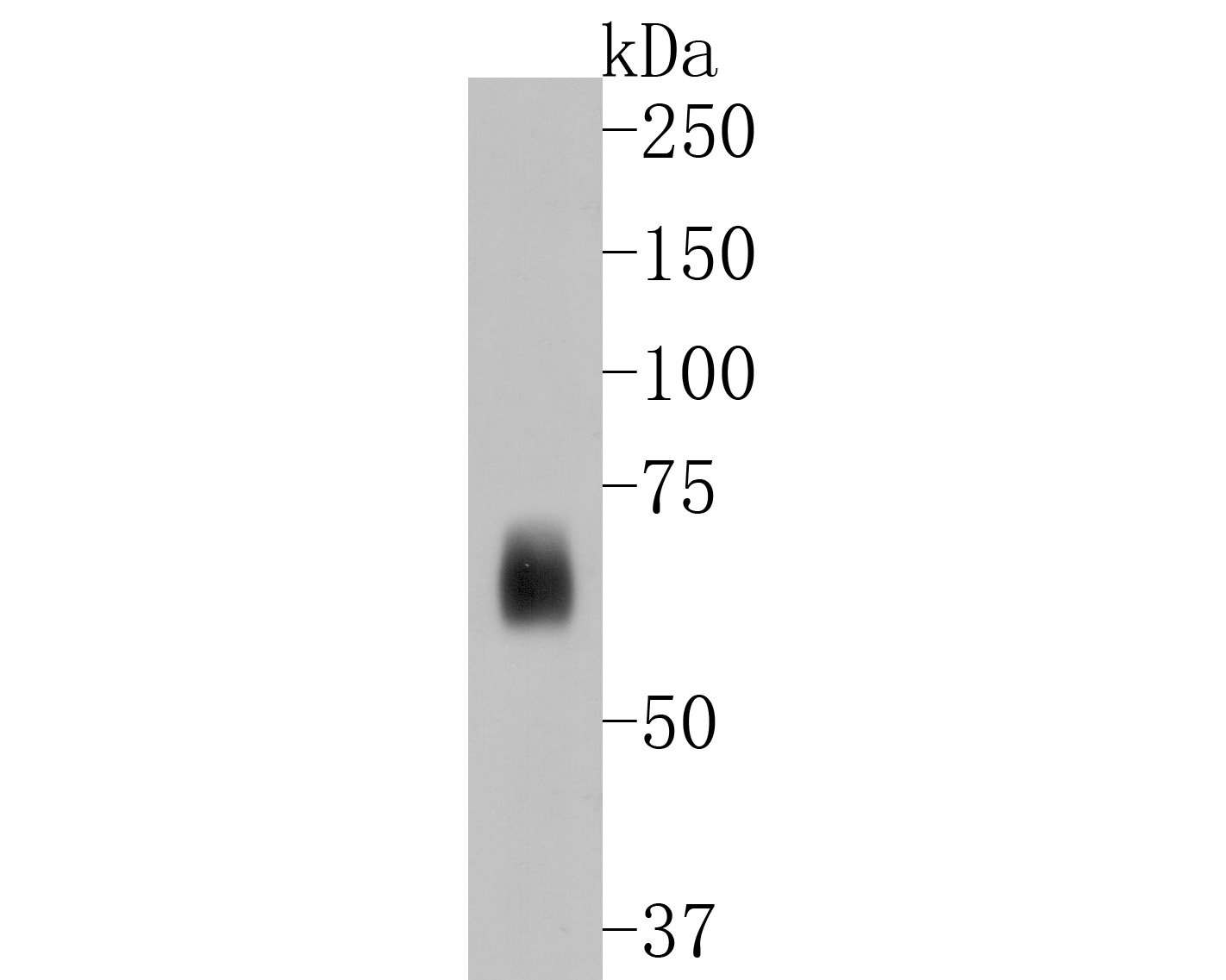 Western blot analysis of Kv1.1 potassium channel on human brain lysates using anti-Kv1.1 potassium channel antibody at 1/1,000 dilution.
SPECIFICATIONS
Product Type
Recombinant Rabbit monoclonal primary
Product Name
Recombinant Kv1.1 potassium channel Monoclonal Antibody (ET1611-7)
Positive Control
Human brain tissue lysates, rat brain tissue.
PROPERTIES
Storage Condition
Store at +4C after thawing. Aliquot store at -20C or -80C. Avoid repeated freeze / thaw cycles.
Storage Buffer
1*TBS (pH7.4), 0.05% BSA, 40% Glycerol. Preservative: 0.05% Sodium Azide.
PURIFICATION
Protein A affinity purified.
TARGET
SYNONYMS
AEMK antibody; EA1 antibody; Episodic ataxia with myokymia antibody; HBK1 antibody; HUK1 antibody; Kca1 1 antibody; Kcna1 antibody; KCNA1_HUMAN antibody; Kcpvd antibody; KV1.1 antibody; MBK1 antibody; mceph antibody; MGC124402 antibody; MGC126782 antibody; MGC138385 antibody; MK1 antibody; MK1, mouse, homolog of KV1.1 antibody; Potassium channel protein 1 antibody; Potassium voltage gated channel shaker related subfamily member 1 antibody; Potassium voltage gated channel subfamily A member 1 antibody; Potassium voltage gated channel, shaker related subfamily, member 1 (episodic ataxia with myokymia) antibody; Potassium voltage-gated channel subfamily A member 1 antibody; RBK1 antibody; RCK1 antibody; Shak antibody; Shaker related subfamily member 1 antibody; Voltage gated potassium channel subunit Kv1.1 antibody; Voltage-gated K(+) channel HuKI antibody; Voltage-gated potassium channel HBK1 antibody; Voltage-gated potassium channel subunit Kv1.1 antibody
SEQUENCE SIMILARITIES
Belongs to the potassium channel family. A (Shaker) (TC 1.A.1.2) subfamily. Kv1.1/KCNA1 sub-subfamily.
TISSUE SPECIFICITY
Detected adjacent to nodes of Ranvier in juxtaparanodal zones in spinal cord nerve fibers, but also in paranodal regions in some myelinated spinal cord axons (at protein level). Detected in the islet of Langerhans.
POST-TRANSLATIONAL MODIFICATION
N-glycosylated.; Palmitoylated on Cys-243; which may be required for membrane targeting.; Phosphorylated on tyrosine residues. Phosphorylation increases in response to NRG1; this inhibits channel activity (By similarity). Phosphorylation at Ser-446 regulates channel activity by down-regulating expression at the cell membrane.
SUBCELLULAR LOCATION
Cell membrane, Membrane, Cytoplasmic vesicle, Perikaryon, Endoplasmic reticulum.
FUNCTION
Voltage-gated K+ channels in the plasma membrane control the repolarization and the frequency of action potentials in neurons, muscles, and other excitable cells. The KV gene family encodes more than 30 genes that comprise the subunits of the K+ channels, and they vary in their gating and permeation properties, subcellular distribution, and expression patterns. Functional KV channels assemble as tetramers consisting of pore-forming -subunits (KVα), which include the KV1, KV2, KV3, and KV4 proteins, and accessory or KVβ subunits that modify the gating properties of the coexpressed KVα subunits. Differences exist in the patterns of trafficking, biosynthetic processing and surface expression of the major KV1 subunits (KV1.1, KV1.2, KV1.4, KV1.5 and KV1.6) expressed in rat and human brain, suggesting that the individual protein subunits are highly regulated to control for the assembly and formation of functional neuronal channels.