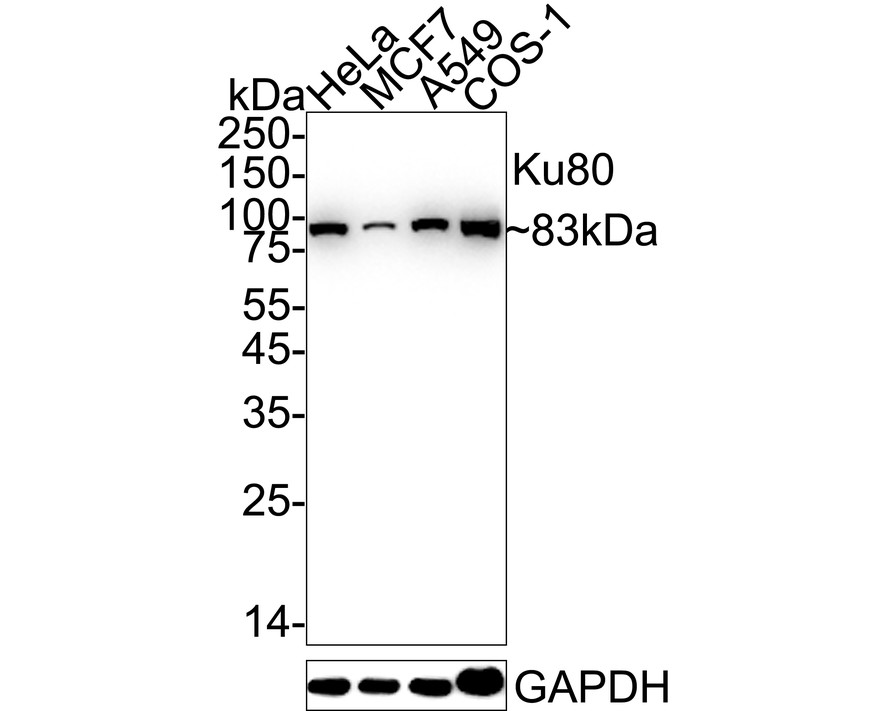 Western blot analysis of Ku80 on different lysates. Proteins were transferred to a PVDF membrane and blocked with 5% BSA in PBS for 1 hour at room temperature. The primary antibody (ET1610-40, 1/500) was used in 5% BSA at room temperature for 2 hours. Goat Anti-Rabbit IgG - HRP Secondary Antibody (HA1001) at 1:5,000 dilution was used for 1 hour at room temperature.
Positive control:
Lane 1: MCF-7 cell lysate
Lane 2: A549 cell lysate
SPECIFICATIONS
Product Type
Recombinant Rabbit monoclonal primary
Product Name
Recombinant Ku80 Monoclonal Antibody (ET1610-40)
Positive Control
A549, MCF-7, Hela, SW480, human tonsil tissue, human colon cancer tissue, human breast carcinoma tissue, human kideny tissue.
PROPERTIES
Storage Condition
Store at +4C after thawing. Aliquot store at -20C or -80C. Avoid repeated freeze / thaw cycles.
Storage Buffer
1*TBS (pH7.4), 0.05% BSA, 40% Glycerol. Preservative: 0.05% Sodium Azide.
TARGET
PROTEIN NAME
X-ray repair cross-complementing protein 5
SYNONYMS
CTC85, CTCBF, TLAA, XRCC5
SEQUENCE SIMILARITIES
Belongs to the ku80 family.
DEVELOPMENTAL STAGE
Expression increases during promyelocyte differentiation.
POST-TRANSLATIONAL MODIFICATION
ADP-ribosylated by PARP3.; Phosphorylated on serine residues. Phosphorylation by PRKDC may enhance helicase activity.; Sumoylated.; Ubiquitinated by RNF8 via 'Lys-48'-linked ubiquitination following DNA damage, leading to its degradation and removal from DNA damage sites. Ubiquitinated by RNF138, leading to remove the Ku complex from DNA breaks.
SUBCELLULAR LOCATION
Nucleus. Nucleus, nucleolus. Chromosome.
FUNCTION
Single-stranded DNA-dependent ATP-dependent helicase. Has a role in chromosome translocation. The DNA helicase II complex binds preferentially to fork-like ends of double-stranded DNA in a cell cycle-dependent manner. It works in the 3'-5' direction. Binding to DNA may be mediated by XRCC6. Involved in DNA non-homologous end joining (NHEJ) required for double-strand break repair and V(D)J recombination. The XRCC5/6 dimer acts as regulatory subunit of the DNA-dependent protein kinase complex DNA-PK by increasing the affinity of the catalytic subunit PRKDC to DNA by 100-fold. The XRCC5/6 dimer is probably involved in stabilizing broken DNA ends and bringing them together. The assembly of the DNA-PK complex to DNA ends is required for the NHEJ ligation step. In association with NAA15, the XRCC5/6 dimer binds to the osteocalcin promoter and activates osteocalcin expression. The XRCC5/6 dimer probably also acts as a 5'-deoxyribose-5-phosphate lyase (5'-dRP lyase), by catalyzing the beta-elimination of the 5' deoxyribose-5-phosphate at an abasic site near double-strand breaks. XRCC5 probably acts as the catalytic subunit of 5'-dRP activity, and allows to 'clean' the termini of abasic sites, a class of nucleotide damage commonly associated with strand breaks, before such broken ends can be joined. The XRCC5/6 dimer together with APEX1 acts as a negative regulator of transcription. As part of the DNA-PK complex, involved in the early steps of ribosome assembly by promoting the processing of precursor rRNA into mature 18S rRNA in the small-subunit processome. Binding to U3 small nucleolar RNA, recruits PRKDC and XRCC5/Ku86 to the small-subunit processome. Plays a role in the regulation of DNA virus-mediated innate immune response by assembling into the HDP-RNP complex, a complex that serves as a platform for IRF3 phosphorylation and subsequent innate immune response activation through the cGAS-STING pathway.