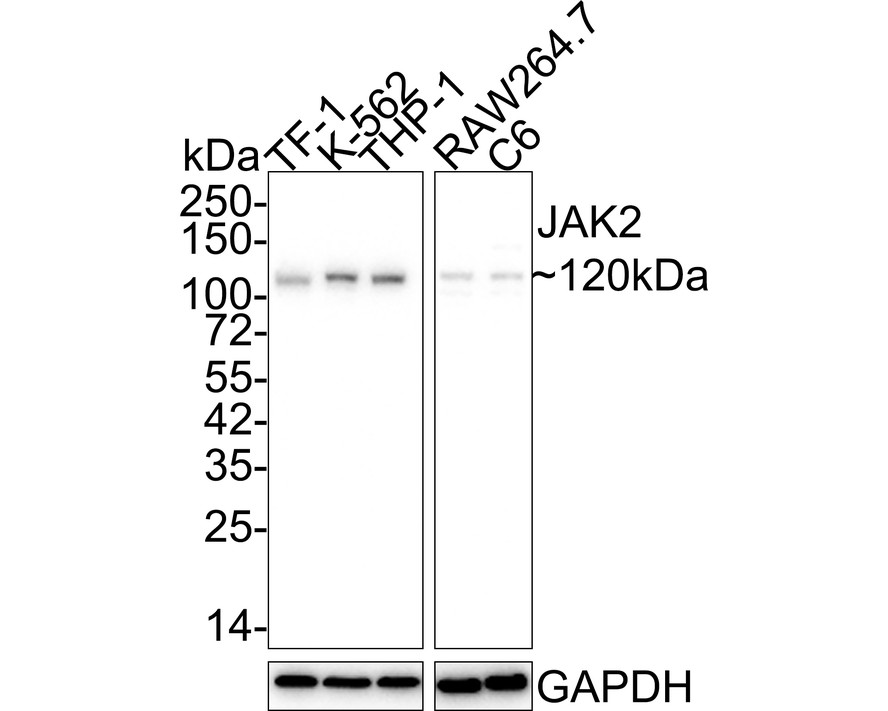 Western blot analysis of JAK2 on different lysates. Proteins were transferred to a PVDF membrane and blocked with 5% BSA in PBS for 1 hour at room temperature. The primary antibody (ET1607-35, 1/500) was used in 5% BSA at room temperature for 2 hours. Goat Anti-Rabbit IgG - HRP Secondary Antibody (HA1001) at 1:5,000 dilution was used for 1 hour at room temperature.
Positive control:
Lane 1: A549 cell lysate
Lane 2: MCF-7 cell lysate
SPECIFICATIONS
Product Type
Recombinant Rabbit monoclonal primary
Product Name
Recombinant JAK2 Monoclonal Antibody (ET1607-35)
PROPERTIES
Storage Condition
Store at +4C after thawing. Aliquot store at -20C or -80C. Avoid repeated freeze / thaw cycles.
Storage Buffer
1*TBS (pH7.4), 0.05% BSA, 40% Glycerol. Preservative: 0.05% Sodium Azide.
TARGET
PROTEIN NAME
Tyrosine-protein kinase JAK2
SEQUENCE SIMILARITIES
Belongs to the protein kinase superfamily. Tyr protein kinase family. JAK subfamily.
TISSUE SPECIFICITY
Ubiquitously expressed throughout most tissues.
POST-TRANSLATIONAL MODIFICATION
Autophosphorylated, leading to regulate its activity. Leptin promotes phosphorylation on tyrosine residues, including phosphorylation on Tyr-813 (By similarity). Autophosphorylation on Tyr-119 in response to EPO down-regulates its kinase activity (By similarity). Autophosphorylation on Tyr-868, Tyr-966 and Tyr-972 in response to growth hormone (GH) are required for maximal kinase activity (By similarity). Also phosphorylated by TEC (By similarity). Phosphorylated on tyrosine residues in response to interferon gamma signaling. Phosphorylated on tyrosine residues in response to a signaling cascade that is activated by increased cellular retinol.
SUBCELLULAR LOCATION
Endomembrane system. Nucleus.
FUNCTION
Non-receptor tyrosine kinase involved in various processes such as cell growth, development, differentiation or histone modifications. Mediates essential signaling events in both innate and adaptive immunity. In the cytoplasm, plays a pivotal role in signal transduction via its association with type I receptors such as growth hormone (GHR), prolactin (PRLR), leptin (LEPR), erythropoietin (EPOR), thrombopoietin (THPO); or type II receptors including IFN-alpha, IFN-beta, IFN-gamma and multiple interleukins. Following ligand-binding to cell surface receptors, phosphorylates specific tyrosine residues on the cytoplasmic tails of the receptor, creating docking sites for STATs proteins. Subsequently, phosphorylates the STATs proteins once they are recruited to the receptor. Phosphorylated STATs then form homodimer or heterodimers and translocate to the nucleus to activate gene transcription. For example, cell stimulation with erythropoietin (EPO) during erythropoiesis leads to JAK2 autophosphorylation, activation, and its association with erythropoietin receptor (EPOR) that becomes phosphorylated in its cytoplasmic domain. Then, STAT5 (STAT5A or STAT5B) is recruited, phosphorylated and activated by JAK2. Once activated, dimerized STAT5 translocates into the nucleus and promotes the transcription of several essential genes involved in the modulation of erythropoiesis. Part of a signaling cascade that is activated by increased cellular retinol and that leads to the activation of STAT5 (STAT5A or STAT5B). In addition, JAK2 mediates angiotensin-2-induced ARHGEF1 phosphorylation. Plays a role in cell cycle by phosphorylating CDKN1B. Cooperates with TEC through reciprocal phosphorylation to mediate cytokine-driven activation of FOS transcription. In the nucleus, plays a key role in chromatin by specifically mediating phosphorylation of 'Tyr-41' of histone H3 (H3Y41ph), a specific tag that promotes exclusion of CBX5 (HP1 alpha) from chromatin.