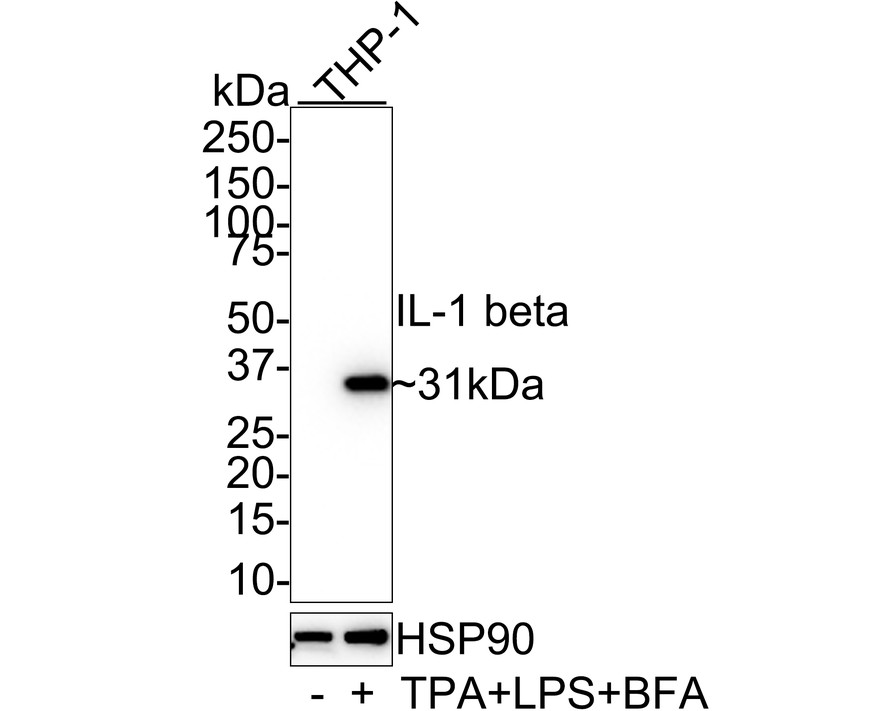 ICC staining of IL1 beta in A431 cells (green). Formalin fixed cells were permeabilized with 0.1% Triton X-100 in TBS for 10 minutes at room temperature and blocked with 1% Blocker BSA for 15 minutes at room temperature. Cells were probed with the primary antibody (ET1701-39, 1/50) for 1 hour at room temperature, washed with PBS. Alexa Fluor®488 Goat anti-Rabbit IgG was used as the secondary antibody at 1/1,000 dilution. The nuclear counter stain is DAPI (blue).
SPECIFICATIONS
Product Type
Recombinant Rabbit monoclonal primary
Product Name
Recombinant IL1 beta Monoclonal Antibody (ET1701-39)
Positive Control
A431, Hela, human kidney tissue.
PROPERTIES
Storage Condition
Store at +4C after thawing. Aliquot store at -20C or -80C. Avoid repeated freeze / thaw cycles.
Storage Buffer
1*TBS (pH7.4), 0.05% BSA, 40% Glycerol. Preservative: 0.05% Sodium Azide.
TARGET
SEQUENCE SIMILARITIES
Belongs to the IL-1 family.
TISSUE SPECIFICITY
Expressed in activated monocytes/macrophages (at protein level).
POST-TRANSLATIONAL MODIFICATION
Activation of the IL1B precursor involves a CASP1-catalyzed proteolytic cleavage. Processing and secretion are temporarily associated.
SUBCELLULAR LOCATION
Cytoplasm, cytosol. Lysosome. Secreted, extracellular exosome. Note=The precursor is cytosolic. In response to inflammasome-activating signals, such as ATP for NLRP3 inflammasome or bacterial flagellin for NLRC4 inflammasome, cleaved and secreted. IL1B lacks any known signal sequence and the pathway(s) of its secretion is(are) not yet fully understood. On the basis of experimental results, several unconventional secretion mechanisms have been proposed. 1. Secretion via secretory lysosomes: a fraction of CASP1 and IL1B precursor may be incorporated, by a yet undefined mechanism, into secretory lysosomes that undergo Ca(2+)-dependent exocytosis with release of mature IL1B. 2. Secretory autophagy: IL1B-containing autophagosomes may fuse with endosomes or multivesicular bodies (MVBs) and then merge with the plasma membrane releasing soluble IL1B or IL1B-containing exosomes. However, autophagy impacts IL1B production at several levels and its role in secretion is still controversial. 3. Secretion via exosomes: ATP-activation of P2RX7 leads to the formation of MVBs containing exosomes with entrapped IL1B, CASP1 and other inflammasome components. These MVBs undergo exocytosis with the release of exosomes. The release of soluble IL1B occurs after the lysis of exosome membranes (By similarity). 4. Secretion by microvesicle shedding: activation of the ATP receptor P2RX7 may induce an immediate shedding of membrane-derived microvesicles containing IL1B and possibly inflammasome components. The cytokine is then released in the extracellular compartment after microvesicle lysis. 5. Release by translocation through permeabilized plasma membrane. This may occur in cells undergoing pyroptosis due to sustained activation of the inflammasome (By similarity). These mechanisms may not be not mutually exclusive.
FUNCTION
Potent proinflammatory cytokine. Initially discovered as the major endogenous pyrogen, induces prostaglandin synthesis, neutrophil influx and activation, T-cell activation and cytokine production, B-cell activation and antibody production, and fibroblast proliferation and collagen production. Promotes Th17 differentiation of T-cells. Synergizes with IL12/interleukin-12 to induce IFNG synthesis from T-helper 1 (Th1) cells.