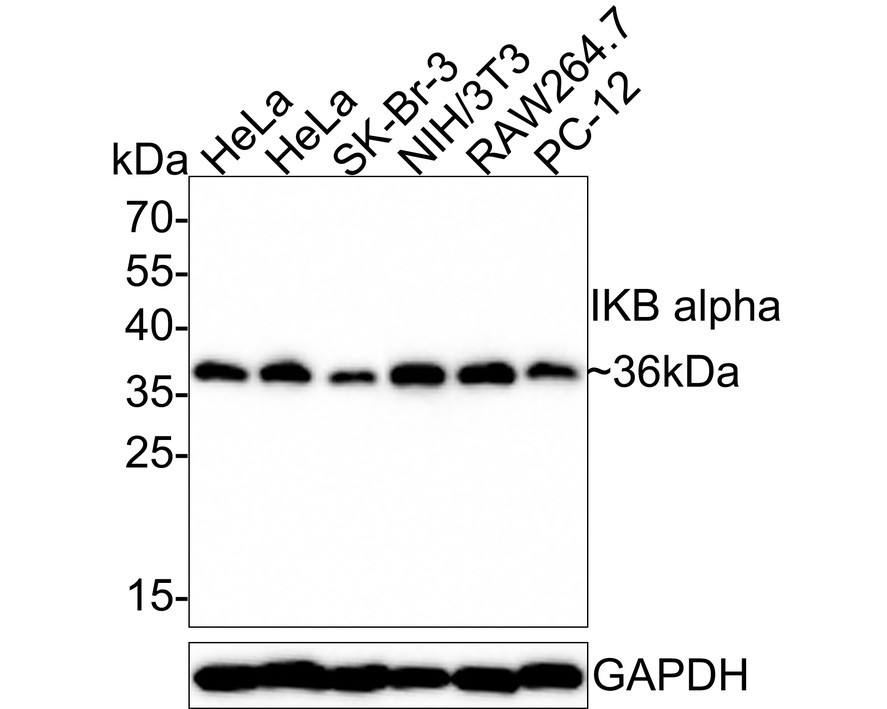 Western blot analysis of IKB alpha on different lysates. Proteins were transferred to a PVDF membrane and blocked with 5% BSA in PBS for 1 hour at room temperature. The primary antibody (ET1603-6, 1/500) was used in 5% BSA at room temperature for 2 hours. Goat Anti-Rabbit IgG - HRP Secondary Antibody (HA1001) at 1:5,000 dilution was used for 1 hour at room temperature.
Positive control:
Lane 1: PC-12 cell lysate
Lane 2: NIH/3T3 cell lysate
Lane 3: Hela cell lysate
SPECIFICATIONS
Product Type
Recombinant Rabbit monoclonal primary
Product Name
Recombinant IKB alpha Monoclonal Antibody (ET1603-6)
Immunogen
Synthetic peptide within human ikb alpha aa 1-50.
Positive Control
PC-12 cell lysate, NIH/3T3 cell lysate, Hela cell lysate, Hela, MCF-7, SHG-44, human kidney tissue, mouse kidney tissue, mouse brain tissue, mouse stomach tissue.
PROPERTIES
Storage Condition
Store at +4C after thawing. Aliquot store at -20C or -80C. Avoid repeated freeze / thaw cycles.
Storage Buffer
1*TBS (pH7.4), 0.05% BSA, 40% Glycerol. Preservative: 0.05% Sodium Azide.
PURIFICATION
Protein A affinity purified.
TARGET
SYNONYMS
I kappa B alpha antibody; I-kappa-B-alpha antibody; IkappaBalpha antibody; IkB-alpha antibody; IKBA antibody; IKBA_HUMAN antibody; IKBalpha antibody; MAD 3 antibody; MAD3 antibody; Major histocompatibility complex enhancer-binding protein MAD3 antibody; NF kappa B inhibitor alpha antibody; NF-kappa-B inhibitor alpha antibody; NFKBI antibody; NFKBIA antibody; Nuclear factor of kappa light chain gene enhancer in B cells antibody; Nuclear factor of kappa light polypeptide gene enhancer in B cells inhibitor alpha antibody
SEQUENCE SIMILARITIES
Belongs to the NF-kappa-B inhibitor family.
POST-TRANSLATIONAL MODIFICATION
Phosphorylated; disables inhibition of NF-kappa-B DNA-binding activity. Phosphorylation at positions 32 and 36 is prerequisite to recognition by UBE2D3 leading to polyubiquitination and subsequent degradation.; Sumoylated; sumoylation requires the presence of the nuclear import signal. Sumoylation blocks ubiquitination and proteasome-mediated degradation of the protein thereby increasing the protein stability.; Monoubiquitinated at Lys-21 and/or Lys-22 by UBE2D3. Ubiquitin chain elongation is then performed by CDC34 in cooperation with the SCF(FBXW11) E3 ligase complex, building ubiquitin chains from the UBE2D3-primed NFKBIA-linked ubiquitin. The resulting polyubiquitination leads to protein degradation. Also ubiquitinated by SCF(BTRC) following stimulus-dependent phosphorylation at Ser-32 and Ser-36.; Deubiquitinated by porcine reproductive and respiratory syndrome virus Nsp2 protein, which thereby interferes with NFKBIA degradation and impairs subsequent NF-kappa-B activation.
FUNCTION
NFKB1 or NFKB2 is bound to REL, RELA, or RELB to form the NFKB complex. The NFKB complex is inhibited by I-kappa-B proteins, which inactivate NF-kappa-B by trapping it in the cytoplasm. Phosphorylation of serine residues on the I-kappa-B proteins by kinases marks them for destruction via the ubiquitination pathway, thereby allowing activation of the NF-kappa-B complex. Activated NFKB complex translocates into the nucleus and binds DNA at kappa-B-binding motifs such as 5-prime GGGRNNYYCC 3-prime or 5-prime HGGARNYYCC 3-prime.
CITATIONS
Liu, Suzi et al.

Sinomenine protects against E.coli-induced acute lung injury in mice through Nrf2-NF-�B pathway. | Biomedicine & Pharmacotherapy = Biomedecine & Pharmacotherapie [2018]