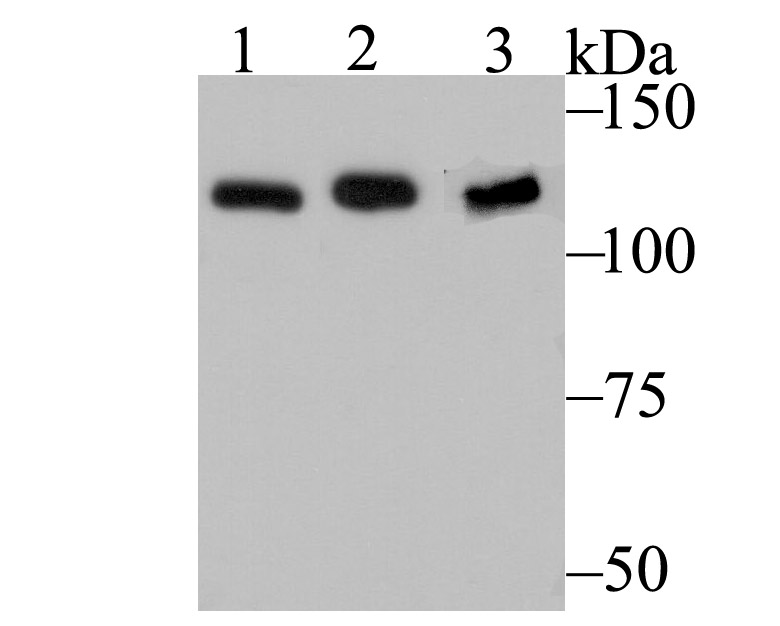 Western blot analysis of HnRNP U on different cell lysates using anti-HnRNP U at 1/500 dilution.
Positive control:
Lane 1: NIH-3T3
Lane 2: SH-SY-5Y
Lane 3: K562
SPECIFICATIONS
Product Type
Recombinant Rabbit monoclonal primary
Product Name
Recombinant hnRNP U Monoclonal Antibody (ET7107-10)
Positive Control
A431, HepG2, SH-SY-5Y, human tonsil tissue, human kidney tissue, human lung cancer tissue, mouse colon tissue, rat brain tissue, NIH-3T3.
PROPERTIES
Storage Condition
Store at +4C after thawing. Aliquot store at -20C or -80C. Avoid repeated freeze / thaw cycles.
Storage Buffer
1*TBS (pH7.4), 0.05% BSA, 40% Glycerol. Preservative: 0.05% Sodium Azide.
TARGET
SYNONYMS
Heterogeneous nuclear ribonucleoprotein U antibody; hnRNP U antibody; hnRNP U protein antibody; HNRNPU antibody; hnRNPU protein antibody; HNRPU antibody; HNRPU_HUMAN antibody; p120 antibody; p120 nuclear protein antibody; pp120 antibody; SAF A antibody; SAF-A antibody; SAFA antibody; Scaffold attachment factor A antibody; U21.1 antibody
POST-TRANSLATIONAL MODIFICATION
Cleaved at Asp-100 by CASP3 during T-cell apoptosis, resulting in a loss of DNA- and chromatin-binding activities.; Extensively phosphorylated. Phosphorylated on Ser-59 by PLK1 and dephosphorylated by protein phosphatase 2A (PP2A) in mitosis.; Arg-739 is dimethylated, probably to asymmetric dimethylarginine (Ref.8). Arg-733 is dimethylated, probably to asymmetric dimethylarginine (By similarity).; Citrullinated by PADI4.
FUNCTION
DNA- and RNA-binding protein involved in several cellular processes such as nuclear chromatin organization, telomere-length regulation, transcription, mRNA alternative splicing and stability, Xist-mediated transcriptional silencing and mitotic cell progression. Plays a role in the regulation of interphase large-scale gene-rich chromatin organization through chromatin-associated RNAs (caRNAs) in a transcription-dependent manner, and thereby maintains genomic stability. Plays a role as a RNA polymerase II (Pol II) holoenzyme transcription regulator. Promotes transcription initiation by direct association with the core-TFIIH basal transcription factor complex for the assembly of a functional pre-initiation complex with Pol II in a actin-dependent manner. Blocks Pol II transcription elongation activity by inhibiting the C-terminal domain (CTD) phosphorylation of Pol II and dissociates from Pol II pre-initiation complex prior to productive transcription elongation. Positively regulates CBX5-induced transcriptional gene silencing and retention of CBX5 in the nucleus.