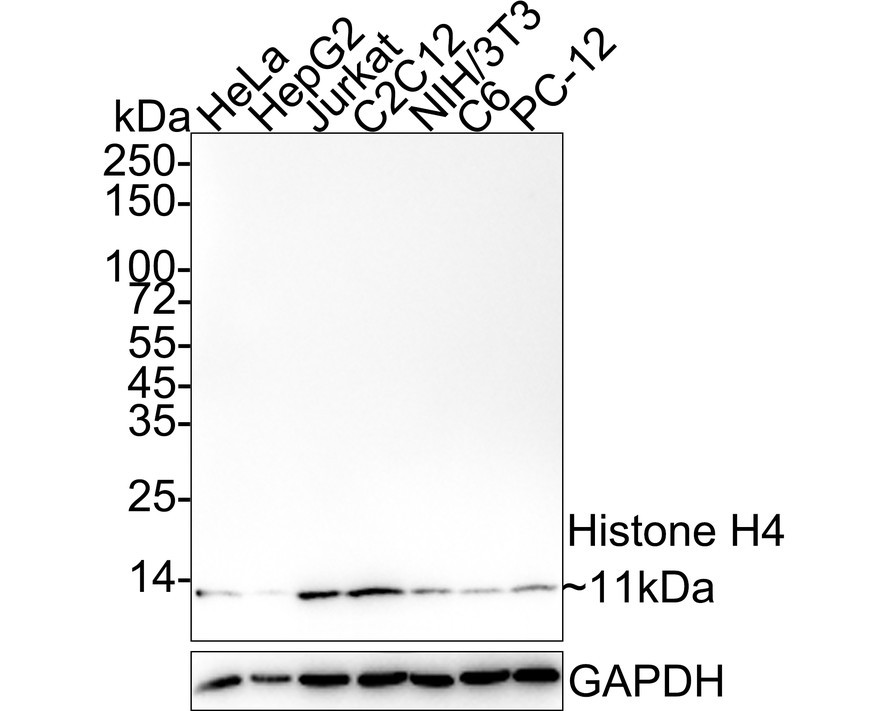 Western blot analysis of Histone H4 on human spleen tissue lysates. Proteins were transferred to a PVDF membrane and blocked with 5% BSA in PBS for 1 hour at room temperature. The primary antibody (ET1612-43, 1/500) was used in 5% BSA at room temperature for 2 hours. Goat Anti-Rabbit IgG - HRP Secondary Antibody (HA1001) at 1:5,000 dilution was used for 1 hour at room temperature.
SPECIFICATIONS
Product Type
Recombinant Rabbit monoclonal primary
Product Name
Recombinant Histone H4 Monoclonal Antibody (ET1612-43)
Positive Control
PANC-1, human breast carcinoma tissue, mouse spleen tissue, human kidney tissue, human pancreas tissue, mouse testis tissue, mouse colon tissue, mouse skin tissue.
PROPERTIES
Storage Condition
Store at +4C after thawing. Aliquot store at -20C or -80C. Avoid repeated freeze / thaw cycles.
Storage Buffer
1*TBS (pH7.4), 0.05% BSA, 40% Glycerol. Preservative: 0.05% Sodium Azide.
TARGET
GENE NAME
H4C1; H4C2; H4C3; H4C4; H4C5; H4C6; H4C8; H4C9; H4C11; H4C12; H4C13; H4C14; H4C15; H4-16
SEQUENCE SIMILARITIES
Belongs to the histone H4 family.
POST-TRANSLATIONAL MODIFICATION
Acetylation at Lys-6 (H4K5ac), Lys-9 (H4K8ac), Lys-13 (H4K12ac) and Lys-17 (H4K16ac) occurs in coding regions of the genome but not in heterochromatin.; Citrullination at Arg-4 (H4R3ci) by PADI4 impairs methylation.; Monomethylation and asymmetric dimethylation at Arg-4 (H4R3me1 and H4R3me2a, respectively) by PRMT1 favors acetylation at Lys-9 (H4K8ac) and Lys-13 (H4K12ac). Demethylation is performed by JMJD6. Symmetric dimethylation on Arg-4 (H4R3me2s) by the PRDM1/PRMT5 complex may play a crucial role in the germ-cell lineage.; Monomethylated, dimethylated or trimethylated at Lys-21 (H4K20me1, H4K20me2, H4K20me3). Monomethylation is performed by SET8. Dimethylation and trimethylation is performed by KMT5B and KMT5C and induces gene silencing (By similarity).; Phosphorylated by PAK2 at Ser-48 (H4S47ph). This phosphorylation increases the association of H3.3-H4 with the histone chaperone HIRA, thus promoting nucleosome assembly of H3.3-H4 and inhibiting nucleosome assembly of H3.1-H4.; Ubiquitinated by the CUL4-DDB-RBX1 complex in response to ultraviolet irradiation. This may weaken the interaction between histones and DNA and facilitate DNA accessibility to repair proteins. Monoubiquitinated at Lys-92 of histone H4 (H4K91ub1) in response to DNA damage. The exact role of H4K91ub1 in DNA damage response is still unclear but it may function as a licensing signal for additional histone H4 post-translational modifications such as H4 Lys-21 methylation (H4K20me).; Sumoylated, which is associated with transcriptional repression.; Crotonylation (Kcr) is specifically present in male germ cells and marks testis-specific genes in post-meiotic cells, including X-linked genes that escape sex chromosome inactivation in haploid cells. Crotonylation marks active promoters and enhancers and confers resistance to transcriptional repressors. It is also associated with post-meiotically activated genes on autosomes.; Butyrylation of histones marks active promoters and competes with histone acetylation.; Glutarylation at Lys-92 (H4K91glu) destabilizes nucleosomes by promoting dissociation of the H2A-H2B dimers from nucleosomes.
FUNCTION
Core component of nucleosome. Nucleosomes wrap and compact DNA into chromatin, limiting DNA accessibility to the cellular machineries which require DNA as a template. Histones thereby play a central role in transcription regulation, DNA repair, DNA replication and chromosomal stability. DNA accessibility is regulated via a complex set of post-translational modifications of histones, also called histone code, and nucleosome remodeling.