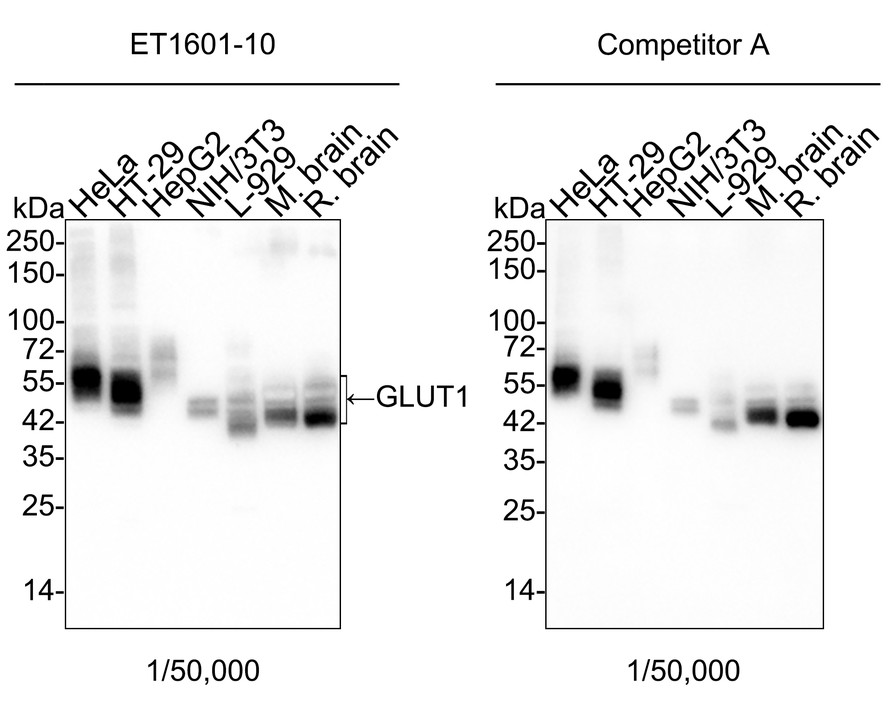 Western blot analysis of Glucose Transporter GLUT1 on different lysates. Proteins were transferred to a PVDF membrane and blocked with 5% BSA in PBS for 1 hour at room temperature. The primary antibody (ET1601-10, 1/500) was used in 5% BSA at room temperature for 2 hours. Goat Anti-Rabbit IgG - HRP Secondary Antibody (HA1001) at 1:5,000 dilution was used for 1 hour at room temperature.
Positive control:
Lane 1: Hela cell lysate
Lane 2: Sk-Br-3 cell lysate
Lane 3: NIH/3T3 cell lysate
Lane 4: HepG2 cell lysate
SPECIFICATIONS
Product Type
Recombinant Rabbit monoclonal primary
Product Name
Recombinant Glucose Transporter GLUT1 Monoclonal Antibody (ET1601-10)
Immunogen
Synthetic peptide within c-terminal human glut1.
Positive Control
Hela cell lysate, Sk-Br-3 cell lysate, NIH/3T3 cell lysate, HepG2 cell lysate, Hela, MCF-7, HepG2, human liver tissue, human placenta tissue, human liver carcinoma tissue, human kidney tissue, mouse liver tissue, mouse kidney tissue.
PROPERTIES
Storage Condition
Store at +4C after thawing. Aliquot store at -20C or -80C. Avoid repeated freeze / thaw cycles.
Storage Buffer
1*TBS (pH7.4), 0.05% BSA, 40% Glycerol. Preservative: 0.05% Sodium Azide.
PURIFICATION
Protein A affinity purified.
TARGET
PROTEIN NAME
Glucose Transporter GLUT1
SYNONYMS
Choreoathetosis/spasticity episodic (paroxysmal choreoathetosis/spasticity) antibody; CSE antibody; DYT17 antibody; DYT18 antibody; DYT9 antibody; EIG12 antibody; erythrocyte/brain antibody; Erythrocyte/hepatoma glucose transporter antibody; facilitated glucose transporter member 1 antibody; Glucose transporter 1 antibody; Glucose transporter type 1 antibody; Glucose transporter type 1, erythrocyte/brain antibody; GLUT antibody; GLUT-1 antibody; GLUT1 antibody; GLUT1DS antibody; GLUTB antibody; GT1 antibody; GTG1 antibody; Gtg3 antibody; GTR1_HUMAN antibody; HepG2 glucose transporter antibody; HTLVR antibody; Human T cell leukemia virus (I and II) receptor antibody; MGC141895 antibody; MGC141896 antibody; PED antibody; RATGTG1 antibody; Receptor for HTLV 1 and HTLV 2 antibody; SLC2A1 antibody; Solute carrier family 2 (facilitated glucose transporter), member 1 antibody; Solute carrier family 2 antibody; Solute carrier family 2, facilitated glucose transporter member 1 antibody
SEQUENCE SIMILARITIES
Belongs to the major facilitator superfamily. Sugar transporter (TC 2.A.1.1) family. Glucose transporter subfamily.
TISSUE SPECIFICITY
Detected in erythrocytes (at protein level). Expressed at variable levels in many human tissues.
POST-TRANSLATIONAL MODIFICATION
Phosphorylation at Ser-226 by PKC promotes glucose uptake by increasing cell membrane localization.
SUBCELLULAR LOCATION
Cell membrane, Melanosome
FUNCTION
Glucose is fundamental to the metabolism of mammalian cells. Its passage across cell membranes is mediated by a family of transporters termed glucose transporters or Gluts. In adipose and muscle tissue, insulin stimulates a rapid and dramatic increase in glucose uptake, which is largely due to the redistribution of the insulin-inducible glucose transporter, Glut4. In response to insulin, Glut4 is quickly shuttled from an intracellular storage site to the plasma membrane, where it binds glucose. In contrast, the ubiquitously expressed glucose transporter Glut1 is constitutively targeted to the plasma membrane, and shows a much less dramatic translocation in response to insulin. Glut1 and Glut4 are twelve-pass transmembrane proteins (12TM) whose carboxy-termini may dictate their cellular localization. Aberrant Glut4 expression has been suggested to contribute to such maladies as obesity and diabetes. Glut4 null mice have shown that while functional Glut4 protein is not required for maintaining normal glucose levels, it is necessary for sustained growth, normal cellular glucose, fat metabolism and prolonged longevity.