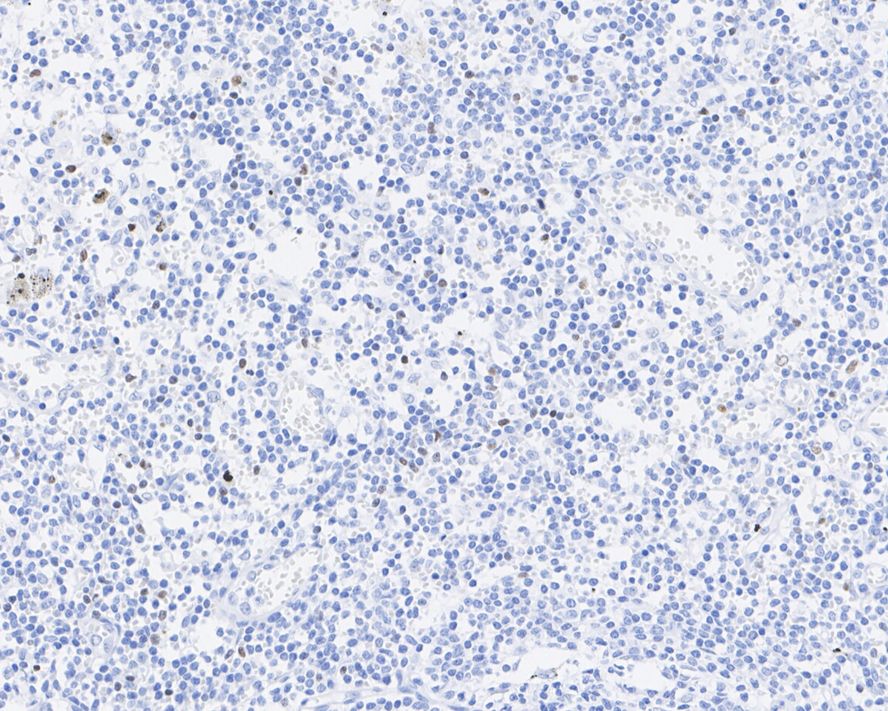 Flow cytometric analysis of Raji cells with FOXP3 antibody at 1/50 dilution (red) compared with an unlabelled control (cells without incubation with primary antibody; black). Alexa Fluor 488-conjugated goat anti rabbit IgG was used as the secondary antibody.
SPECIFICATIONS
Product Type
Recombinant Rabbit monoclonal primary
Product Name
Recombinant FOXP3 Monoclonal Antibody (ET1702-16)
PROPERTIES
Storage Condition
Store at +4C after thawing. Aliquot store at -20C or -80C. Avoid repeated freeze / thaw cycles.
Storage Buffer
1*TBS (pH7.4), 0.05% BSA, 40% Glycerol. Preservative: 0.05% Sodium Azide.
TARGET
POST-TRANSLATIONAL MODIFICATION
Polyubiquitinated, leading to its proteasomal degradation in regulatory T-cells (Treg) which is mediated by STUB1 in a HSPA1A/B-dependent manner. Deubiquitinated by USP7 leading to increase in protein stability.; Phosphorylation at Ser-418 regulates its transcriptional repressor activity and consequently, regulatory T-cells (Treg) suppressive function. Dephosphorylated at Ser-418 by protein phosphatase 1 (PP1) in Treg cells derived from patients with rheumatoid arthritis. Phosphorylation by CDK2 negatively regulates its transcriptional activity and protein stability (By similarity).; Acetylation on lysine residues stabilizes FOXP3 and promotes differentiation of T-cells into induced regulatory T-cells (iTregs) associated with suppressive functions. Deacetylated by SIRT1.; Undergoes proteolytic cleavage in activated regulatory T-cells (Treg), and can be cleaved at either the N- or C-terminal site, or at both sites.
SUBCELLULAR LOCATION
Nucleus. Cytoplasm. Note=Predominantly expressed in the cytoplasm in activated conventional T-cells whereas predominantly expressed in the nucleus in regulatory T-cells (Treg). The 41 kDa form derived by proteolytic processing is found exclusively in the chromatin fraction of activated Treg cells (By similarity).
FUNCTION
Transcriptional regulator which is crucial for the development and inhibitory function of regulatory T-cells (Treg). Plays an essential role in maintaining homeostasis of the immune system by allowing the acquisition of full suppressive function and stability of the Treg lineage, and by directly modulating the expansion and function of conventional T-cells. Can act either as a transcriptional repressor or a transcriptional activator depending on its interactions with other transcription factors, histone acetylases and deacetylases. The suppressive activity of Treg involves the coordinate activation of many genes, including CTLA4 and TNFRSF18 by FOXP3 along with repression of genes encoding cytokines such as interleukin-2 (IL2) and interferon-gamma (IFNG). Inhibits cytokine production and T-cell effector function by repressing the activity of two key transcription factors, RELA and NFATC2. Mediates transcriptional repression of IL2 via its association with histone acetylase KAT5 and histone deacetylase HDAC7. Can activate the expression of TNFRSF18, IL2RA and CTLA4 and repress the expression of IL2 and IFNG via its association with transcription factor RUNX1. Inhibits the differentiation of IL17 producing helper T-cells (Th17) by antagonizing RORC function, leading to down-regulation of IL17 expression, favoring Treg development. Inhibits the transcriptional activator activity of RORA. Can repress the expression of IL2 and IFNG via its association with transcription factor IKZF4 (By similarity).