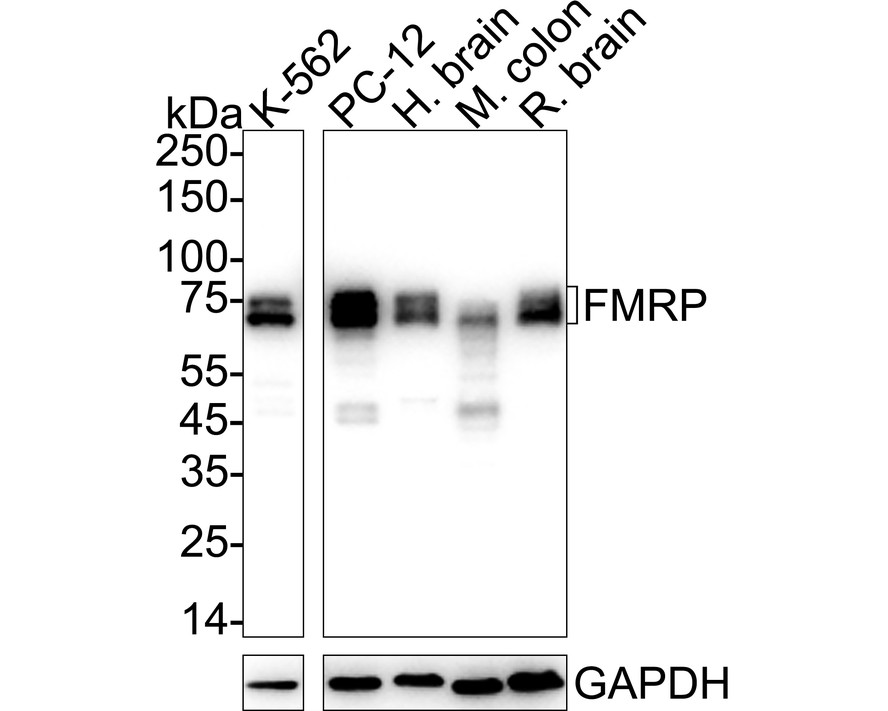 Western blot analysis of FMRP on different lysates. Proteins were transferred to a PVDF membrane and blocked with 5% BSA in PBS for 1 hour at room temperature. The primary antibody (ET1703-70, 1/500) was used in 5% BSA at room temperature for 2 hours. Goat Anti-Rabbit IgG - HRP Secondary Antibody (HA1001) at 1:5,000 dilution was used for 1 hour at room temperature.
Positive control:
Lane 1: Hela cell lysate
Lane 2: K562 cell lysate
SPECIFICATIONS
Product Type
Recombinant Rabbit monoclonal primary
Product Name
Recombinant FMRP Monoclonal Antibody (ET1703-70)
Positive Control
Hela cell lysate, K562 cell lysate, Daudi cell lysates, Hela, HepG2, SH-SY5Y, human tonsil tissue, rat brain tissue, mouse colon tissue.
PROPERTIES
Storage Condition
Store at +4C after thawing. Aliquot store at -20C or -80C. Avoid repeated freeze / thaw cycles.
Storage Buffer
1*TBS (pH7.4), 0.05% BSA, 40% Glycerol. Preservative: 0.05% Sodium Azide.
PURIFICATION
Protein A affinity purified.
TARGET
SYNONYMS
FMR 1 antibody; Fmr1 antibody; Fmr1 gene antibody; FMR1_HUMAN antibody; FMRP antibody; Fragile X mental retardation 1 antibody; Fragile X mental retardation 1 protein antibody; Fragile X mental retardation protein 1 antibody; Fragile X mental retardation protein antibody; fragile X mental retardation syndrome-related protein 1 antibody; fragile X mental retardation, autosomal homolog 1 antibody; FRAXA antibody; fxr1 antibody; MGC87458 antibody; POF antibody; POF1 antibody; Protein FMR-1 antibody; Protein FMR1 antibody; wu:fb16f11 antibody; wu:fd18c10 antibody; zgc:66226 antibody
SEQUENCE SIMILARITIES
Belongs to the FMR1 family.
TISSUE SPECIFICITY
Expressed in the brain, cerebellum and testis. Also expressed in epithelial tissues. Expressed in mature oligodendrocytes (OLGs). Expressed in fibroblast. Expressed in neurons, Purkinje cells and spermatogonias (at protein level). Expressed in brain, testis and placenta. Expressed in neurons and lymphocytes.
POST-TRANSLATIONAL MODIFICATION
Phosphorylated. Phosphorylated on several serine residues. Phosphorylation at Ser-500 is required for phosphorylation of other nearby serine residues. Phosphorylation has no effect on the binding of individual mRNA species, but may affect the association with polyribosome. Unphosphorylated FMR1 is associated with actively translating polyribosome, whereas a fraction of phosphorylated FMR1 is associated with apparently stalled polyribosome. Dephosphorylation by an activated phosphatase may release the FMR1-mediated translational repression and allow synthesis of a locally required protein at snypases (By similarity).; Monoubiquitinated. Polyubiquitinated. Ubiquitinated and targeted for proteasomal degradation after activation of metabotropic glutamate receptor (mGluR).; Methylated; methylation is necessary for heterodimerization with FXR1, association with polyribosomes, recruitment into stress granules and translation of FMR1 target mRNAs. Methylated by PRMT1, PRMT3 and PRMT4, in vitro.; [Isoform 10]: Undergoes proteolytic cleavage; may be specifically cleaved by calpain-1/CAPN1 in cajal bodies.
SUBCELLULAR LOCATION
Nucleus, nucleolus, Plasma membrane, Cytoplasm.
FUNCTION
Fragile X syndrome is the most frequent form of inherited mental retardation and is the result of transcriptional silencing of the FMR1 gene on the X chromosome. The FMR1 gene contains a distinct CpG dinucleotide repeat located in the 5' untranslated region of the gene. In fragile X syndrome this tandem repeat is substantially amplified and subjected to extensive methylation and enhanced transcriptional silencing. The FMR1 protein (or FMRP) is an RNA-binding protein that associates with polyribosomes and is a likely component of a messenger ribonuclear protein (mRNP) particle. It contains several features that are characteristics of RNA-binding proteins, including two hnRNPK homology (KH) domains and an RGG amino acid motif (RGG box). FMR1 localizes to both the nucleus and the cytoplasm and can also interact with two fragile X syndrome related factors, FXR1 and FXR2, which form heterodimers through their N-terminal coiled-coil domains. Since FMR1 contains both a nuclear localization signal and a nuclear export signal it is also implicated in the nucleocytoplasmic transport of mRNAs.