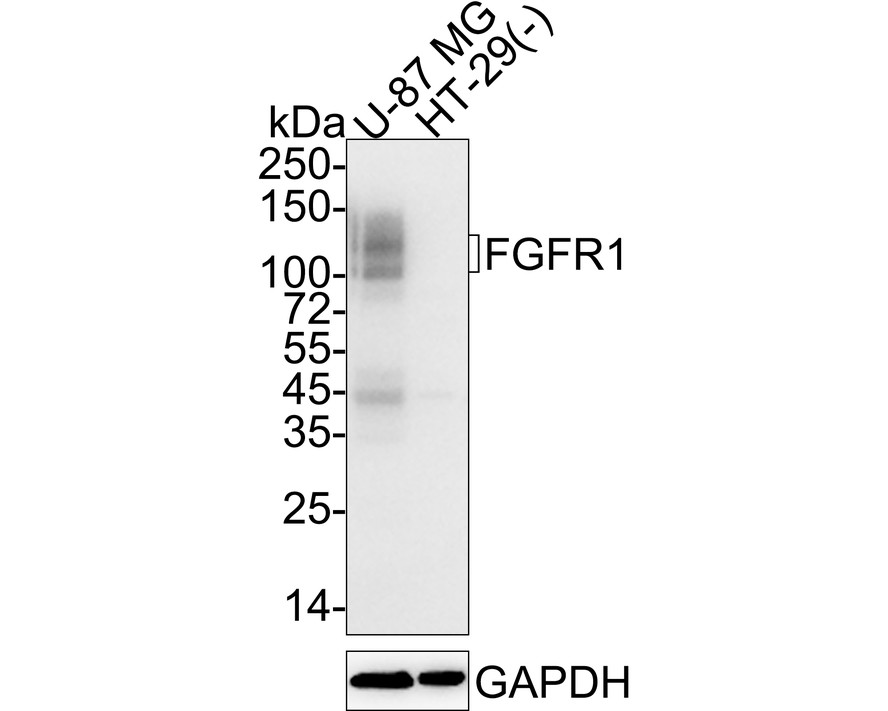 Western blot analysis of FGFR1 on 293 cells lysates using anti-FGFR1 antibody at 1/1,000 dilution.
SPECIFICATIONS
Product Type
Recombinant Rabbit monoclonal primary
Product Name
Recombinant FGFR1 Monoclonal Antibody (ET1612-62)
PROPERTIES
Storage Condition
Store at +4C after thawing. Aliquot store at -20C or -80C. Avoid repeated freeze / thaw cycles.
Storage Buffer
1*TBS (pH7.4), 0.05% BSA, 40% Glycerol. Preservative: 0.05% Sodium Azide.
TARGET
PROTEIN NAME
Fibroblast growth factor receptor 1
SYNONYMS
FGFR-1, BFGFR, bFGF-R-1, FLT-2, FGFR1
SEQUENCE SIMILARITIES
Belongs to the protein kinase superfamily. Tyr protein kinase family. Fibroblast growth factor receptor subfamily.
TISSUE SPECIFICITY
Detected in astrocytoma, neuroblastoma and adrenal cortex cell lines. Some isoforms are detected in foreskin fibroblast cell lines, however isoform 17, isoform 18 and isoform 19 are not detected in these cells.
POST-TRANSLATIONAL MODIFICATION
Autophosphorylated. Binding of FGF family members together with heparan sulfate proteoglycan or heparin promotes receptor dimerization and autophosphorylation on tyrosine residues. Autophosphorylation occurs in trans between the two FGFR molecules present in the dimer and proceeds in a highly ordered manner. Initial autophosphorylation at Tyr-653 increases the kinase activity by a factor of 50 to 100. After this, Tyr-583 becomes phosphorylated, followed by phosphorylation of Tyr-463, Tyr-766, Tyr-583 and Tyr-585. In a third stage, Tyr-654 is autophosphorylated, resulting in a further tenfold increase of kinase activity. Phosphotyrosine residues provide docking sites for interacting proteins and so are crucial for FGFR1 function and its regulation.; Ubiquitinated. FGFR1 is rapidly ubiquitinated by NEDD4 after autophosphorylation, leading to internalization and lysosomal degradation. CBL is recruited to activated FGFR1 via FRS2 and GRB2, and mediates ubiquitination and subsequent degradation of FGFR1.; N-glycosylated in the endoplasmic reticulum. The N-glycan chains undergo further maturation to an Endo H-resistant form in the Golgi apparatus.
SUBCELLULAR LOCATION
Cell membrane; Single-pass type I membrane protein. Nucleus. Cytoplasm, cytosol. Cytoplasmic vesicle. Note=After ligand binding, both receptor and ligand are rapidly internalized. Can translocate to the nucleus after internalization, or by translocation from the endoplasmic reticulum or Golgi apparatus to the cytosol, and from there to the nucleus.
FUNCTION
Tyrosine-protein kinase that acts as cell-surface receptor for fibroblast growth factors and plays an essential role in the regulation of embryonic development, cell proliferation, differentiation and migration. Required for normal mesoderm patterning and correct axial organization during embryonic development, normal skeletogenesis and normal development of the gonadotropin-releasing hormone (GnRH) neuronal system. Phosphorylates PLCG1, FRS2, GAB1 and SHB. Ligand binding leads to the activation of several signaling cascades. Activation of PLCG1 leads to the production of the cellular signaling molecules diacylglycerol and inositol 1,4,5-trisphosphate. Phosphorylation of FRS2 triggers recruitment of GRB2, GAB1, PIK3R1 and SOS1, and mediates activation of RAS, MAPK1/ERK2, MAPK3/ERK1 and the MAP kinase signaling pathway, as well as of the AKT1 signaling pathway. Promotes phosphorylation of SHC1, STAT1 and PTPN11/SHP2. In the nucleus, enhances RPS6KA1 and CREB1 activity and contributes to the regulation of transcription. FGFR1 signaling is down-regulated by IL17RD/SEF, and by FGFR1 ubiquitination, internalization and degradation.