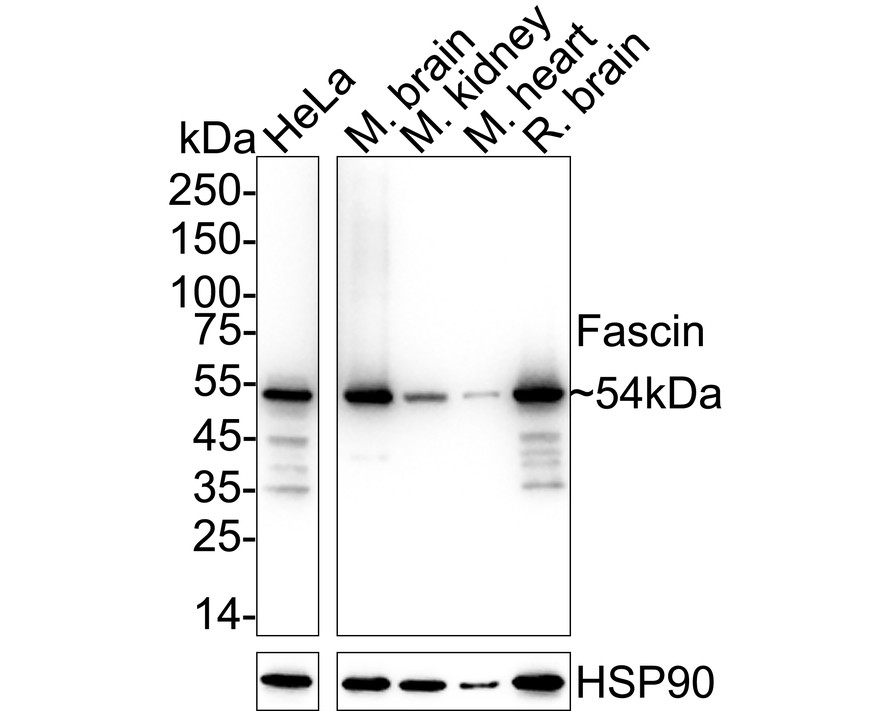 Western blot analysis of Fascin on different lysates using anti-Fascin antibody at 1/1,000 dilution.
Positive control:
Lane 1: SH-SY5Y
Lane 2: Human brain
Lane 3: Rat spleen
Lane 4: Mouse testes
Lane 5: Mouse brain
Lane 6: Mouse spleen
SPECIFICATIONS
Product Type
Recombinant Rabbit monoclonal primary
Product Name
Recombinant Fascin Monoclonal Antibody (ET1705-18)
Positive Control
Mouse testis tissue lysate, mouse spleen tissue lysate, SH-SY5Y cell lysate, human brain tissue lysate, Hela, SW480, SH-SY5Y, rat brain tissue, human kidney tissue, human tonsil tissue.
PROPERTIES
Storage Condition
Store at +4C after thawing. Aliquot store at -20C or -80C. Avoid repeated freeze / thaw cycles.
Storage Buffer
1*TBS (pH7.4), 0.05% BSA, 40% Glycerol. Preservative: 0.05% Sodium Azide.
PURIFICATION
Protein A affinity purified.
TARGET
SYNONYMS
55 kDa actin bundling protein antibody; 55 kDa actin-bundling protein antibody; Actin bundling protein antibody; actin bundling protein, 55-KD antibody; FAN 1 antibody; FAN1 antibody; Fascin 1 antibody; Fascin actin bundling protein 1 antibody; Fascin antibody; Fascin homolog 1 actin bundling protein (Strongylocentrotus purpuratus) antibody; Fascin homolog 1 antibody; Fascin, sea urchin, homolog of, 1 antibody; Fascin1 antibody; FLJ38511 antibody; FSCN 1 antibody; FSCN1 antibody; FSCN1_HUMAN antibody; HSN antibody; p55 antibody; Singed (Drosophila) like (sea urchin fascin homolog like) antibody; Singed drosophila homolog like antibody; Singed like (fascin homolog sea urchin) (Drosophila) antibody; Singed like (fascin homolog sea urchin) antibody; Singed like protein antibody; Singed, drosophila, homolog of antibody; Singed-like protein antibody; SNL antibody; Strongylocentrotus purpuratus antibody
SEQUENCE SIMILARITIES
Belongs to the fascin family.
POST-TRANSLATIONAL MODIFICATION
Phosphorylation at Ser-39 inhibits actin-binding. Phosphorylation is required for the reorganization of the actin cytoskeleton in response to NGF.
SUBCELLULAR LOCATION
Cytoskeleton, stress fiber, cytosol, cell cortex, filopodium, invadopodium, microvillus, cell junction.
FUNCTION
Cell adhesion to extracellular matrix is an important physiological stimulus for organization of the Actin-based cytoskeleton. Adhesion to the matrix glycoprotein Thrombospondin 1 triggers the sustained formation of F-Actin microspikes that contain the Actin-bundling protein Fascin. These structures are also implicated in cell migration, which may be an important function of Thrombospondin 1 in tissue remodelling and wound repair. Fascin bundles Actin microfilaments within dynamic cellular structures such as microspikes, stress fibers and membrane ruffles. Fascin could serve as a prognostic factor for abnormal ovarian epithelial pathology and could be a novel target for the treatment of ovarian cancer. Fascin, an Actin-bundling protein, identifies dendritic cells in the blood and in tissues.