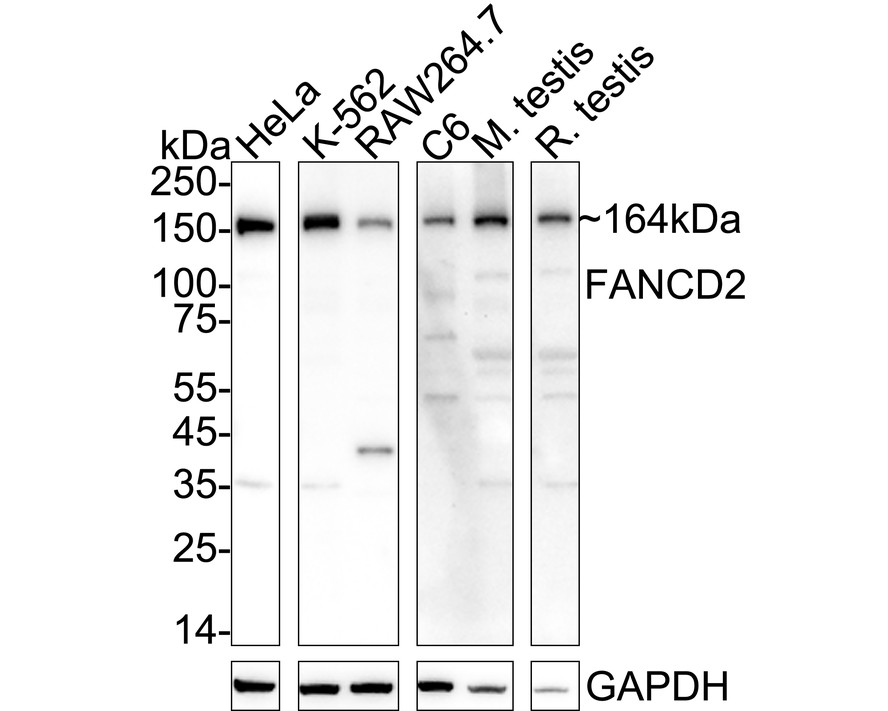 ICC staining FANCD2 in SW480 cells (green). The nuclear counter stain is DAPI (blue). Cells were fixed in paraformaldehyde, permeabilised with 0.25% Triton X100/PBS.
SPECIFICATIONS
Product Type
Recombinant Rabbit monoclonal primary
Product Name
Recombinant FANCD2 Monoclonal Antibody (ET1611-67)
Positive Control
SW480, MCF-7, Hela, rat testis tissue, rat stomach tissue, mouse stomach tissue, mouse testis tissue.
PROPERTIES
Storage Condition
Store at +4C after thawing. Aliquot store at -20C or -80C. Avoid repeated freeze / thaw cycles.
Storage Buffer
1*TBS (pH7.4), 0.05% BSA, 40% Glycerol. Preservative: 0.05% Sodium Azide.
TARGET
PROTEIN NAME
Fanconi anemia group D2 protein
TISSUE SPECIFICITY
Highly expressed in germinal center cells of the spleen, tonsil, and reactive lymph nodes, and in the proliferating basal layer of squamous epithelium of tonsil, esophagus, oropharynx, larynx and cervix. Expressed in cytotrophoblastic cells of the placenta and exocrine cells of the pancreas (at protein level). Highly expressed in testis, where expression is restricted to maturing spermatocytes.
DEVELOPMENTAL STAGE
Highly expressed in fetal oocytes, and in hematopoietic cells of the fetal liver and bone marrow (at protein level).
POST-TRANSLATIONAL MODIFICATION
Monoubiquitinated on Lys-561 during S phase and upon genotoxic stress by FANCL in complex with E2 ligases UBE2T or UBE2W (isoform 1 and isoform 2). Deubiquitinated by USP1 as cells enter G2/M, or once DNA repair is completed. Monoubiquitination requires the joint intervention of the FANC core complex, including FANCA, FANCB, FANCC, FANCE, FANCF, FANCG, and FANCM, and proteins involved in cell cycle checkpoints and DNA repair, including RPA1, ATR, CHEK1 and BRCA1, and is mediated by FANCL/PHF9. Ubiquitination is required for binding to chromatin, interaction with BRCA1, BRCA2 and MTMR15/FAN1, DNA repair, and normal cell cycle progression, but not for phosphorylation on Ser-222 or interaction with MEN1.; Phosphorylated in response to various genotoxic stresses by ATM and/or ATR. Upon ionizing radiation, phosphorylated by ATM on Ser-222 and Ser-1404. Phosphorylation on Ser-222 is required for S-phase checkpoint activation, but not for ubiquitination, foci formation, or DNA repair. In contrast, phosphorylation by ATR on other sites may be required for ubiquitination and foci formation.
SUBCELLULAR LOCATION
Nucleus. Note=Concentrates in nuclear foci during S phase and upon genotoxic stress. At the onset of mitosis, excluded from chromosomes and diffuses into the cytoplasm, returning to the nucleus at the end of cell division. Observed in a few spots localized in pairs on the sister chromatids of mitotic chromosome arms and not centromeres, one on each chromatids. These foci coincide with common fragile sites and could be sites of replication fork stalling. The foci are frequently interlinked through BLM-associated ultra-fine DNA bridges. Following aphidicolin treatment, targets chromatid gaps and breaks.
FUNCTION
Required for maintenance of chromosomal stability. Promotes accurate and efficient pairing of homologs during meiosis. Involved in the repair of DNA double-strand breaks, both by homologous recombination and single-strand annealing. May participate in S phase and G2 phase checkpoint activation upon DNA damage. Plays a role in preventing breakage and loss of missegregating chromatin at the end of cell division, particularly after replication stress. Required for the targeting, or stabilization, of BLM to non-centromeric abnormal structures induced by replicative stress. Promotes BRCA2/FANCD1 loading onto damaged chromatin. May also be involved in B-cell immunoglobulin isotype switching.