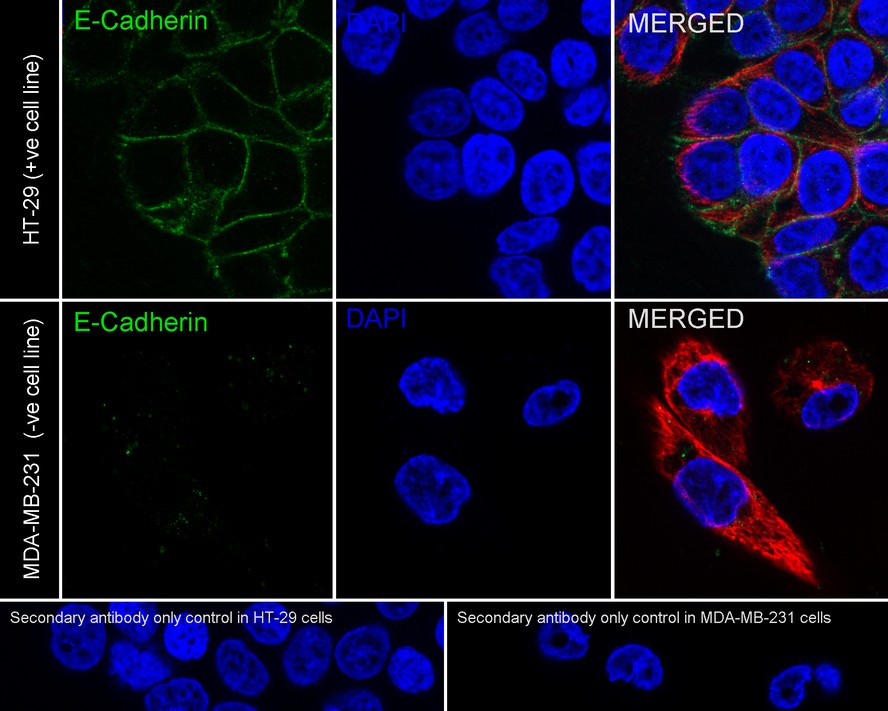 Western blot analysis of E-Cadherin on different lysates. Proteins were transferred to a PVDF membrane and blocked with 5% BSA in PBS for 1 hour at room temperature. The primary antibody (ET1607-75, 1/500) was used in 5% BSA at room temperature for 2 hours. Goat Anti-Rabbit IgG - HRP Secondary Antibody (HA1001) at 1:5,000 dilution was used for 1 hour at room temperature.
Positive control:
Lane 1: A431 cell lysate
Lane 2: MCF-7 cell lysate
SPECIFICATIONS
Product Type
Recombinant Rabbit monoclonal primary
Product Name
Recombinant E Cadherin Monoclonal Antibody (ET1607-75)
Positive Control
A431, MCF-7, A549, human lung cancer tissue.
PROPERTIES
Storage Condition
Store at +4C after thawing. Aliquot store at -20C or -80C. Avoid repeated freeze / thaw cycles.
Storage Buffer
1*TBS (pH7.4), 0.05% BSA, 40% Glycerol. Preservative: 0.05% Sodium Azide.
TARGET
TISSUE SPECIFICITY
Non-neural epithelial tissues.
POST-TRANSLATIONAL MODIFICATION
During apoptosis or with calcium influx, cleaved by a membrane-bound metalloproteinase (ADAM10), PS1/gamma-secretase and caspase-3. Processing by the metalloproteinase, induced by calcium influx, causes disruption of cell-cell adhesion and the subsequent release of beta-catenin into the cytoplasm. The residual membrane-tethered cleavage product is rapidly degraded via an intracellular proteolytic pathway. Cleavage by caspase-3 releases the cytoplasmic tail resulting in disintegration of the actin microfilament system. The gamma-secretase-mediated cleavage promotes disassembly of adherens junctions. During development of the cochlear organ of Corti, cleavage by ADAM10 at adherens junctions promotes pillar cell separation (By similarity).; N-glycosylation at Asn-637 is essential for expression, folding and trafficking. Addition of bisecting N-acetylglucosamine by MGAT3 modulates its cell membrane location.; Ubiquitinated by a SCF complex containing SKP2, which requires prior phosphorylation by CK1/CSNK1A1. Ubiquitinated by CBLL1/HAKAI, requires prior phosphorylation at Tyr-754.; O-glycosylated. O-manosylated by TMTC1, TMTC2, TMTC3 or TMTC4. Thr-285 and Thr-509 are O-mannosylated by TMTC2 or TMTC4 but not TMTC1 or TMTC3.
SUBCELLULAR LOCATION
Cell junction, adherens junction. Cell membrane; Single-pass type I membrane protein. Endosome. Golgi apparatus, trans-Golgi network. Note=Colocalizes with DLGAP5 at sites of cell-cell contact in intestinal epithelial cells. Anchored to actin microfilaments through association with alpha-, beta- and gamma-catenin. Sequential proteolysis induced by apoptosis or calcium influx, results in translocation from sites of cell-cell contact to the cytoplasm. Colocalizes with RAB11A endosomes during its transport from the Golgi apparatus to the plasma membrane.
FUNCTION
Cadherins are calcium-dependent cell adhesion proteins. They preferentially interact with themselves in a homophilic manner in connecting cells; cadherins may thus contribute to the sorting of heterogeneous cell types. CDH1 is involved in mechanisms regulating cell-cell adhesions, mobility and proliferation of epithelial cells. Has a potent invasive suppressor role. It is a ligand for integrin alpha-E/beta-7.; E-Cad/CTF2 promotes non-amyloidogenic degradation of Abeta precursors. Has a strong inhibitory effect on APP C99 and C83 production.; (Microbial infection) Serves as a receptor for Listeria monocytogenes; internalin A (InlA) binds to this protein and promotes uptake of the bacteria.
CITATIONS
Lu, Meng et al.

Basolateral CD147 induces hepatocyte polarity loss by E-cadherin ubiquitination and degradation in hepatocellular carcinoma progress. | Hepatology (Baltimore, Md.) [2018]

Kong, Lingyu et al.

Qigesan inhibits esophageal cancer cell invasion and migration by inhibiting Gas6/Axl-induced epithelial-mesenchymal transition. | Aging [2020]