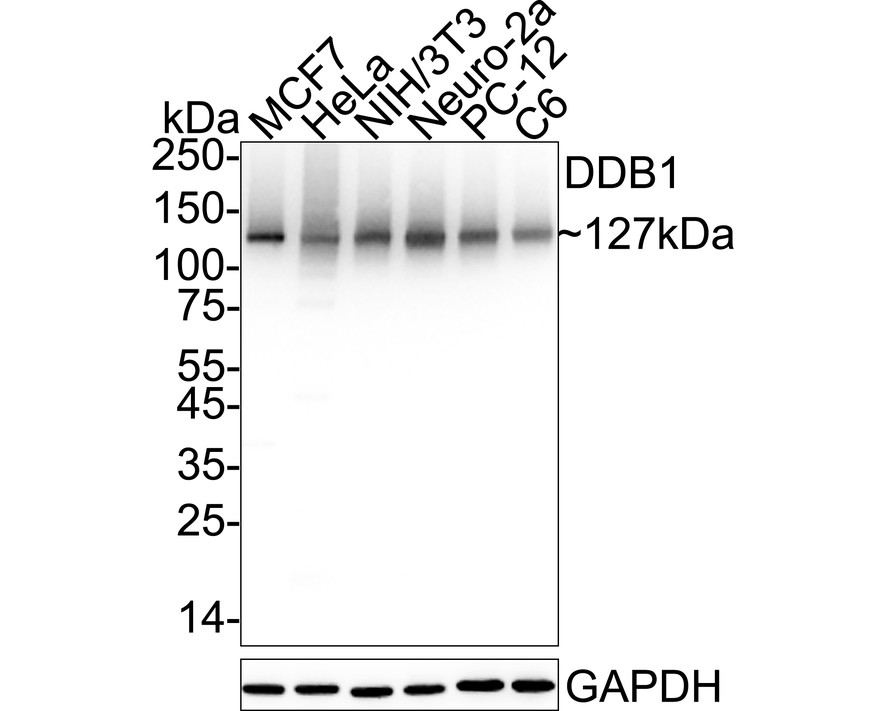 Western blot analysis of DDB1 on different lysates using anti-DDB1 antibody at 1/500 dilution.
Positive control:
Lane 1: HepG2
Lane 2: NIH-3T3
Lane 3: MCF-7
Lane 4: Rat kidney tissue

SPECIFICATIONS
Product Type
Recombinant Rabbit monoclonal primary
Product Name
Recombinant DDB1 Monoclonal Antibody (ET1706-22)
Positive Control
HepG2, NIH-3T3, MCF-7, rat kidney tissue lysate, Hela, HUVEC, SH-SY5Y, rat esophagus tissue, human liver cancer tissue, human kidney tissue, mouse brain tissue.
PROPERTIES
Storage Condition
Store at +4C after thawing. Aliquot store at -20C or -80C. Avoid repeated freeze / thaw cycles.
Storage Buffer
1*TBS (pH7.4), 0.05% BSA, 40% Glycerol. Preservative: 0.05% Sodium Azide.
TARGET
PROTEIN NAME
DNA damage-binding protein 1
SYNONYMS
DDBa, XAP-1, UV-DDB 1, XPE-BF, XPCe, DDB1, XAP1
SEQUENCE SIMILARITIES
Belongs to the DDB1 family.
POST-TRANSLATIONAL MODIFICATION
Phosphorylated by ABL1.; Ubiquitinated by CUL4A. Subsequently degraded by ubiquitin-dependent proteolysis.; Acetylated, promoting interaction with CUL4 (CUL4A or CUL4B) and subsequent formation of DCX (DDB1-CUL4-X-box) E3 ubiquitin-protein ligase complexes. Deacetylation by SIRT7 impairs the interaction with CUL4 (CUL4A or CUL4B) and formation of DCX (DDB1-CUL4-X-box) E3 ubiquitin-protein ligase complexes.
SUBCELLULAR LOCATION
Cytoplasm. Nucleus. Note=Primarily cytoplasmic. Translocates to the nucleus following UV irradiation and subsequently accumulates at sites of DNA damage.
FUNCTION
Protein, which is both involved in DNA repair and protein ubiquitination, as part of the UV-DDB complex and DCX (DDB1-CUL4-X-box) complexes, respectively. Core component of the UV-DDB complex (UV-damaged DNA-binding protein complex), a complex that recognizes UV-induced DNA damage and recruit proteins of the nucleotide excision repair pathway (the NER pathway) to initiate DNA repair. The UV-DDB complex preferentially binds to cyclobutane pyrimidine dimers (CPD), 6-4 photoproducts (6-4 PP), apurinic sites and short mismatches. Also functions as a component of numerous distinct DCX (DDB1-CUL4-X-box) E3 ubiquitin-protein ligase complexes which mediate the ubiquitination and subsequent proteasomal degradation of target proteins. The functional specificity of the DCX E3 ubiquitin-protein ligase complex is determined by the variable substrate recognition component recruited by DDB1. DCX(DDB2) (also known as DDB1-CUL4-ROC1, CUL4-DDB-ROC1 and CUL4-DDB-RBX1) may ubiquitinate histone H2A, histone H3 and histone H4 at sites of UV-induced DNA damage. The ubiquitination of histones may facilitate their removal from the nucleosome and promote subsequent DNA repair. DCX(DDB2) also ubiquitinates XPC, which may enhance DNA-binding by XPC and promote NER. DCX(DTL) plays a role in PCNA-dependent polyubiquitination of CDT1 and MDM2-dependent ubiquitination of TP53 in response to radiation-induced DNA damage and during DNA replication. DCX(ERCC8) (the CSA complex) plays a role in transcription-coupled repair (TCR). The DDB1-CUL4A-DTL E3 ligase complex regulates the circadian clock function by mediating the ubiquitination and degradation of CRY1. DDB1-mediated CRY1 degradation promotes FOXO1 protein stability and FOXO1-mediated gluconeogenesis in the liver (By similarity).