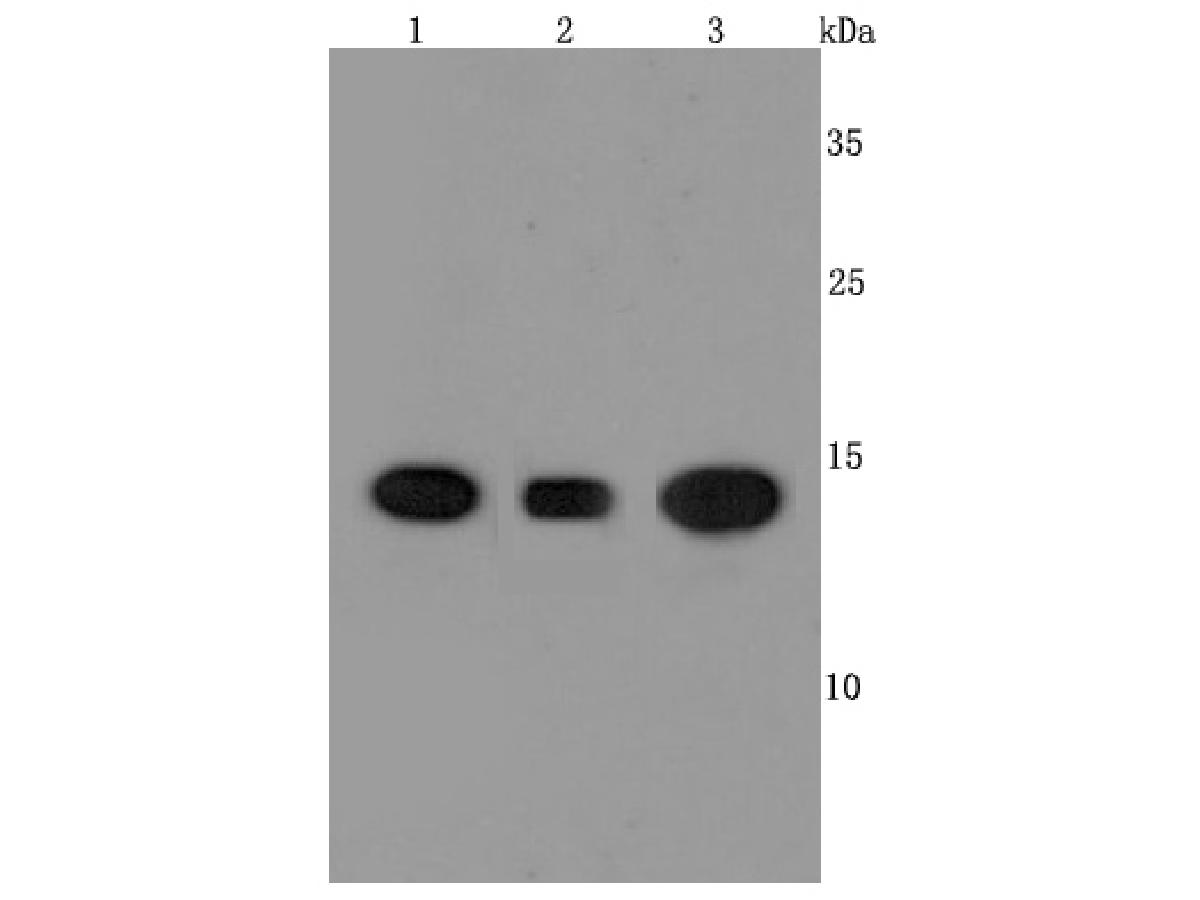 Western blot analysis of Cyclophilin A on different cells lysates using anti-Cyclophilin A antibody at 1/1,000 dilution.
Positive control:
Lane 1: Hela
Lane 2: A431
Lane 3: HepG2
SPECIFICATIONS
Product Type
Recombinant Rabbit monoclonal primary
Product Name
Recombinant Cyclophilin A Monoclonal Antibody (ET1703-33)
Positive Control
Hela, HepG2, A431, human breast carcinoma tissue, human lung tissue, human pancreas tissue, mouse lung tissue.
PROPERTIES
Storage Condition
Store at +4C after thawing. Aliquot store at -20C or -80C. Avoid repeated freeze / thaw cycles.
Storage Buffer
1*TBS (pH7.4), 0.05% BSA, 40% Glycerol. Preservative: 0.05% Sodium Azide.
TARGET
SYNONYMS
Cyclophilin A antibody; Cyclophilin antibody; CyclophilinA antibody; Cyclosporin A binding protein antibody; Cyclosporin A-binding protein antibody; CYPA antibody; CYPH antibody; Epididymis secretory sperm binding protein Li 69p antibody; HEL S 69p antibody; MGC117158 antibody; MGC12404 antibody; MGC23397 antibody; Peptidyl prolyl cis trans isomerase A antibody; Peptidyl-prolyl cis-trans isomerase A antibody; Peptidylprolyl isomerase A (cyclophilin A) antibody; Peptidylprolyl isomerase A antibody; PPIA antibody; PPIA protein antibody; PPIA_HUMAN antibody; PPIase A antibody; Rotamase A antibody; RotamaseA antibody; T cell cyclophilin antibody
SEQUENCE SIMILARITIES
Belongs to the cyclophilin-type PPIase family. PPIase A subfamily.
POST-TRANSLATIONAL MODIFICATION
Acetylation at Lys-125 markedly inhibits catalysis of cis to trans isomerization and stabilizes cis rather than trans forms of the HIV-1 capsid. PPIA acetylation also antagonizes the immunosuppressive effects of cyclosporine by inhibiting the sequential steps of cyclosporine binding and calcineurin inhibition.
FUNCTION
The immunosuppressant cyclosporin A (CsA) forms a trimolecular complex with cyclophilin and calcineurins to inhibit calcineurin phosphatase activity. Cyclophilins are conserved, ubiquitous and abundant cytosolic peptidyl-prolyl cis-trans isomerases that accelerate the isomerization of XaaPro peptide bonds and the refolding of proteins. Human cyclophilin A (CyPA), an intracellular protein of 165 amino acids, is the target of the CsA and is encoded by a single unique gene conserved from yeast to humans. CyPA is known for its involvement in T cell differentiation and proliferation and is highly expressed in brain. CyPA is incorporated into the virion of the type 1 human immunodeficiency virus (HIV-1) via a direct interaction with the capsid domain of the viral Gag polyprotein and is crucial for efficient viral replication. Cyclophilin B (CyPB) is a member of the cyclophilin family with specific N- and C-terminal extensions. Unlike CyPA, CyPB has a signal sequence leading to its translocation in the endoplasmic reticulum. CyPB is secreted in biological fluids such as blood or milk and binds to a specific receptor present on the human lymphoblastic cell line Jurkat and on human peripheral blood lymphocytes (9,10).