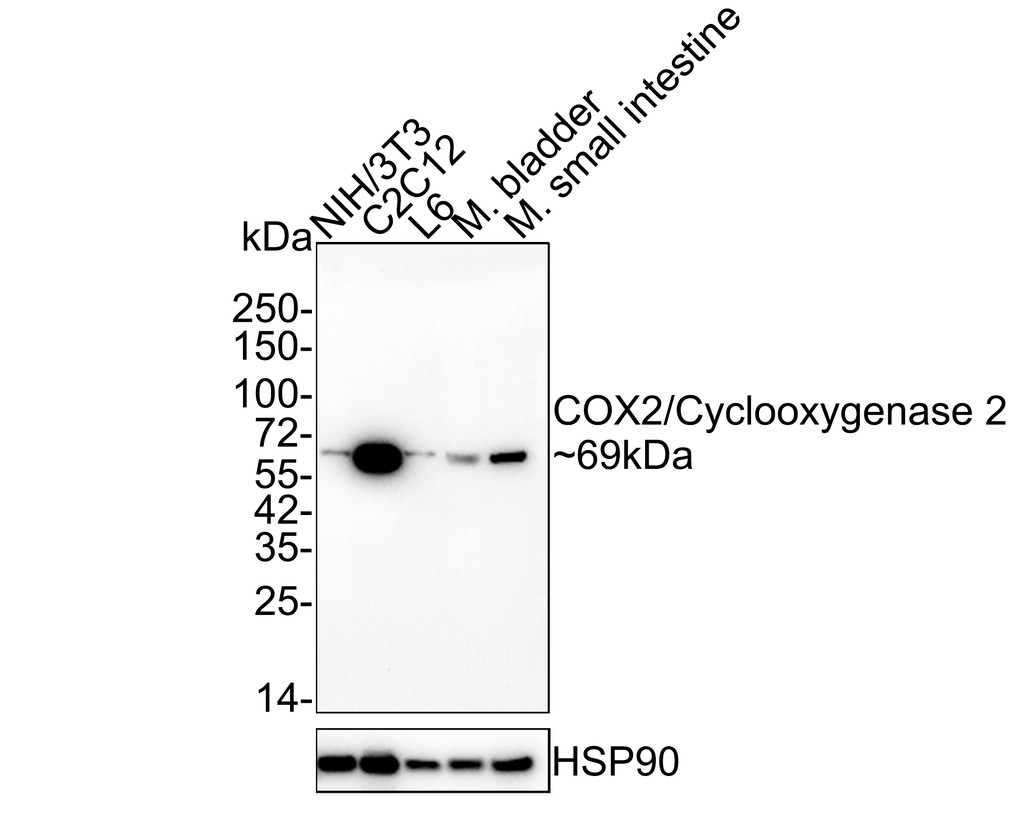 Western blot analysis of COX2/Cyclooxygenase 2 on A549 cell lysates. Proteins were transferred to a PVDF membrane and blocked with 5% BSA in PBS for 1 hour at room temperature. The primary antibody (ET1610-23, 1/500) was used in 5% BSA at room temperature for 2 hours. Goat Anti-Rabbit IgG - HRP Secondary Antibody (HA1001) at 1:5,000 dilution was used for 1 hour at room temperature.
SPECIFICATIONS
Product Type
Recombinant Rabbit monoclonal primary
Product Name
Recombinant COX2/Cyclooxygenase 2 Monoclonal Antibody (ET1610-23)
Positive Control
A549, THP-1, Hela, HepG2.
PROPERTIES
Storage Condition
Store at +4C after thawing. Aliquot store at -20C or -80C. Avoid repeated freeze / thaw cycles.
Storage Buffer
1*TBS (pH7.4), 0.05% BSA, 40% Glycerol. Preservative: 0.05% Sodium Azide.
TARGET
PROTEIN NAME
Prostaglandin G/H synthase 2
SYNONYMS
COX-2, PGH synthase 2, PGHS-2, PTGS2
SEQUENCE SIMILARITIES
Belongs to the prostaglandin G/H synthase family.
POST-TRANSLATIONAL MODIFICATION
S-nitrosylation by NOS2 (iNOS) activates enzyme activity. S-nitrosylation may take place on different Cys residues in addition to Cys-526.; Acetylated at Ser-565 by SPHK1. During neuroinflammation, acetylation by SPHK1 promotes neuronal secretion of specialized preresolving mediators (SPMs), especially 15-R-lipoxin A4, which results in an increase of phagocytic microglia.
SUBCELLULAR LOCATION
Microsome membrane; Peripheral membrane protein. Endoplasmic reticulum membrane; Peripheral membrane protein. Nucleus inner membrane; Peripheral membrane protein. Nucleus outer membrane; Peripheral membrane protein. Note=Detected on the lumenal side of the endoplasmic reticulum and nuclear envelope.
FUNCTION
Dual cyclooxygenase and peroxidase in the biosynthesis pathway of prostanoids, a class of C20 oxylipins mainly derived from arachidonate, with a particular role in the inflammatory response. The cyclooxygenase activity oxygenates arachidonate (AA, C20:4(n-6)) to the hydroperoxy endoperoxide prostaglandin G2 (PGG2), and the peroxidase activity reduces PGG2 to the hydroxy endoperoxide PGH2, the precursor of all 2-series prostaglandins and thromboxanes. This complex transformation is initiated by abstraction of hydrogen at carbon 13 (with S-stereochemistry), followed by insertion of molecular O2 to form the endoperoxide bridge between carbon 9 and 11 that defines prostaglandins. The insertion of a second molecule of O2 (bis-oxygenase activity) yields a hydroperoxy group in PGG2 that is then reduced to PGH2 by two electrons. Similarly catalyzes successive cyclooxygenation and peroxidation of dihomo-gamma-linoleate (DGLA, C20:3(n-6)) and eicosapentaenoate (EPA, C20:5(n-3)) to corresponding PGH1 and PGH3, the precursors of 1- and 3-series prostaglandins. In an alternative pathway of prostanoid biosynthesis, converts 2-arachidonoyl lysophopholipids to prostanoid lysophopholipids, which are then hydrolyzed by intracellular phospholipases to release free prostanoids. Metabolizes 2-arachidonoyl glycerol yielding the glyceryl ester of PGH2, a process that can contribute to pain response. Generates lipid mediators from n-3 and n-6 polyunsaturated fatty acids (PUFAs) via a lipoxygenase-type mechanism. Oxygenates PUFAs to hydroperoxy compounds and then reduces them to corresponding alcohols. Plays a role in the generation of resolution phase interaction products (resolvins) during both sterile and infectious inflammation. Metabolizes docosahexaenoate (DHA, C22:6(n-3)) to 17R-HDHA, a precursor of the D-series resolvins (RvDs). As a component of the biosynthetic pathway of E-series resolvins (RvEs), converts eicosapentaenoate (EPA, C20:5(n-3)) primarily to 18S-HEPE that is further metabolized by ALOX5 and LTA4H to generate 18S-RvE1 and 18S-RvE2. In vascular endothelial cells, converts docosapentaenoate (DPA, C22:5(n-3)) to 13R-HDPA, a precursor for 13-series resolvins (RvTs) shown to activate macrophage phagocytosis during bacterial infection. In activated leukocytes, contributes to oxygenation of hydroxyeicosatetraenoates (HETE) to diHETES (5,15-diHETE and 5,11-diHETE). During neuroinflammation, plays a role in neuronal secretion of specialized preresolving mediators (SPMs) 15R-lipoxin A4 that regulates phagocytic microglia (By similarity).