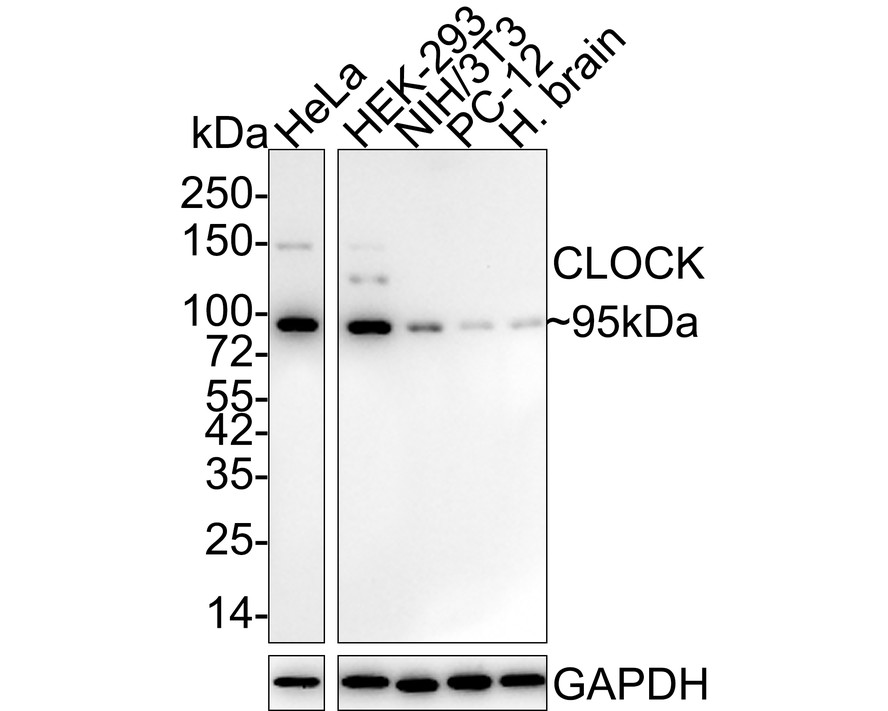 Western blot analysis of CLOCK on MCF-7 (1) and PC-12 (2) cell using anti-CLOCK antibody at 1/1,000 dilution.
SPECIFICATIONS
Product Type
Recombinant Rabbit monoclonal primary
Product Name
Recombinant CLOCK Monoclonal Antibody (ET1704-82)
Positive Control
MCF-7 cell lysate, PC-12 cell lysate, Hela, SHG-44, human fetal skeletal tissue, human colon tissue, human colon carcinoma tissue, human kidney tissue.
PROPERTIES
Storage Condition
Store at +4C after thawing. Aliquot store at -20C or -80C. Avoid repeated freeze / thaw cycles.
Storage Buffer
1*TBS (pH7.4), 0.05% BSA, 40% Glycerol. Preservative: 0.05% Sodium Azide.
PURIFICATION
Protein A affinity purified.
TARGET
SYNONYMS
bHLHe8 antibody; Circadian locomoter output cycles kaput protein antibody; Circadian locomoter output cycles protein kaput antibody; Circadian Locomotor Output Cycles Kaput antibody; Circadium Locomotor Output Cycles Kaput antibody; Class E basic helix-loop-helix protein 8 antibody; CLOCK antibody; Clock circadian regulator antibody; Clock homolog antibody; Clock protein antibody; CLOCK_HUMAN antibody; hCLOCK antibody; KIAA0334 antibody
TISSUE SPECIFICITY
Hair follicles (at protein level). Expressed in all tissues examined including spleen, thymus, prostate, testis, ovary, small intestine, colon, leukocytes, heart, brain, placenta, lung, liver, skeletal muscle, kidney and pancreas. Highest levels in testis and skeletal muscle. Low levels in thymus, lung and liver. Expressed in all brain regions with highest levels in cerebellum. Highly expressed in the suprachiasmatic nucleus (SCN).
POST-TRANSLATIONAL MODIFICATION
Ubiquitinated, leading to its proteasomal degradation.; O-glycosylated; contains O-GlcNAc. O-glycosylation by OGT prevents protein degradation by inhibiting ubiquitination. It also stabilizes the CLOCK-ARNTL/BMAL1 heterodimer thereby increasing CLOCK-ARNTL/BMAL1-mediated transcriptional activation of PER1/2/3 and CRY1/2.; Phosphorylation is dependent on the CLOCK-ARNTL/BMAL1 heterodimer formation. Phosphorylation enhances the transcriptional activity, alters the subcellular localization and decreases the stability of the heterodimer by promoting its degradation. Phosphorylation shows circadian variations in the liver. May be phosphorylated by CSNK1D and CKSN1E.; Sumoylation enhances its transcriptional activity and interaction with ESR1, resulting in up-regulation of ESR1 activity. Estrogen stimulates sumoylation. Desumoylation by SENP1 negatively regulates its transcriptional activity. Sumoylation stimulates cell proliferation and increases the proportion of S phase cells in breast cancer cell lines.; Undergoes lysosome-mediated degradation in a time-dependent manner in the liver.
SUBCELLULAR LOCATION
Nucleus, Cytosol, Cytoplasm.
FUNCTION
Biological timepieces called circadian clocks are responsible for the regulation of hormonal rhythms, sleep cycles and other behaviors. The superchiasmatic nucleus (SCN), which is located in the brain, was the first mammalian circadian clock to be discovered. Clock, a member of the Basic-helix-loop-helix-psp (bHLH-PAS) family of transcription factors, has also been identified as having circadian function. Mutations within the clock gene have been shown to increase the length of the endogenous period and To contain a loss of rhythmicity of circadian oscillations. Clock contains a DNA-binding domain, a protein dimerization domain and a glutamine-rich C-terminal region, which indicates transactivation ability. It has been speculated that Clock may regulation circadian rhythmicity in combination with Other proteins such as Per. Per is also a PAS-domain containing protein that exhibits circadian function. Highest expression of Clock is seen in the hypothalamus and the eye.