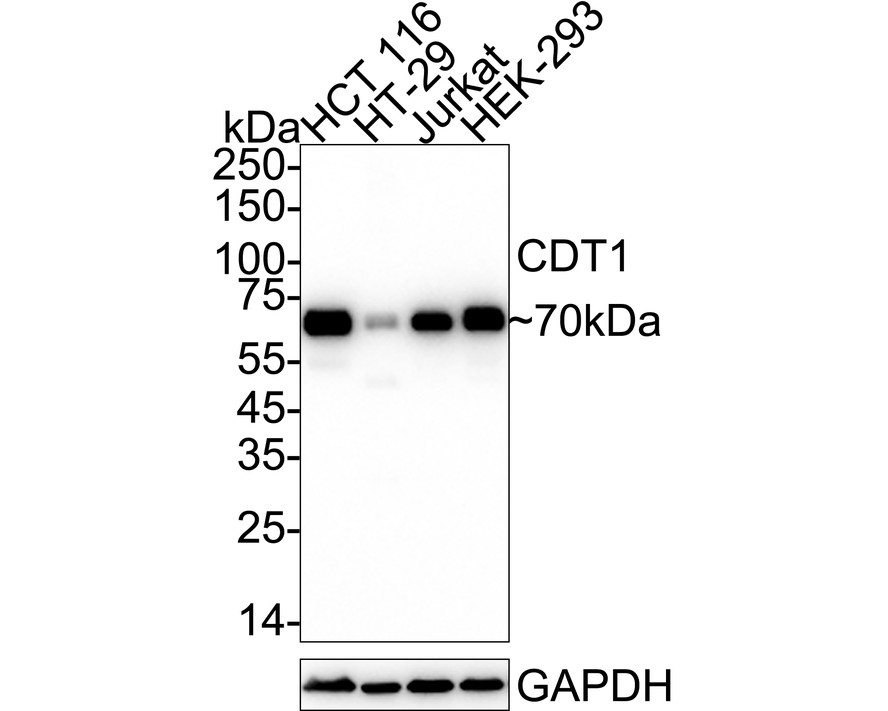 Western blot analysis of CDT1 on Hela cell using anti-CDT1 antibody at 1/1,000 dilution.
SPECIFICATIONS
Product Type
Recombinant Rabbit monoclonal primary
Product Name
Recombinant CDT1 Monoclonal Antibody (ET1704-67)
PROPERTIES
Storage Condition
Store at +4C after thawing. Aliquot store at -20C or -80C. Avoid repeated freeze / thaw cycles.
Storage Buffer
1*TBS (pH7.4), 0.05% BSA, 40% Glycerol. Preservative: 0.05% Sodium Azide.
TARGET
PROTEIN NAME
DNA replication factor Cdt1
SEQUENCE SIMILARITIES
Belongs to the Cdt1 family.
DEVELOPMENTAL STAGE
Present during G1 and early S phase of the cell cycle. Degraded during the late S, G2, and M phases.
POST-TRANSLATIONAL MODIFICATION
Two independent E3 ubiquitin ligase complexes, SCF(SKP2) and the DCX(DTL) complex, mediated CDT1 degradation in S phase. Ubiquitinated by the DCX(DTL) complex, in response to DNA damage, leading to its degradation. Ubiquitination by the DCX(DTL) complex is necessary to ensure proper cell cycle regulation and is PCNA-dependent: interacts with PCNA via its PIP-box, while the presence of the containing the 'K+4' motif in the PIP box, recruit the DCX(DTL) complex, leading to its degradation. Phosphorylation at Thr-29 by CDK2 targets CDT1 for ubiquitination by SCF(SKP2) E3 ubiquitin ligase and subsequent degradation. The interaction with GMNN protects it against ubiquitination. Deubiquitinated by USP37.; Phosphorylation by cyclin A-dependent kinases at Thr-29 targets CDT1 for ubiquitynation by SCF(SKP2) E3 ubiquitin ligase and subsequent degradation. Phosphorylated at Thr-29 by MAPK8/JNK1, which blocks replication licensing in response to stress. Binding to GMNN is not affected by phosphorylation.
SUBCELLULAR LOCATION
Nucleus. Chromosome, centromere, kinetochore. Note=Transiently localizes to kinetochores during prometaphase and metaphase.
FUNCTION
Required for both DNA replication and mitosis. DNA replication licensing factor, required for pre-replication complex assembly. Cooperates with CDC6 and the origin recognition complex (ORC) during G1 phase of the cell cycle to promote the loading of the mini-chromosome maintenance (MCM) complex onto DNA to generate pre-replication complexes (pre-RC)(PubMed:14672932). Required also for mitosis by promoting stable kinetochore-microtubule attachments. Potential oncogene (By similarity).