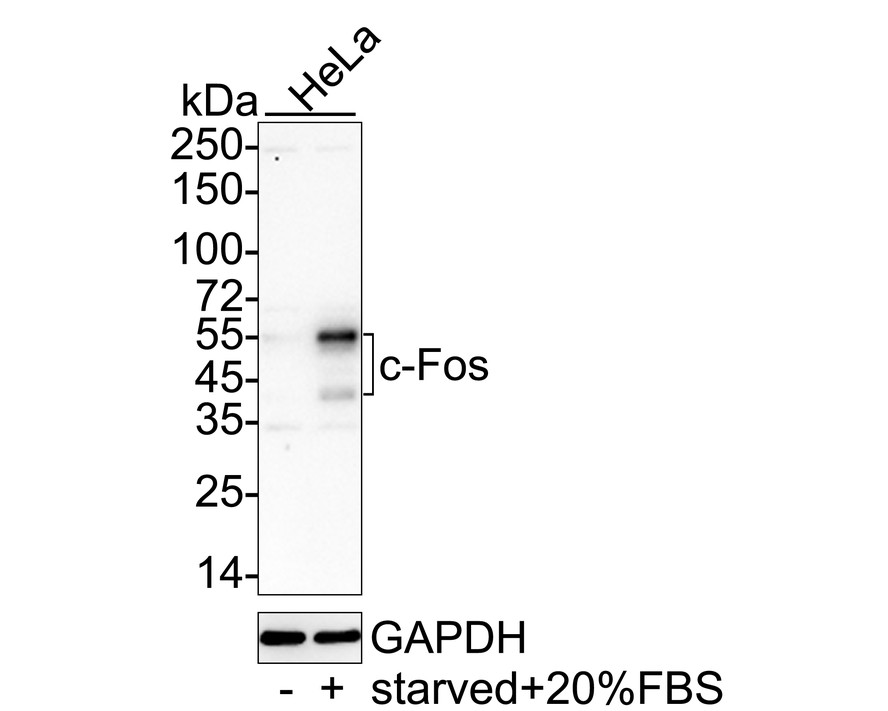 Flow cytometric analysis of c-Fos was done on NIH/3T3 cells. The cells were fixed, permeabilized and stained with the primary antibody (ET1701-95, 1/50) (red). After incubation of the primary antibody at room temperature for an hour, the cells were stained with a Alexa Fluor 488-conjugated Goat anti-Rabbit IgG Secondary antibody at 1/1000 dilution for 30 minutes.Unlabelled sample was used as a control (cells without incubation with primary antibody; black).
SPECIFICATIONS
Product Type
Recombinant Rabbit monoclonal primary
Product Name
Recombinant c-Fos Monoclonal Antibody (ET1701-95)
PROPERTIES
Storage Condition
Store at +4C after thawing. Aliquot store at -20C or -80C. Avoid repeated freeze / thaw cycles.
Storage Buffer
1*TBS (pH7.4), 0.05% BSA, 40% Glycerol. Preservative: 0.05% Sodium Azide.
TARGET
SEQUENCE SIMILARITIES
Belongs to the bZIP family. Fos subfamily.
DEVELOPMENTAL STAGE
Expressed at very low levels in quiescent cells. When cells are stimulated to reenter growth, they undergo 2 waves of expression, the first one peaks 7.5 minutes following FBS induction. At this stage, the protein is localized endoplasmic reticulum. The second wave of expression occurs at about 20 minutes after induction and peaks at 1 hour. At this stage, the protein becomes nuclear.
POST-TRANSLATIONAL MODIFICATION
Phosphorylated in the C-terminal upon stimulation by nerve growth factor (NGF) and epidermal growth factor (EGF). Phosphorylated, in vitro, by MAPK and RSK1. Phosphorylation on both Ser-362 and Ser-374 by MAPK1/2 and RSK1/2 leads to protein stabilization with phosphorylation on Ser-374 being the major site for protein stabilization on NGF stimulation. Phosphorylation on Ser-362 and Ser-374 primes further phosphorylations on Thr-325 and Thr-331 through promoting docking of MAPK to the DEF domain. Phosphorylation on Thr-232, induced by HA-RAS, activates the transcriptional activity and antagonizes sumoylation. Phosphorylation on Ser-362 by RSK2 in osteoblasts contributes to osteoblast transformation (By similarity).; Constitutively sumoylated with SUMO1, SUMO2 and SUMO3. Desumoylated by SENP2. Sumoylation requires heterodimerization with JUN and is enhanced by mitogen stimulation. Sumoylation inhibits the AP-1 transcriptional activity and is, itself, inhibited by Ras-activated phosphorylation on Thr-232.; In quiescent cells, the small amount of FOS present is phosphorylated at Tyr-10 and Tyr-30 by SRC. This Tyr-phosphorylated form is cytosolic. In growing cells, dephosphorylated by PTPN2. Dephosphorylation leads to the association with endoplasmic reticulum membranes and activation of phospholipid synthesis.
SUBCELLULAR LOCATION
Nucleus. Endoplasmic reticulum. Cytoplasm, cytosol. Note=In quiescent cells, present in very small amounts in the cytosol. Following induction of cell growth, first localizes to the endoplasmic reticulum and only later to the nucleus. Localization at the endoplasmic reticulum requires dephosphorylation at Tyr-10 and Tyr-30.
FUNCTION
Nuclear phosphoprotein which forms a tight but non-covalently linked complex with the JUN/AP-1 transcription factor. In the heterodimer, FOS and JUN/AP-1 basic regions each seems to interact with symmetrical DNA half sites. On TGF-beta activation, forms a multimeric SMAD3/SMAD4/JUN/FOS complex at the AP1/SMAD-binding site to regulate TGF-beta-mediated signaling. Has a critical function in regulating the development of cells destined to form and maintain the skeleton. It is thought to have an important role in signal transduction, cell proliferation and differentiation. In growing cells, activates phospholipid synthesis, possibly by activating CDS1 and PI4K2A. This activity requires Tyr-dephosphorylation and association with the endoplasmic reticulum.