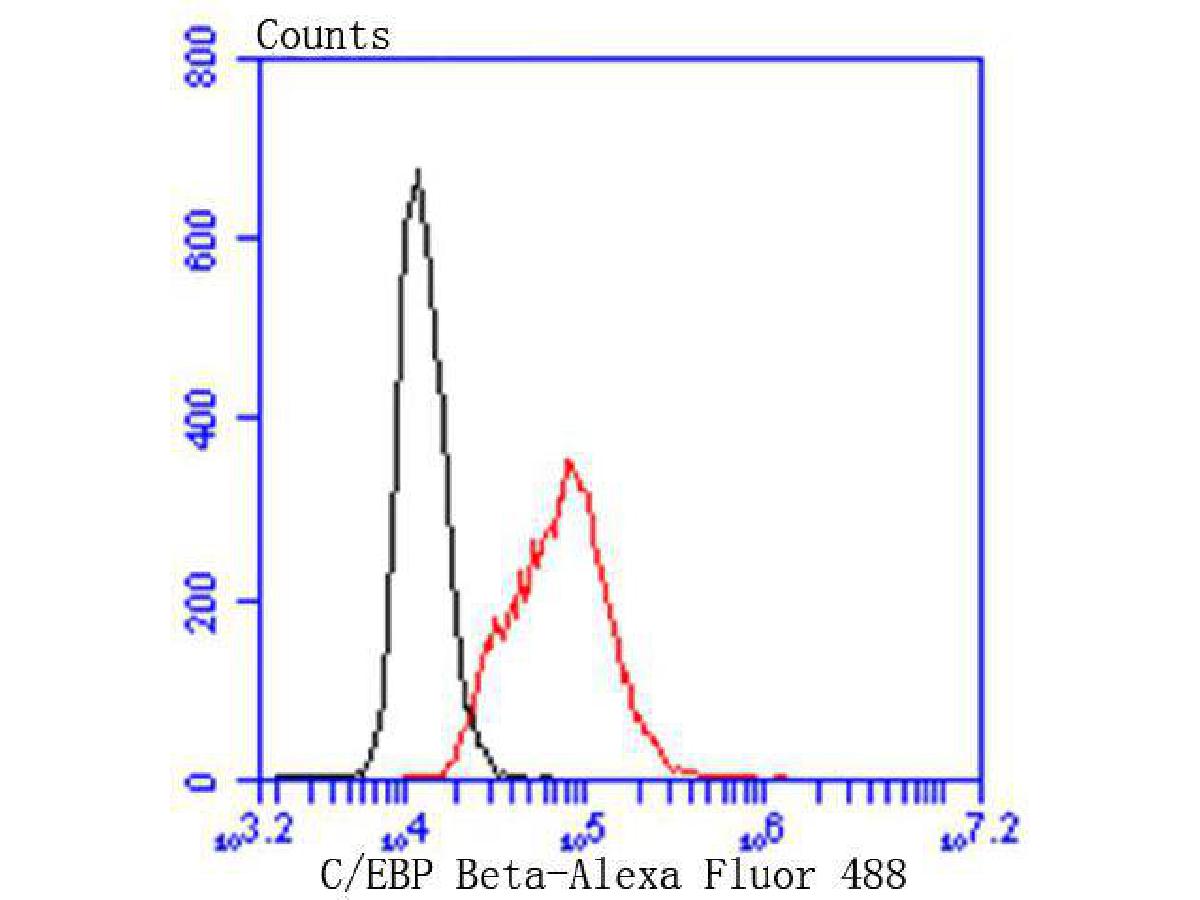 Western blot analysis of C/EBP Beta on PC-12 cell lysates. Proteins were transferred to a PVDF membrane and blocked with 5% BSA in PBS for 1 hour at room temperature. The primary antibody (ET1610-9, 1/500) was used in 5% BSA at room temperature for 2 hours. Goat Anti-Rabbit IgG - HRP Secondary Antibody (HA1001) at 1:5,000 dilution was used for 1 hour at room temperature.
SPECIFICATIONS
Product Type
Recombinant Rabbit monoclonal primary
Product Name
Recombinant C/EBP Beta Monoclonal Antibody (ET1610-9)
PROPERTIES
Storage Condition
Store at +4C after thawing. Aliquot store at -20C or -80C. Avoid repeated freeze / thaw cycles.
Storage Buffer
1*TBS (pH7.4), 0.05% BSA, 40% Glycerol. Preservative: 0.05% Sodium Azide.
TARGET
PROTEIN NAME
CCAAT/enhancer-binding protein beta
SYNONYMS
C/EBP beta, LAP, LIP, TCF-5, CEBPB, TCF5
SEQUENCE SIMILARITIES
Belongs to the bZIP family. C/EBP subfamily.
TISSUE SPECIFICITY
Expressed at low levels in the lung, kidney and spleen.
POST-TRANSLATIONAL MODIFICATION
Methylated. Methylation at Arg-3 by CARM1 and at Lys-43 by EHMT2 inhibit transactivation activity. Methylation is probably inhibited by phosphorylation at Thr-235.; Sumoylated by polymeric chains of SUMO2 or SUMO3. Sumoylation at Lys-174 is required for inhibition of T-cells proliferation. In adipocytes, sumoylation at Lys-174 by PIAS1 leads to ubiquitination and subsequent proteasomal degradation. Desumoylated by SENP2, which abolishes ubiquitination and stabilizes protein levels (By similarity).; Ubiquitinated, leading to proteasomal degradation.; Phosphorylated at Thr-235 by MAPK and CDK2, serves to prime phosphorylation at Thr-226 and Ser-231 by GSK3B and acquire DNA-binding as well as transactivation activities, required to induce adipogenesis. MAPK and CDK2 act sequentially to maintain Thr-235 in the primed phosphorylated state during mitotical cloning expansion and thereby progression of terminal differentiation. Phosphorylation at Thr-266 enhances transactivation activity. Phosphorylation at Ser-325 in response to calcium increases transactivation activity. Phosphorylated at Thr-235 by RPS6KA1.; O-glycosylated, glycosylation at Ser-227 and Ser-228 prevents phosphorylation on Thr-235, Ser-231 and Thr-226 and DNA binding activity which delays the adipocyte differentiation program.; Acetylated. Acetylation at Lys-43 is an important and dynamic regulatory event that contributes to its ability to transactivate target genes, including those associated with adipogenesis and adipocyte function. Deacetylation by HDAC1 represses its transactivation activity. Acetylated by KAT2A and KAT2B within a cluster of lysine residues between amino acids 129-133, this acetylation is strongly induced by glucocorticoid treatment and enhances transactivation activity.
SUBCELLULAR LOCATION
Nucleus. Cytoplasm. Note=Translocates to the nucleus when phosphorylated at Ser-288. In T-cells when sumoylated drawn to pericentric heterochromatin thereby allowing proliferation (By similarity).
FUNCTION
Important transcription factor regulating the expression of genes involved in immune and inflammatory responses. Plays also a significant role in adipogenesis, as well as in the gluconeogenic pathway, liver regeneration, and hematopoiesis. The consensus recognition site is 5'-T[TG]NNGNAA[TG]-3'. Its functional capacity is governed by protein interactions and post-translational protein modifications. During early embryogenesis, plays essential and redundant functions with CEBPA. Has a promitotic effect on many cell types such as hepatocytes and adipocytes but has an antiproliferative effect on T-cells by repressing MYC expression, facilitating differentiation along the T-helper 2 lineage. Binds to regulatory regions of several acute-phase and cytokines genes and plays a role in the regulation of acute-phase reaction and inflammation. Plays also a role in intracellular bacteria killing (By similarity). During adipogenesis, is rapidly expressed and, after activation by phosphorylation, induces CEBPA and PPARG, which turn on the series of adipocyte genes that give rise to the adipocyte phenotype. The delayed transactivation of the CEBPA and PPARG genes by CEBPB appears necessary to allow mitotic clonal expansion and thereby progression of terminal differentiation. Essential for female reproduction because of a critical role in ovarian follicle development (By similarity). Restricts osteoclastogenesis: together with NFE2L1; represses expression of DSPP during odontoblast differentiation (By similarity).; [Isoform 2]: Essential for gene expression induction in activated macrophages. Plays a major role in immune responses such as CD4(+) T-cell response, granuloma formation and endotoxin shock. Not essential for intracellular bacteria killing.; [Isoform 3]: Acts as a dominant negative through heterodimerization with isoform 2. Promotes osteoblast differentiation and osteoclastogenesis (By similarity).