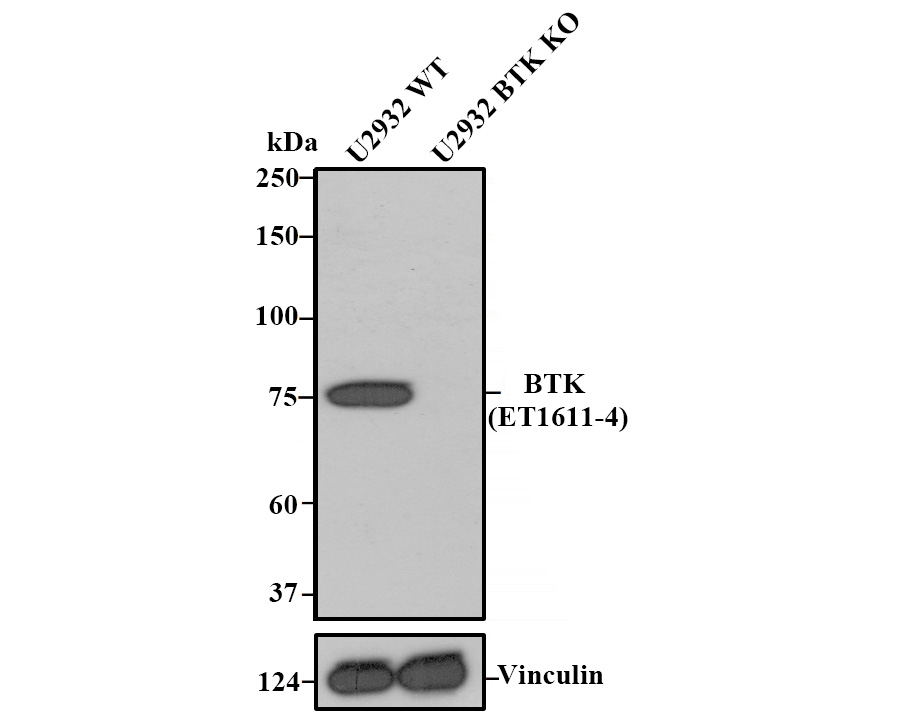 Western blot analysis of BTK on different lysates. Proteins were transferred to a PVDF membrane and blocked with 5% BSA in PBS for 1 hour at room temperature. The primary antibody (ET1611-4, 1/500) was used in 5% BSA at room temperature for 2 hours. Goat Anti-Rabbit IgG - HRP Secondary Antibody (HA1001) at 1:5,000 dilution was used for 1 hour at room temperature.
Positive control:
Lane 1: Daudi cell lysate
Lane 2: Raji cell lysate
Lane 3: U937 cell lysate
SPECIFICATIONS
Product Type
Recombinant Rabbit monoclonal primary
Product Name
Recombinant BTK Monoclonal Antibody (ET1611-4)
PROPERTIES
Storage Condition
Store at +4C after thawing. Aliquot store at -20C or -80C. Avoid repeated freeze / thaw cycles.
Storage Buffer
1*TBS (pH7.4), 0.05% BSA, 40% Glycerol. Preservative: 0.05% Sodium Azide.
TARGET
PROTEIN NAME
Tyrosine-protein kinase BTK
SYNONYMS
ATK, BPK, BTK, AGMX1, ATK, BPK
SEQUENCE SIMILARITIES
Belongs to the protein kinase superfamily. Tyr protein kinase family. TEC subfamily.
TISSUE SPECIFICITY
Predominantly expressed in B-lymphocytes.
POST-TRANSLATIONAL MODIFICATION
Following B-cell receptor (BCR) engagement, translocates to the plasma membrane where it gets phosphorylated at Tyr-551 by LYN and SYK. Phosphorylation at Tyr-551 is followed by autophosphorylation of Tyr-223 which may create a docking site for a SH2 containing protein. Phosphorylation at Ser-180 by PRKCB, leads in translocation of BTK back to the cytoplasmic fraction. Phosphorylation at Ser-21 and Ser-115 creates a binding site for PIN1 at these Ser-Pro motifs, and promotes it's recruitment.
SUBCELLULAR LOCATION
Cytoplasm. Cell membrane; Peripheral membrane protein. Nucleus. Note=In steady state, BTK is predominantly cytosolic. Following B-cell receptor (BCR) engagement by antigen, translocates to the plasma membrane through its PH domain. Plasma membrane localization is a critical step in the activation of BTK. A fraction of BTK also shuttles between the nucleus and the cytoplasm, and nuclear export is mediated by the nuclear export receptor CRM1.
FUNCTION
Non-receptor tyrosine kinase indispensable for B lymphocyte development, differentiation and signaling. Binding of antigen to the B-cell antigen receptor (BCR) triggers signaling that ultimately leads to B-cell activation. After BCR engagement and activation at the plasma membrane, phosphorylates PLCG2 at several sites, igniting the downstream signaling pathway through calcium mobilization, followed by activation of the protein kinase C (PKC) family members. PLCG2 phosphorylation is performed in close cooperation with the adapter protein B-cell linker protein BLNK. BTK acts as a platform to bring together a diverse array of signaling proteins and is implicated in cytokine receptor signaling pathways. Plays an important role in the function of immune cells of innate as well as adaptive immunity, as a component of the Toll-like receptors (TLR) pathway. The TLR pathway acts as a primary surveillance system for the detection of pathogens and are crucial to the activation of host defense. Especially, is a critical molecule in regulating TLR9 activation in splenic B-cells. Within the TLR pathway, induces tyrosine phosphorylation of TIRAP which leads to TIRAP degradation. BTK plays also a critical role in transcription regulation. Induces the activity of NF-kappa-B, which is involved in regulating the expression of hundreds of genes. BTK is involved on the signaling pathway linking TLR8 and TLR9 to NF-kappa-B. Transiently phosphorylates transcription factor GTF2I on tyrosine residues in response to BCR. GTF2I then translocates to the nucleus to bind regulatory enhancer elements to modulate gene expression. ARID3A and NFAT are other transcriptional target of BTK. BTK is required for the formation of functional ARID3A DNA-binding complexes. There is however no evidence that BTK itself binds directly to DNA. BTK has a dual role in the regulation of apoptosis.