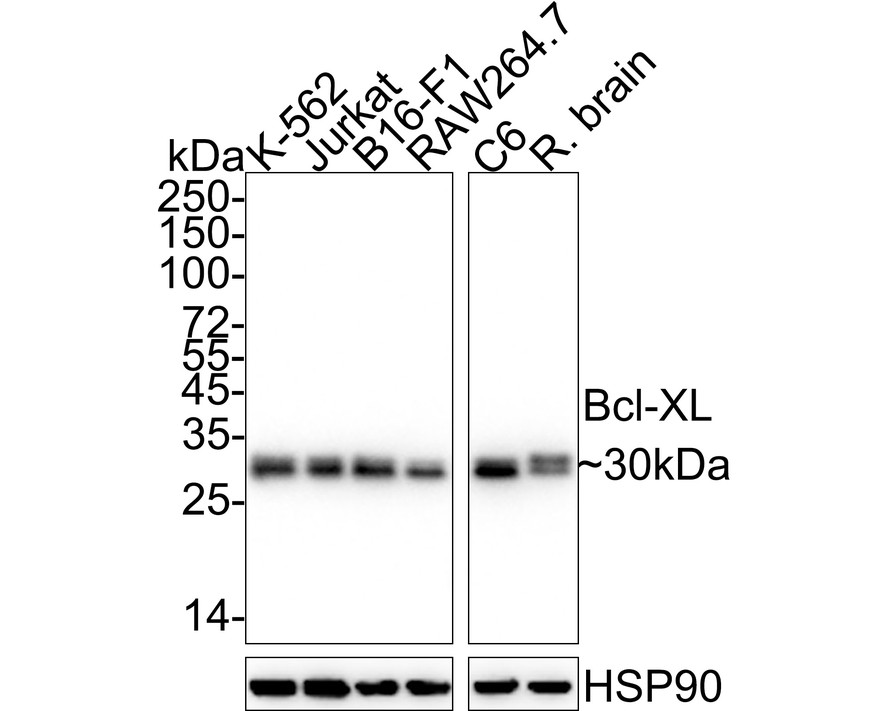 Western blot analysis of Bcl-XL on Jurkat cell lysates. Proteins were transferred to a PVDF membrane and blocked with 5% BSA in PBS for 1 hour at room temperature. The primary antibody (ET1603-28, 1/500) was used in 5% BSA at room temperature for 2 hours. Goat Anti-Rabbit IgG - HRP Secondary Antibody (HA1001) at 1:5,000 dilution was used for 1 hour at room temperature.
SPECIFICATIONS
Product Type
Recombinant Rabbit monoclonal primary
Product Name
Recombinant Bcl-XL Monoclonal Antibody (ET1603-28)
Positive Control
Jurkat cell lysates, HepG2, Hela, MCF-7, human colon carcinoma tissue, human kidney tissue, human breast carcinoma tissue.
PROPERTIES
Storage Condition
Store at +4C after thawing. Aliquot store at -20C or -80C. Avoid repeated freeze / thaw cycles.
Storage Buffer
1*TBS (pH7.4), 0.05% BSA, 40% Glycerol. Preservative: 0.05% Sodium Azide.
PURIFICATION
Protein A affinity purified.
TARGET
SYNONYMS
Apoptosis regulator Bcl X antibody; Apoptosis regulator Bcl-X antibody; Apoptosis regulator BclX antibody; B cell lymphoma 2 like antibody; B2CL1_HUMAN antibody; Bcl 2 like 1 protein antibody; Bcl X antibody; Bcl xL antibody; BCL XL/S antibody; Bcl xS antibody; Bcl-2-like protein 1 antibody; Bcl2 Like 1 antibody; Bcl2 related gene antibody; Bcl2-L-1 antibody; BCL2L antibody; Bcl2l1 antibody; BCLX antibody; BclXL antibody; BclXs antibody; DKFZp781P2092 antibody; PPP1R52 antibody; Protein phosphatase 1 regulatory subunit 52 antibody
SEQUENCE SIMILARITIES
Belongs to the Bcl-2 family.
TISSUE SPECIFICITY
Bcl-X(S) is expressed at high levels in cells that undergo a high rate of turnover, such as developing lymphocytes. In contrast, Bcl-X(L) is found in tissues containing long-lived postmitotic cells, such as adult brain.
POST-TRANSLATIONAL MODIFICATION
Proteolytically cleaved by caspases during apoptosis. The cleaved protein, lacking the BH4 motif, has pro-apoptotic activity.; Phosphorylated on Ser-62 by CDK1. This phosphorylation is partial in normal mitotic cells, but complete in G2-arrested cells upon DNA-damage, thus promoting subsequent apoptosis probably by triggering caspases-mediated proteolysis. Phosphorylated by PLK3, leading to regulate the G2 checkpoint and progression to cytokinesis during mitosis. Phosphorylation at Ser-49 appears during the S phase and G2, disappears rapidly in early mitosis during prometaphase, metaphase and early anaphase, and re-appears during telophase and cytokinesis.; Ubiquitinated by RNF183 during prolonged ER stress, leading to degradation by the proteosome.
SUBCELLULAR LOCATION
Mitochondrion inner membrane, Mitochondrion outer membrane, Mitochondrion matrix, Cytoplasmic vesicle, Cytoplasm, Nucleus membrane.
FUNCTION
The Bcl-2 gene was isolated at the chromosomal breakpoint of t(14;18) bearing follicular B cell lymphomas. Bcl-2 blocks cell death following a variety of stimuli and confers a death-sparing effect to certain hematopoietic cell lines following growth factor withdrawal. A second protein, designated Bcl-associated X protein (Bax) p21, has extensive amino acid homology with Bcl-2 and both homodimerizes and heterodimerizes with Bcl-2. Overexpression of Bax accelerates apoptotic death induced by cytokine deprivation in an IL-3-dependent cell line, and Bax also counters the death repressor activity of Bcl-2. Bcl-x, one of several additional proteins with sequence homology to Bcl-2, is expressed as Bcl-xL, a 233 amino acid protein with 43% sequence identity with Bcl-2 that suppresses cell death, and Bcl-xS, a shorter variant that is 178 amino acids in length and lacks a 63 amino acid region (amino acids 126-188) found in Bcl-xL and which functions as a dominant inhibitor of Bcl-2. A further apoptosis-inducing protein, Bad, dimerizes both with Bcl-xL and to a lesser extent with Bcl-2, thus displacing Bax and inducing apoptosis.