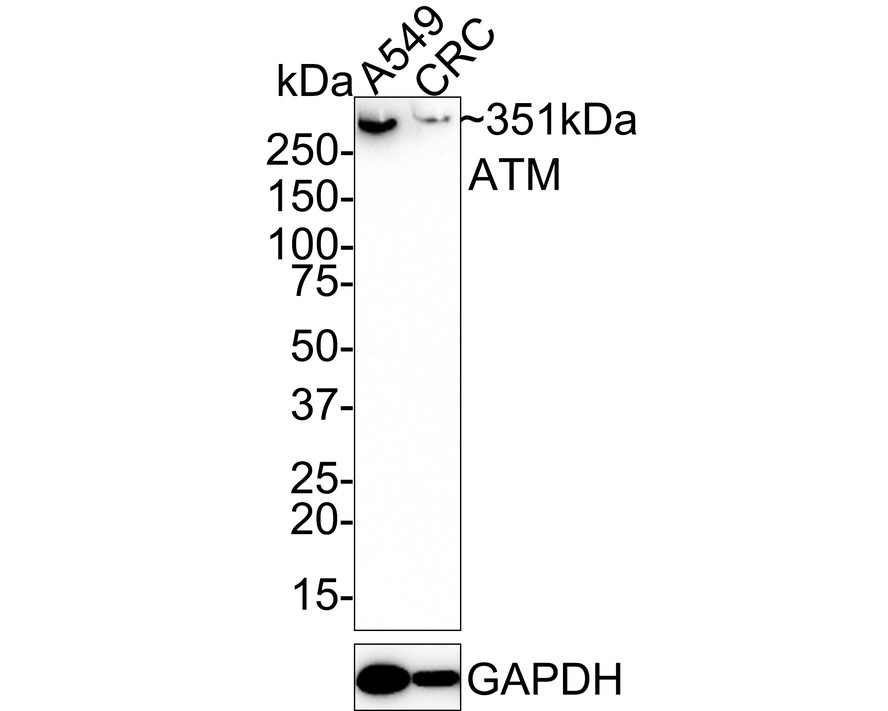 Western blot analysis of ATM on different lysates. Proteins were transferred to a PVDF membrane and blocked with 5% BSA in PBS for 1 hour at room temperature. The primary antibody (ET1606-20, 1/500) was used in 5% BSA at room temperature for 2 hours. Goat Anti-Rabbit IgG - HRP Secondary Antibody (HA1001) at 1:5,000 dilution was used for 1 hour at room temperature.
Positive control:
Lane 1: AGS cell lysate
Lane 2: CRC cell lysate
SPECIFICATIONS
Product Type
Recombinant Rabbit monoclonal primary
Product Name
Recombinant ATM Monoclonal Antibody (ET1606-20)
Positive Control
CRC, MCF-7, Hela, human liver cancer tissue, human tonsil tissue, human pancreas tissue.
PROPERTIES
Storage Condition
Store at +4C after thawing. Aliquot store at -20C or -80C. Avoid repeated freeze / thaw cycles.
Storage Buffer
1*TBS (pH7.4), 0.05% BSA, 40% Glycerol. Preservative: 0.05% Sodium Azide.
TARGET
PROTEIN NAME
Serine-protein kinase ATM
SEQUENCE SIMILARITIES
Belongs to the PI3/PI4-kinase family. ATM subfamily.
TISSUE SPECIFICITY
Found in pancreas, kidney, skeletal muscle, liver, lung, placenta, brain, heart, spleen, thymus, testis, ovary, small intestine, colon and leukocytes.
POST-TRANSLATIONAL MODIFICATION
Phosphorylated by NUAK1/ARK5. Autophosphorylation on Ser-367, Ser-1893, Ser-1981 correlates with DNA damage-mediated activation of the kinase. During the late stages of DNA damage response, dephosphorylated following deacetylation by SIRT7, leading to ATM deactivation.; Acetylation, on DNA damage, is required for activation of the kinase activity, dimer-monomer transition, and subsequent autophosphorylation on Ser-1981. Acetylated in vitro by KAT5/TIP60. Deacetylated by SIRT7 during the late stages of DNA damage response, promoting ATM dephosphorylation and subsequent deactivation.
SUBCELLULAR LOCATION
Nucleus. Cytoplasmic vesicle. Note=Primarily nuclear. Found also in endocytic vesicles in association with beta-adaptin.
FUNCTION
Serine/threonine protein kinase which activates checkpoint signaling upon double strand breaks (DSBs), apoptosis and genotoxic stresses such as ionizing ultraviolet A light (UVA), thereby acting as a DNA damage sensor. Recognizes the substrate consensus sequence [ST]-Q. Phosphorylates 'Ser-139' of histone variant H2AX at double strand breaks (DSBs), thereby regulating DNA damage response mechanism. Also plays a role in pre-B cell allelic exclusion, a process leading to expression of a single immunoglobulin heavy chain allele to enforce clonality and monospecific recognition by the B-cell antigen receptor (BCR) expressed on individual B-lymphocytes. After the introduction of DNA breaks by the RAG complex on one immunoglobulin allele, acts by mediating a repositioning of the second allele to pericentromeric heterochromatin, preventing accessibility to the RAG complex and recombination of the second allele. Also involved in signal transduction and cell cycle control. May function as a tumor suppressor. Necessary for activation of ABL1 and SAPK. Phosphorylates DYRK2, CHEK2, p53/TP53, FANCD2, NFKBIA, BRCA1, CTIP, nibrin (NBN), TERF1, RAD9, UBQLN4 and DCLRE1C. May play a role in vesicle and/or protein transport. Could play a role in T-cell development, gonad and neurological function. Plays a role in replication-dependent histone mRNA degradation. Binds DNA ends. Phosphorylation of DYRK2 in nucleus in response to genotoxic stress prevents its MDM2-mediated ubiquitination and subsequent proteasome degradation. Phosphorylates ATF2 which stimulates its function in DNA damage response. Phosphorylates ERCC6 which is essential for its chromatin remodeling activity at DNA double-strand breaks.
CITATIONS
Xu, Xiaodong et al.

Upregulation of miRNA��?01a��?p promotes tumor progression in gastric cancer by suppressing NKRF and activating NF����B signaling. | International Journal of Oncology [2020]