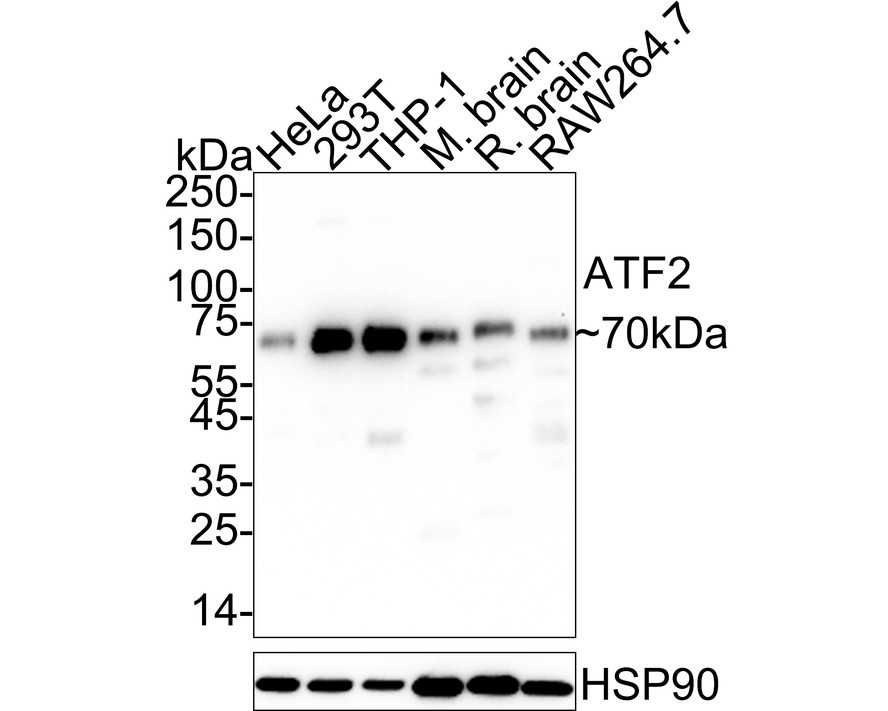 ICC staining ATF2 in SW480 cells (green). The nuclear counter stain is DAPI (blue). Cells were fixed in paraformaldehyde, permeabilised with 0.25% Triton X100/PBS.
SPECIFICATIONS
Product Type
Recombinant Rabbit monoclonal primary
Product Name
Recombinant ATF2 Monoclonal Antibody (ET1603-15)
Positive Control
SW480, MCF-7, Hela, PC-12, human breast carcinoma tissue.
PROPERTIES
Storage Condition
Store at +4C after thawing. Aliquot store at -20C or -80C. Avoid repeated freeze / thaw cycles.
Storage Buffer
1*TBS (pH7.4), 0.05% BSA, 40% Glycerol. Preservative: 0.05% Sodium Azide.
TARGET
PROTEIN NAME
Cyclic AMP-dependent transcription factor ATF-2
SYNONYMS
cAMP-dependent transcription factor ATF-2, CREB-2, cAMP-responsive element-binding protein 2, ATF2, CREB2, CREBP1
SEQUENCE SIMILARITIES
Belongs to the bZIP family. ATF subfamily.
TISSUE SPECIFICITY
Ubiquitously expressed, with more abundant expression in the brain.
POST-TRANSLATIONAL MODIFICATION
Phosphorylation of Thr-69 by MAPK14 and MAPK11, and at Thr-71 by MAPK1/ERK2, MAPK3/ERK1, MAPK11, MAPK12 and MAPK14 in response to external stimulus like insulin causes increased transcriptional activity. Phosphorylated by PLK3 following hyperosmotic stress. Also phosphorylated and activated by JNK and CaMK4. ATM-mediated phosphorylation at Ser-490 and Ser-498 stimulates its function in DNA damage response. Phosphorylation at Ser-62, Thr-73 and Ser-121 activates its transcriptional activity. Phosphorylation at Thr-69 or Thr-71 enhances its histone acetyltransferase (HAT) activity.
SUBCELLULAR LOCATION
Nucleus. Cytoplasm. Mitochondrion outer membrane. Note=Shuttles between the cytoplasm and the nucleus and heterodimerization with JUN is essential for the nuclear localization. Localization to the cytoplasm is observed under conditions of cellular stress and in disease states. Localizes at the mitochondrial outer membrane in response to genotoxic stress. Phosphorylation at Thr-52 is required for its nuclear localization and negatively regulates its mitochondrial localization. Co-localizes with the MRN complex in the IR-induced foci (IRIF).
FUNCTION
Transcriptional activator which regulates the transcription of various genes, including those involved in anti-apoptosis, cell growth, and DNA damage response. Dependent on its binding partner, binds to CRE (cAMP response element) consensus sequences (5'-TGACGTCA-3') or to AP-1 (activator protein 1) consensus sequences (5'-TGACTCA-3'). In the nucleus, contributes to global transcription and the DNA damage response, in addition to specific transcriptional activities that are related to cell development, proliferation and death. In the cytoplasm, interacts with and perturbs HK1- and VDAC1-containing complexes at the mitochondrial outer membrane, thereby impairing mitochondrial membrane potential, inducing mitochondrial leakage and promoting cell death. The phosphorylated form (mediated by ATM) plays a role in the DNA damage response and is involved in the ionizing radiation (IR)-induced S phase checkpoint control and in the recruitment of the MRN complex into the IR-induced foci (IRIF). Exhibits histone acetyltransferase (HAT) activity which specifically acetylates histones H2B and H4 in vitro. In concert with CUL3 and RBX1, promotes the degradation of KAT5 thereby attenuating its ability to acetylate and activate ATM. Can elicit oncogenic or tumor suppressor activities depending on the tissue or cell type.